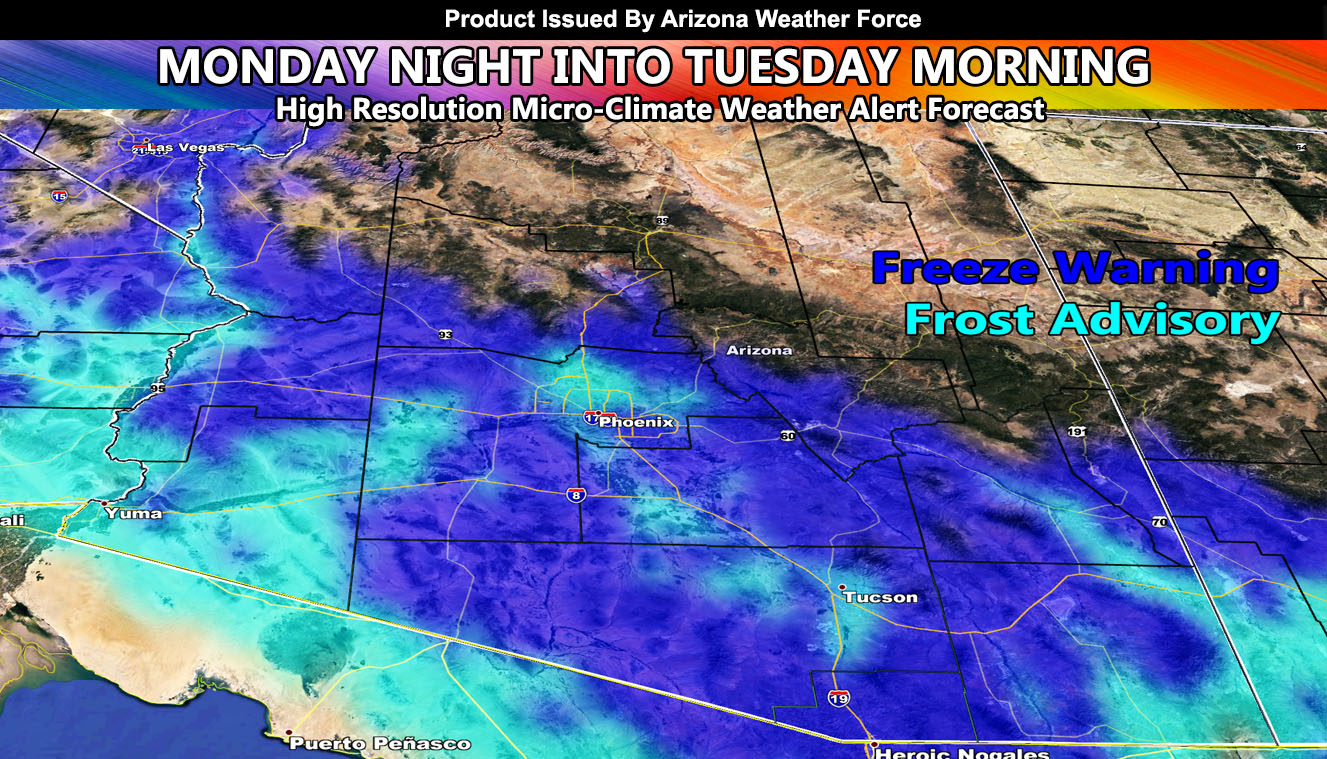 Arizona Weather Force has issued a metro Freeze Warning effective Monday night through Wednesday night so read on for details.
An inside slider system will dive into the region and give some snowfall (not a lot) to the peaks of the Northern/Eastern half of Arizona overnight tonight into Monday.  The same will go with gusty winds in those same areas, 30-50 mph in gusts will be expected.
As you know, just as Southern California Weather Force has a service for members with micro-climate alerts, Arizona Weather Force does as well and we do have around 25 people already signed up getting those so it is seeming like it is helping.  The service helps businesses and persons, especially with ranches.  Click Here to read about it and even join.
As for the metro areas starting Monday night.  The dry air filtering in will drop the temperatures to freezing across the freeze warning zone.  The Arizona Weather Force Cold Air Alert Model key in the article image shows where temperatures of freezing will be and where temperatures of just above freezing will be (frost).  You can see the urban heat island effect for both Phoenix and Tucson while the outskirts are deep into the freezing category.  Freezes extend up to Kingman as well with Frost along the CO River Valley.   The Northern half of Arizona is not being detected because it always is so cold up there that the model was not designed for high terrain and only focuses on the lower terrain.
The rest of this month has systems coming in after the 8th and lasting a whole week.  These systems will start with lower snow levels and go higher from there so we could see snow in some low elevations between February 9th and 11th.  We should see way more rain in Phoenix/Tucson than last month.
NOTE: This is the SCWF Website but it is being used for national updates until ad placement is ready on the AZWF site. 
Your Facebook Page to join for this update is linked here – https://www.facebook.com/ArizonaWeatherForce