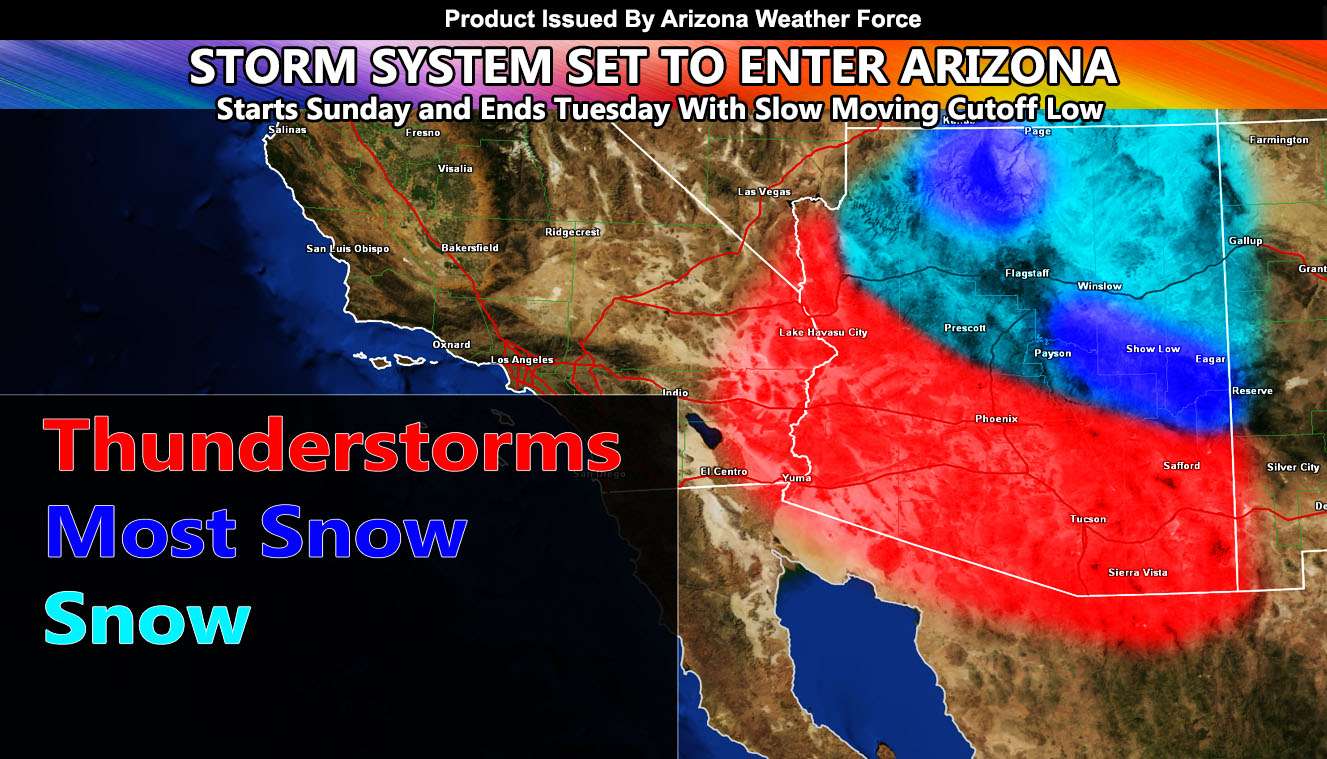 This is a first call on a follow up.  As you know on January 31, 2020 I predicted colder than normal storms coming into the region this month for the Southwest.  (Click Here To Read Article).  Well it is after the promised 8th of February for these to come in an Northern parts will get it on Sunday followed by the southern half of the state by most of Monday and yes widespread thunderstorms are in my forecast along with thundersnow so read on …
Arizona Weather Force is set to become busier this weekend as updates go out on a strong upper level low that will enter the region mostly later Sunday and into Monday.  The system has very strong upper level dynamics associated with it and being there is going to be instability with it, Western, Central, Southern, and Eastern Arizona will have the risk of thunderstorms, some of these will be severe.
The breakdown is this for the First Call, which means extreme details are not given at the moment and the monitoring of the storm system has begun with 48 to 72 hours to go.  Snow is likely to fall in The Grand Canyon areas on Sunday, followed by the Rim later Sunday into Monday, exiting on Tuesday and with a bottom snow level of just above 4,000 FT so am watching for at least some snow falling for Payson and Prescott with this round.
There will also be the chance of thundersnow in the most snow/snow shaded areas.  Thundersnow is when it is snowing along with lightning present, a rare thing.
What I can see at the moment is the West/South/Eastern half of the state is in the position for those thunderstorms.  It is too far for micro-climate alerts to go out but those of you subscribed to that service will be receiving them and maps of rain/snow/thunder etc as they are issued via the e-mail alert system.  The rest will be notified of an update just before the system hits the state.
We are not done, we will have another system near Valentine's Day and as projected in the article linked here, February will have more rain/snow for the state than January did.