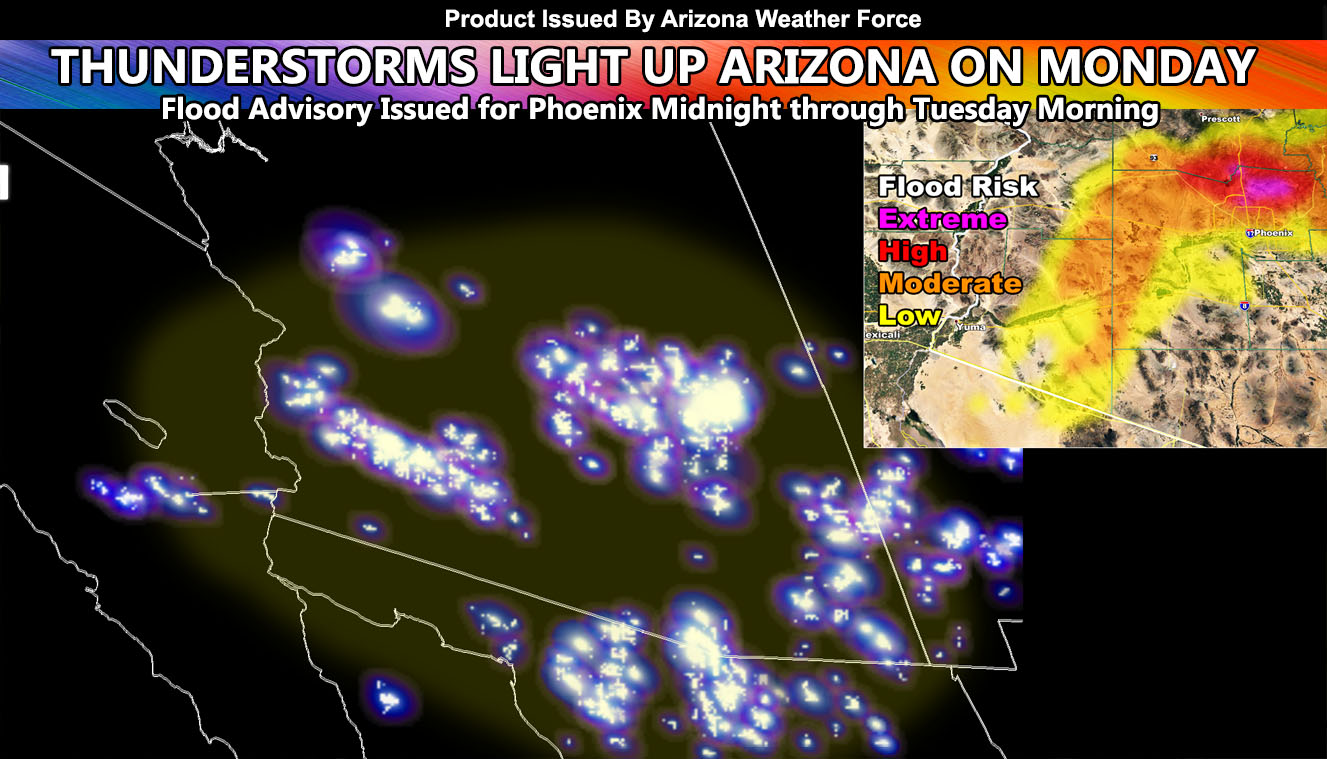 The thunderstorm risk shade issued here at Arizona Weather Force lit up on Monday as numerous thunderstorms developed across the state and with another system dropping out of the north behind this, an Arizona Weather Force Flood Advisory is now in effect after the Thunderstorm Watch for Central/Northern sections of the Phoenix area (larger image inside article) as the Arizona Weather Force Flood Risk Model (Advisory level is orange and higher in risk image) is pegging the overnight system through early Tuesday morning so read on more for details.
Southwest Arizona started up today across the AZWF Thunderstorm Watch zone.  Then followed Tucson and into Phoenix in an arc of convective activity.  This is pushing north, but thunderstorms are still possible through early night with lingering instability.  The east valley around Mesa/Gilbert was hit pretty hard with a couple cells that moved through this evening with some activity in the central valley as well.  Thunderstorm Forecasts issued here at AZWF is by coverage.  I issued a large coverage area and as you see in the article image the shaded risk was filled in with numerous lightning strikes over the day and evening.  This meets the criteria of a thunderstorm watch.  AZWF doesn't forecast thunderstorms for your backyard unless it is a flood, rain, or wind model.  You may get nothing or you may get hit, just like Mesa/Gilbert did as well as many others in the shaded zone.
The Tucson area was rocked today with storms as well and the drying will begin to happen there with a dryslot punching in just after 10pm tonight.  This area of strong lifting will head northeast along I-8 towards the Phoenix area and meet up with another system dropping out of Utah after midnight tonight.  When this happens, the two systems will merge and a deformation band will form over Phoenix.  Now this is very important.  Depending on where you are is what flood risk you will have.  That is the beauty of Arizona Weather Force flood risk models.  This one shows a high to extreme risk for the Cave Creek to New River areas, extending as far south as the Highway 101, the part running east to west.  The moderate risk, or flood advisory criteria, extends down to Peoria and Scottsdale with low risk along I-10, including the Sky Harbor Airport.  Use the model image below to know your location.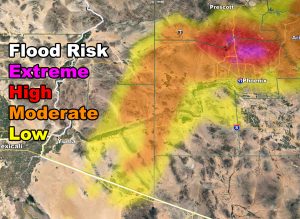 ---
There is a dusting on my models for the Payson areas overnight tonight with a northern slider on the backside of the upper level low that caused the thunderstorms today with the same for Flagstaff, but overall the winners will be the White Mountain zones with the 6+ inch mark.
Snowfall will be rather light in the Flagstaff forecast areas with a slight nudge in storm trajectory over the last 24 hours.  The heaviest snow will remain in the White Mountain areas.
Rain forecast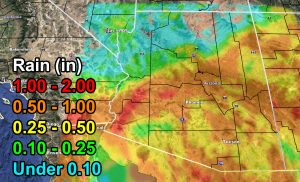 ---
As for Tuesday.  Any micro-climate update alerts issued will go over the e-mail notification system.  The Arizona Weather Force Facebook Page is for when majority of the population will be affected and I do have a member micro-climate e-mail notification service.  So while the page will be quiet on Tuesday, updates will go out over that because only a small area of Southeast/East Arizona will be affected.  Isolated thunderstorms are likely in those zones for your Tuesday surrounding the Safford and Wilcox forecast zone.  Look below how to join if you have not.  It's running a discount now through Monsoon Season for these to be delivered to you so you don't miss a thing.
We are losing the next weekend system fast in long range numbers so at this time I will be removing this system to all but Northern Arizona for after the 14th and will work on the micro-climate e-mail alert system members only as the main Facebook Page is if the entire state, or most metros, will be affected.  If you haven't signed up for that service which keeps this info flowing then the link is below –
As you know, just as Southern California Weather Force has a service for members with micro-climate alerts, Arizona Weather Force does as well and we do have some people already signed up getting those so it is seeming like it is helping.  The service helps businesses and persons, especially with ranches.  Click Here to read about it and even join.
NOTE: This is the SCWF Website but it is being used for national updates until ad placement is ready on the AZWF site. 
Your Facebook Page to join for this update is linked here – https://www.facebook.com/ArizonaWeatherForce