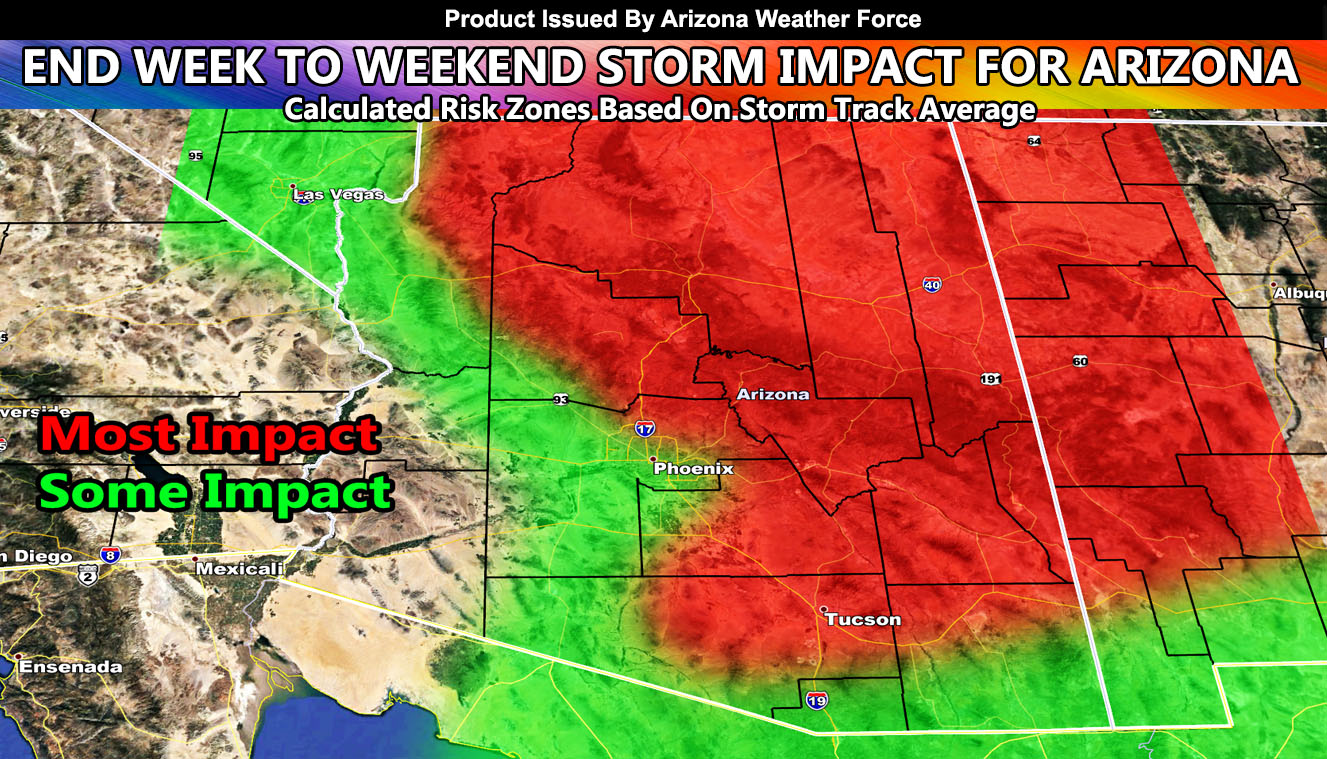 An upper level system progged to reach California by the end of this week will bring the southerly flow needed for renewed precipitation chances into the state of Arizona so read on for details …
Very fickle atmosphere we are working with this season as it seems no appreciable jet stream dynamics are showing up and all we are working with is a cutoff low scenario.  Most of the season it has worked out that way, which is why Arizona has seen a good amount of rainfall.  Systems dive west of California and too close to the coast to scoop up moisture and this puts Arizona in the needed southerly flow for activity.  It is a win-lose balanced situation.
The system will show up over Southern California by Friday and through the night on Friday into Saturday we will have the southerly flow develop and bring the precipitation to Arizona.  At this time the system isn't a closed-cutoff low like previous systems so a rising warm-front on Saturday would mean that the high country will see more precipitation than the populated metro areas.  I've outlined it on the graphic within this forecast.  It is entirely possible that Yuma could be between the system dynamics and be majorly left out, whereas you were the winners with the last system.
The snow level on Friday and Saturday will start around 9,000 FT and drop to 6,000 FT with the storm's departure.  This is not a low elevation snowfall producer.  Snow forecasts will be ready as the system nears, but I do not anticipate a major snowfall producer.  Given the elevation and southerly flow, the Flagstaff forecast zones would win out with this system.
Most of the heavier rainfall will be East/Southeast state so areas in the Tucson, Willcox, and Safford forecast areas.
As you know, just as Southern California Weather Force has a service for members with micro-climate alerts, Arizona Weather Force does as well and we do have some people already signed up getting those so it is seeming like it is helping.  The service helps businesses and persons, especially with ranches.  Click Here to read about it and even join.
NOTE: This is the SCWF Website but it is being used for national updates until ad placement is ready on the AZWF site. 
Your Facebook Page to join for this update is linked here – https://www.facebook.com/ArizonaWeatherForce