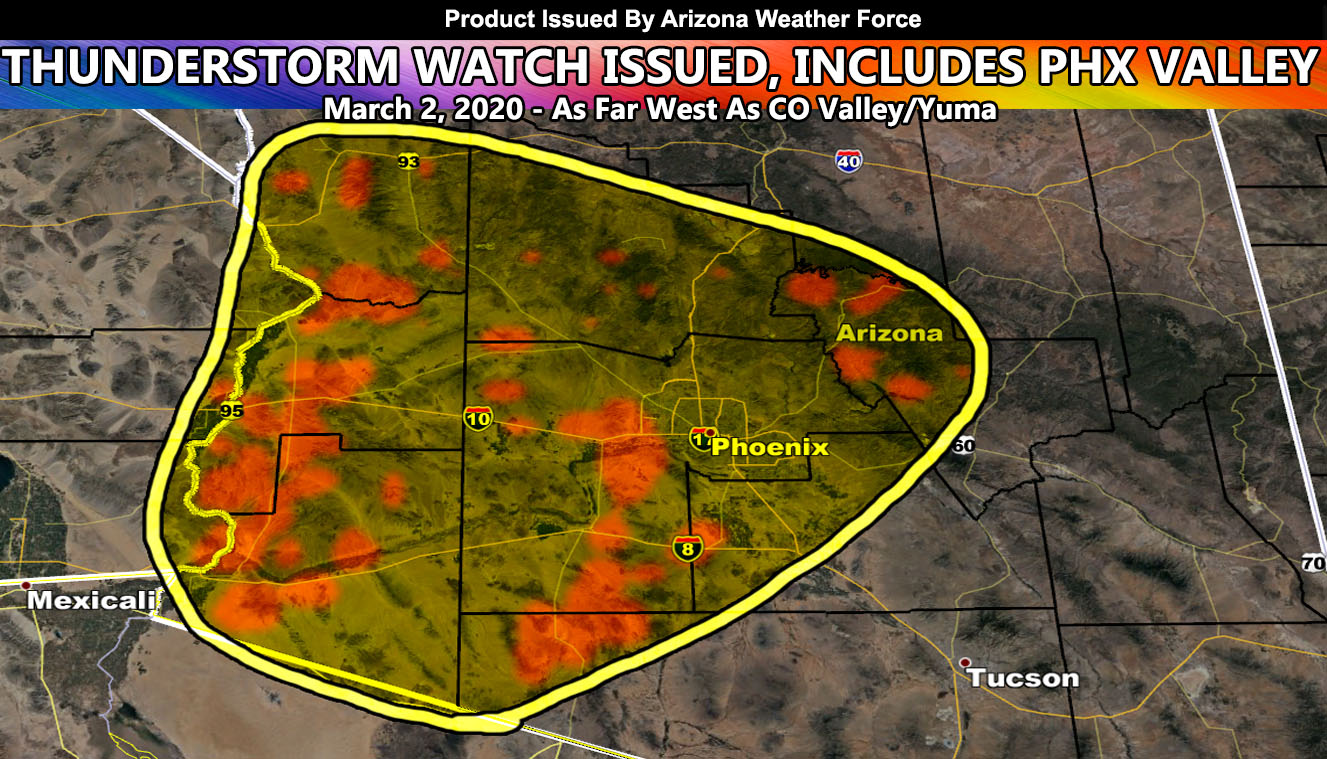 Arizona Weather Force has issued a Thunderstorm Watch effective Monday morning through Monday evening across the Western Half of Arizona as the Arizona Weather Force Lightning Prediction Model continues to show peppered thunderstorms across the region so read on for details …
An update released yesterday at Arizona Weather Force Facebook (Click Here) stated that the coming system will have thunderstorm dynamics in the Western half of the state.  I wanted to nudge Yuma out of it, however the location of the system this evening is bringing you into the thunderstorm risk so you are included in this, practically anyone along the CO River Valley is.
What I am going with right now is the upper dynamics to move through Northern Baja Mexico just after the 1-2am hour.  The north quadrant will have strong upper divergence developing just to the east of Parker and Lake Havasu City.  The flow out of the east may be just enough to bring shower/thunderstorm activity in as the first area to see something in Arizona.  So those locations will be very early morning, maybe even before sunrise when it is still dark so don't be surprised to see some strikes.
As the morning moves along into the afternoon, developing instability will ignite scattered thunderstorms across the Western half of Arizona.  They will extend as far northeast as Payson.  They also will affect some of the Phoenix Valley.  Like usual, these are hit and miss storms so not everyone will see it.  You will hear of a neighboring city having storms while you don't see anything.  It's quite common with these setups.
Instability will be weaker than severe storm criteria so I do not expect severe thunderstorms with this.  These will however bring some gusty winds and small hail under the strongest cells.
The cells will die with the setting Sun as instability is lost.  On Tuesday, we will be looking for the risk of thunderstorms in far SE AZ surrounding the Clifton forecast zones.  The micro-climate alerts via e-mail will take care of that area.
As stated days ago, after March 1st we would see such a system move in.  As it gets closer then I will assess the rain/snow risk and produce those numbers to you.  Furthermore as stated in the previous article (Read here), and I quote it "MEDIUM RANGE: Our next system comes in After March 1st so yes… it will rain again across the state, and there are indications that MARCH 2020 will have above average rainfall for Arizona in my preliminary numbers … " and that happens just after March 8th, right on schedule for the rainy month forecast.
As you know, just as Southern California Weather Force has a service for members with micro-climate alerts, Arizona Weather Force does as well and we do have some people already signed up getting those so it is seeming like it is helping.  The service helps businesses and persons, especially with ranches.  Click Here to read about it and even join.
NOTE: This is the SCWF Website but it is being used for national updates until ad placement is ready on the AZWF site. 
Your Facebook Page to join for this update is linked here – https://www.facebook.com/ArizonaWeatherForce