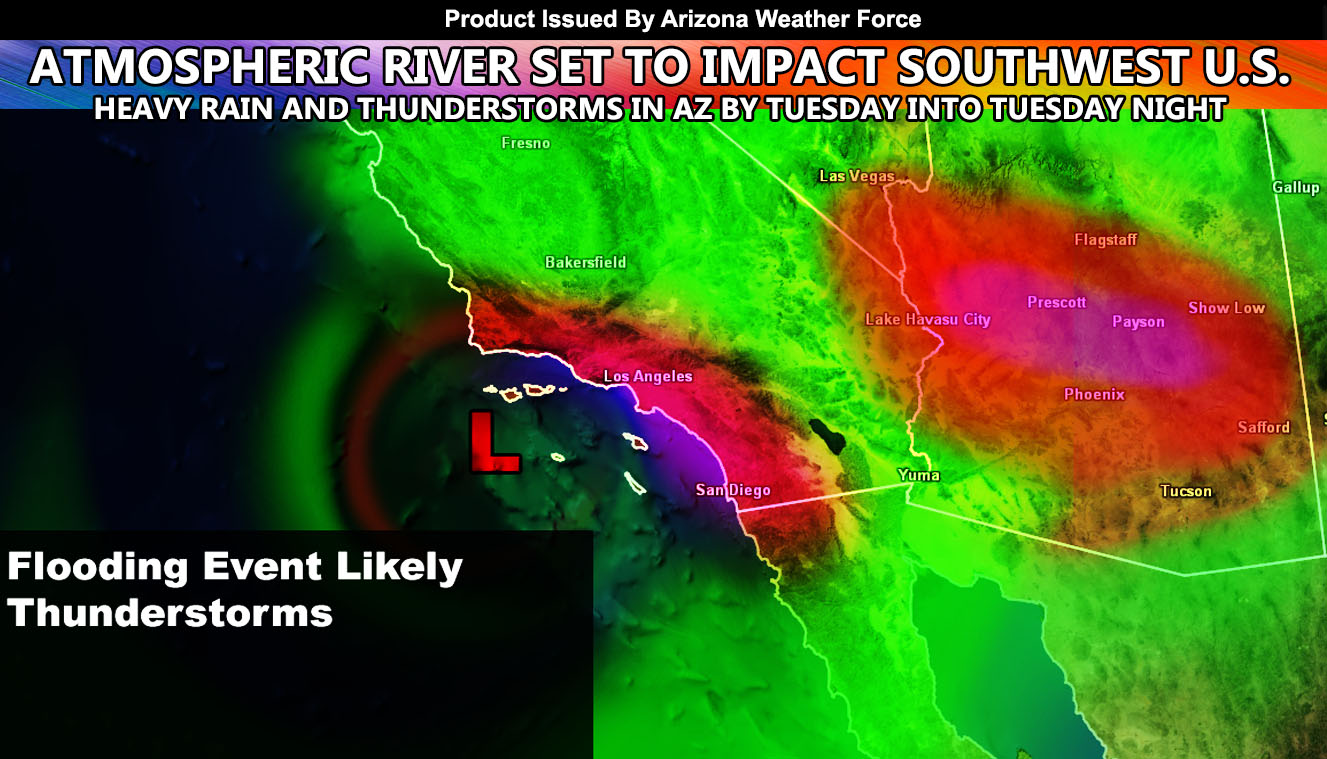 Well, remember back on March 2nd I told you to take your flood precautions?  That was your eight day warning and now we are at four days and numbers have not changed.  Arizona will be hit by a strong Atmospheric River (Pineapple Express) event starting Tuesday, maximizing Tuesday night, and going into some of Wednesday, before being gone on Thursday.  Values indicate widespread thunderstorm activity with it so read on for details.
This system is very similar to an El Nino type severe weather scenario in that it will over-run cold air.  This means that cold-air aloft with the warm-tropical air will make for widespread thunderstorm activity on arrival, even on the main warm-front, which is pretty rare.  usually we get a warm-conveyor belt of moisture and no thunderstorms.  This will not be the case with this storm Tuesday and even into Wednesday.  It is a Martin Storm Diamond storm system.  The Martin Storm Diamond is a diamond-shaped zone southwest of Southern California that when the center of a storm passes it, it produces the strongest lifting over the forecast area, giving the better risk of heavy rain and/or thunderstorms.  Like a comet discovery, I did name the diamond zone after myself, and with Southern California Weather Force, it has caught on as a term the public knows.
Snow levels will be over 9,000 FT with this system due to the tropical-moisture influence, but it will drop over the day on Wednesday to around 7,000 FT, which is enough for some snow in the higher elevations around Flagstaff and Mount Baldy, HOWEVER the main swath of precipitation will be gone so it will be mostly rain up there for this with some end storm snow possible.  This is not a major snow-storm for the resorts.
Not much else to say about this system yet other than it is coming and heavy rainfall will hit the state from an Atmospheric River System.  I will be monitoring it closely and will update you accordingly on severity of storms.
NASCAR Sunday.  Over at a page I run at the NASCAR Weather Center on Facebook (Click Here To Join If You Follow NASCAR) – I indicated that showers will be in the state on Sunday.  There is a good chance that the track, being further west, may escape the showers.  Even so, I expect them to clear over the day and I do not see a problem at the track right now.
As you know, just as Southern California Weather Force has a service for members with micro-climate alerts, Arizona Weather Force does as well and we do have some people already signed up getting those so it is seeming like it is helping.  The service helps businesses and persons, especially with ranches.  Click Here to read about it and even join.
NOTE: This is the SCWF Website but it is being used for national updates until ad placement is ready on the AZWF site. 
Your Facebook Page to join for this update is linked here – https://www.facebook.com/ArizonaWeatherForce