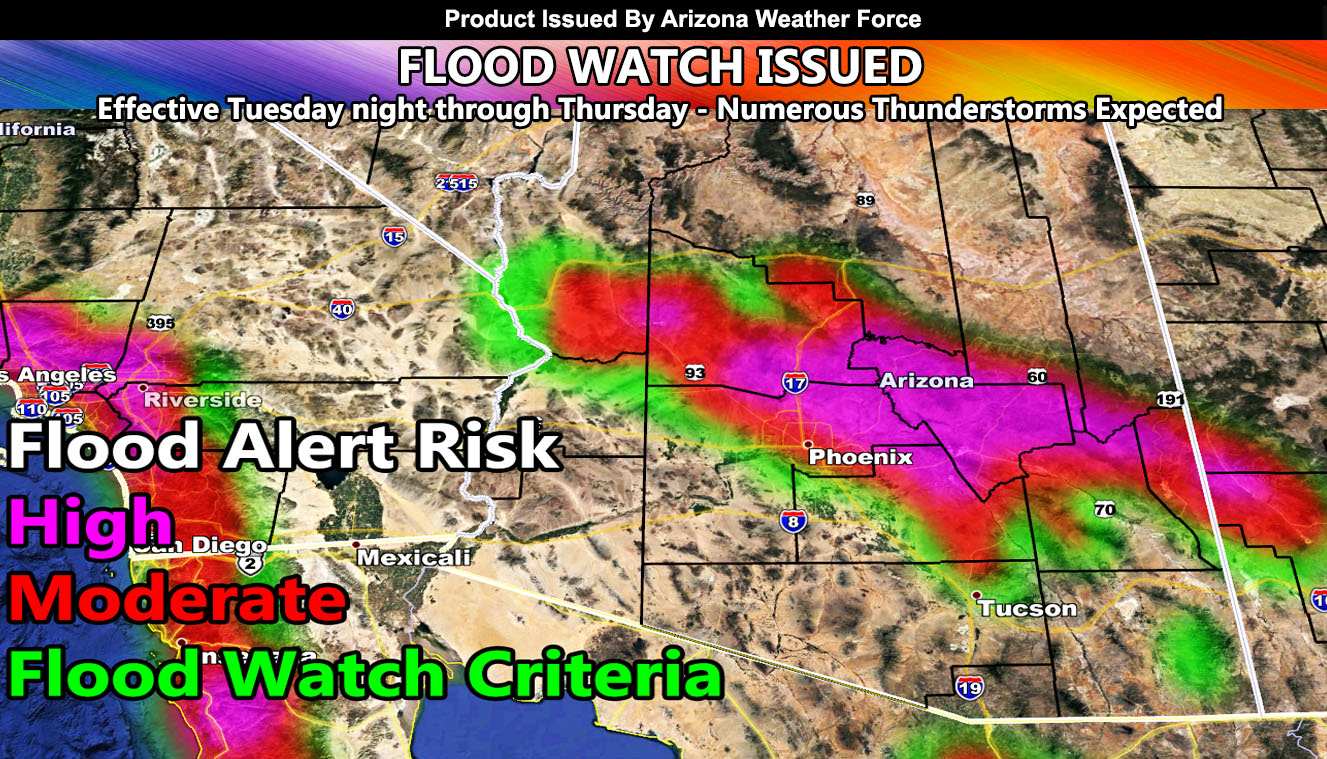 Arizona Weather Force has issued a Flood Watch effective Tuesday night through Thursday for parts of Arizona.  Read on for details …
A storm system is fast approaching the area and flood risk numbers are showing up with the National Weather Force Network models.  Lead-time for a flood watch criteria means that this will be upgraded to Flood Advisory and Warning as the system nears so you will be updated again.  What I see right now is the warm front lifting across Arizona on Monday night for Southern/Southwest Arizona after midnight and this will increase through the state as the day goes along on Tuesday.  Some upper level dynamics mixed with some instability does suggest that Southern Arizona may get thunderstorms on Tuesday.
As Tuesday night moves along, strong upper divergence will move over elevated instability from Parker/Havasu area, northward to Bullhead City, including the Hoover Dam and Las Vegas, Nevada through Wednesday morning.  We could see isolated thunderstorms in Central Arizona as well in spots, but it will be isolated.  Numerous thunderstorms are expected for the CO River Valley's northern sections overnight on Tuesday into Wednesday morning.  This is in the Flood Watch area as well.  As Wednesday moves along, the upper level low will position itself in the Martin Storm Diamond.  The Martin Storm Diamond is a diamond-shaped zone southwest of Southern California that when the center of a storm passes it, it produces the strongest lifting over the forecast area, giving the better risk of heavy rain and/or thunderstorms  Like a comet discovery, I did name the diamond zone after myself, and with Southern California Weather Force, it has caught on as a term the public knows.
Numerous Thunderstorms are expected to pepper the state on Wednesday and this contributes to the Arizona Weather Force flood watch as well.
On Thursday, the system positions south of Yuma, in Northern Mexico.  This position is very similar to the last system you had.  While you are not in my Flood Watch, it is possible that the upper divergence and cold-core entrance in the area will put Southwest Arizona, Imperial County, and Southern Arizona within the thunderstorm risk zone.  This is going to be something to monitor.  March sun-angles can easily put strong to even severe thunderstorms down there.
If you are reading this from Northern Arizona, there is a chance of showers and even thunderstorms today (Sunday March 8, 2020) in your area.  Although I do not have an advisory or watch, the previous video (Click here) DID COVER IT.
My network does not issue forecasts for inches of rain this far out.  The public only wants to know a general risk assessment and that is what I do.  As we near the system, I will issue the map for rain amount… but keep in mind that any thunderstorm forming can alter those amounts, drastically, such the case might be for parts of Southwest Arizona on Thursday.
Stay tuned to Arizona Weather Force for YOUR official weather watches/alerts as the storm system impacts …
As you know, just as Southern California Weather Force has a service for members with micro-climate alerts, Arizona Weather Force does as well and we do have some people already signed up getting those so it is seeming like it is helping.  The service helps businesses and persons, especially with ranches.  Click Here to read about it and even join.
NOTE: This is the SCWF Website but it is being used for national updates until ad placement is ready on the AZWF site. 
Your Facebook Page to join for this update is linked here – https://www.facebook.com/ArizonaWeatherForce