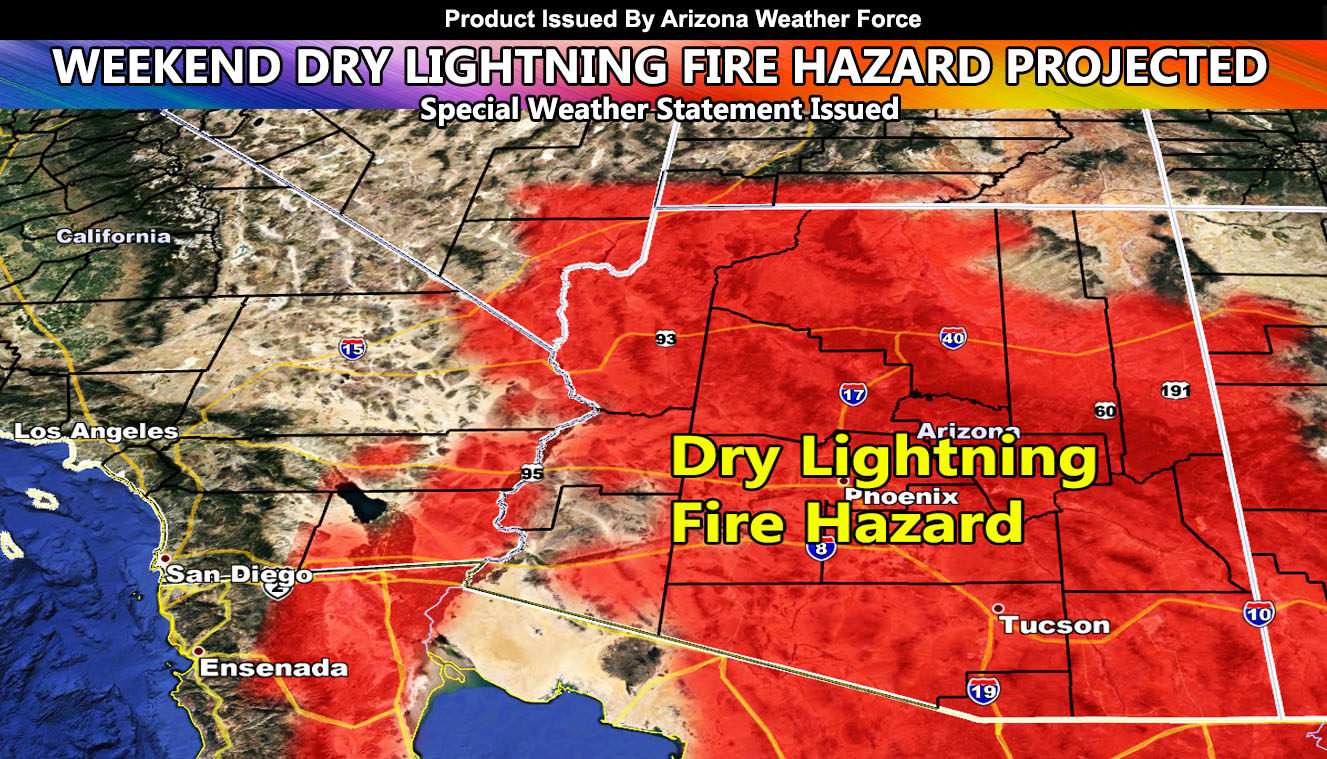 Arizona Weather Force has issued a Special Weather Statement effective now for Friday into the Weekend.  Friday, the activity will be the extremely southern part of the state, owning to the rest of the state over the weekend.  A fire hazard will accompany this event with 'dry lightning' expected so now would be a good time to check the brush fuels around your properties.  The forecast elsewhere does not mention this so this will be yet another forecast to pay attention to and if you are not on Arizona Weather Force, you will miss this warning so read on for details …
A brief intrusion of tropical moisture out of the south will bring the activity to Southern Arizona as early as Friday.  High-based thunderstorms are likely there.  Over the weekend, a deeper mid-level moisture layer moves over the entire state about, including the metro areas of the low terrain.  These will not only be high terrain storms, but there are indications of low terrain being affected as well.  Keep in mind these will not contain flood dynamics due to the dry air in the low levels.  This means that some of the rain will evaporate around 8,000 to 5,000 FT up and thus this will produce the risk of 'dry lightning' across the state.
Dry lightning is a high-based thunderstorm that produce little precipitation.  The lightning is able to strike the terrain and because of the lack of rainfall from the storm itself, a fire starts as a result.  This is what I am projecting for a good deal of the state.  Since the state had an above normal rain season, brush is going to develop fast and has been the last month so the fuel is there for fires.  Please check around your property and clear the brush before this event hits.
The image above is the lightning projection model (red-shaded areas) into the weekend and it does show the risk is widespread for these high-based storms.  High-based storms also produce the loudest thunder and it will be heard from miles around the initial storm so a number of you reading this will hear the thunder even if you don't see the lightning.