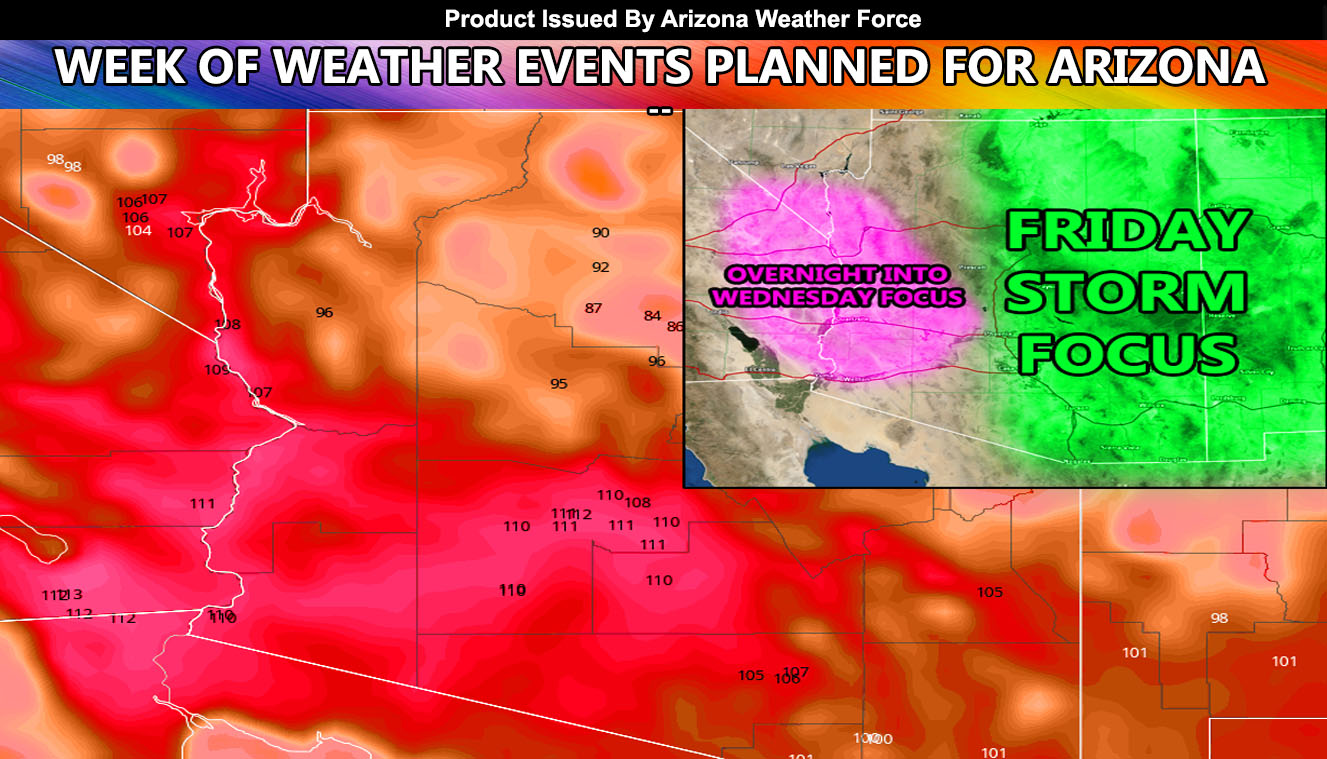 A mixed bag of events from the shutdown of the tropical moisture for the most part for a few days, a heatwave coming, and even an upper level low to bring a brief day period of tropical moisture into the region.  Read on for details …
Today will be much quieter across the state in terms of those daytime thunderstorms.  Not seeing the Tucson zone with much unless you are near the Mexico border.  We shutoff the moisture stream in the area with a dry southwest flow after today, but there is still some chance of overnight tonight (way overnight) mostly Wednesday morning being an interest zone in the Colorado River Valley / Kingman / Las Vegas forecast areas.  There is some moisture in the area along with mid-level unstable air.  Some of the numbers indicate high-based convection in those areas and we could see some showers and even a thunderstorm at times with it.
But with the flow changing, a ridge axis moving over on Wednesday into Thursday has prompted the Arizona Weather Force High Heat Warning for heat in the desert areas of Arizona, with 110+ very likely.  I'll put Tucson at 107-108F but shy of the warning criteria, but you'll get a mention now.  Phoenix will be in the 112F zone as well as the Colorado River Valley areas.
As for Friday.  The upper level low southwest of the state will move inland and provide some upper divergence (lifting) on the east/northeast side of it.  The end result will be an upswing in shower/thunderstorm activity for the Central and Eastern half of Arizona, with the western half not being touched.  After Friday, expecting a complete shutdown of the tropical moisture feed and the state will return to being dormant in weather concerns once again.  The month is expected to be above average in temperatures and the next moisture intrusion of any significance may be the end month period.  It only takes one stream to push rainfall numbers up.  Monsoon Season begins June 15th and goes through September 15th, which I have it at an average to above average monsoon season when it is all done, with 6-7 inches of rain in Tucson.