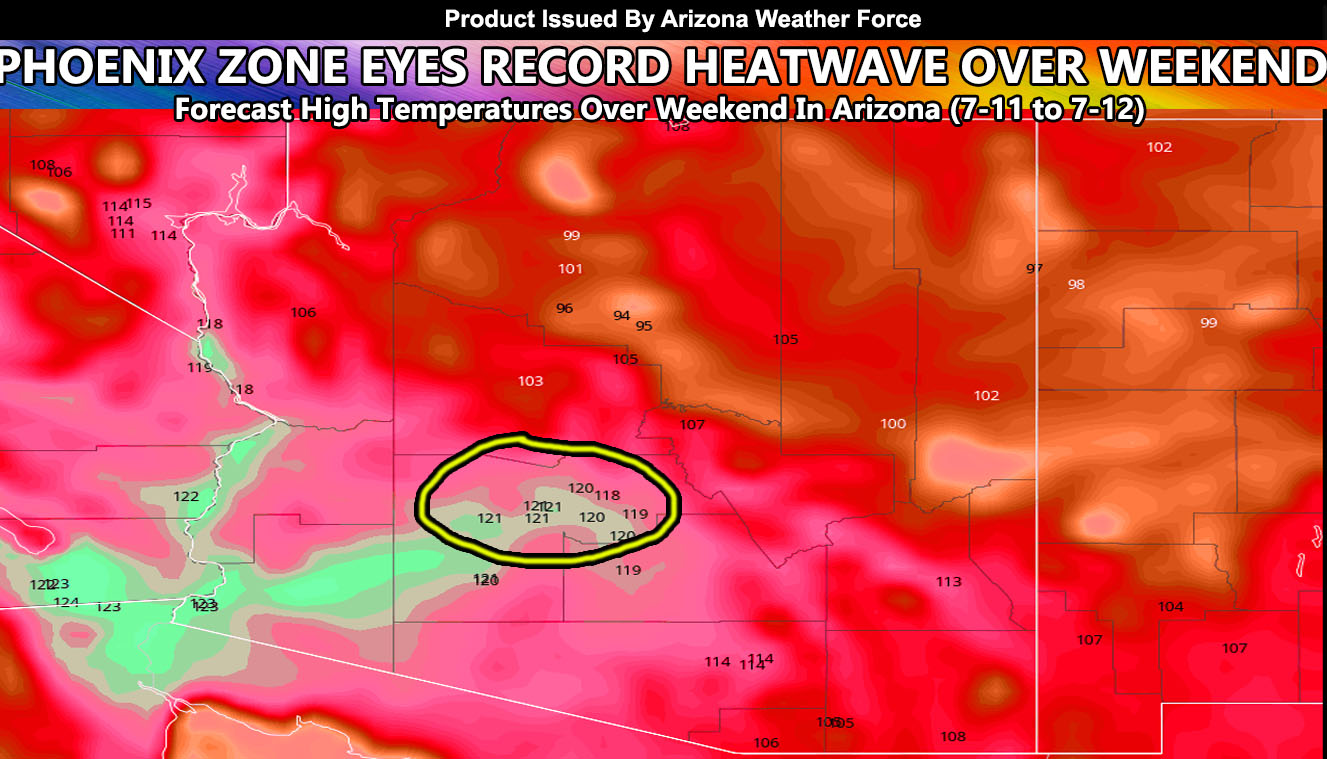 The FB Notification IOS/Android Apps For This Page are both out now.  Click Here to download them –
A very strong 600m upper ridge of high pressure that marks the 'heatwave' before the monsoon begins will develop over the the Arizona/New Mexico border by Friday.  This will push temperatures through 115F and with the weekend moving along, temperatures may even breach the 120F range.  The hottest temperature ever in Phoenix was 122 so we may get just shy of that, however this will be a record heatwave event for the days in question, just not overall.
Phoenix Sky Harbor Airport will certainly need to be monitored.  If you have flights out during peak heat hours during the afternoon/evening times you will need to keep an eye out on your flight delays as a heat delay is very likely.  Usually temperatures over 117-118 means that a delay from takeoffs will take place.
The real problem with flying in hot temperatures is similar to the problem faced in high altitudes: thin air. Hotter air is less dense, which means there is less air beneath the wings for lifting the aircraft and less air to flow through the jet engines.
As for the monsoon.  These larger heatwaves usually indicate the final build of the four corners ridge as the jet stream moves way north into Canada.  It also allows for less shear in the Eastern Pacific Basin  Less shear means the development of Eastern Pacific Ocean Hurricanes will finally begin and with that happening we will see moisture push up from Mexico after Mid-July, finally showing with the full the Arizona Monsoon.
Join the premium micro-climate e-mail alert service for your area today, it pays for itself to save business and person in one storm system including the ARIZONA MONSOON with Advanced Forecast Alerts and a discount is running NOW – https://www.facebook.com/ArizonaWeatherForce/photos/a.119632656096186/180254120034039/?type=3
As you know, just as Southern California Weather Force has a service for members with micro-climate alerts, Arizona Weather Force does as well and we do have some people already signed up getting those so it is seeming like it is helping.  The service helps businesses and persons, especially with ranches.  Click Here to read about it and even join.
NOTE: This is the SCWF Website but it is being used for national updates until ad placement is ready on the AZWF site. 
Your Facebook Page to join for this update is linked here – https://www.facebook.com/ArizonaWeatherForce