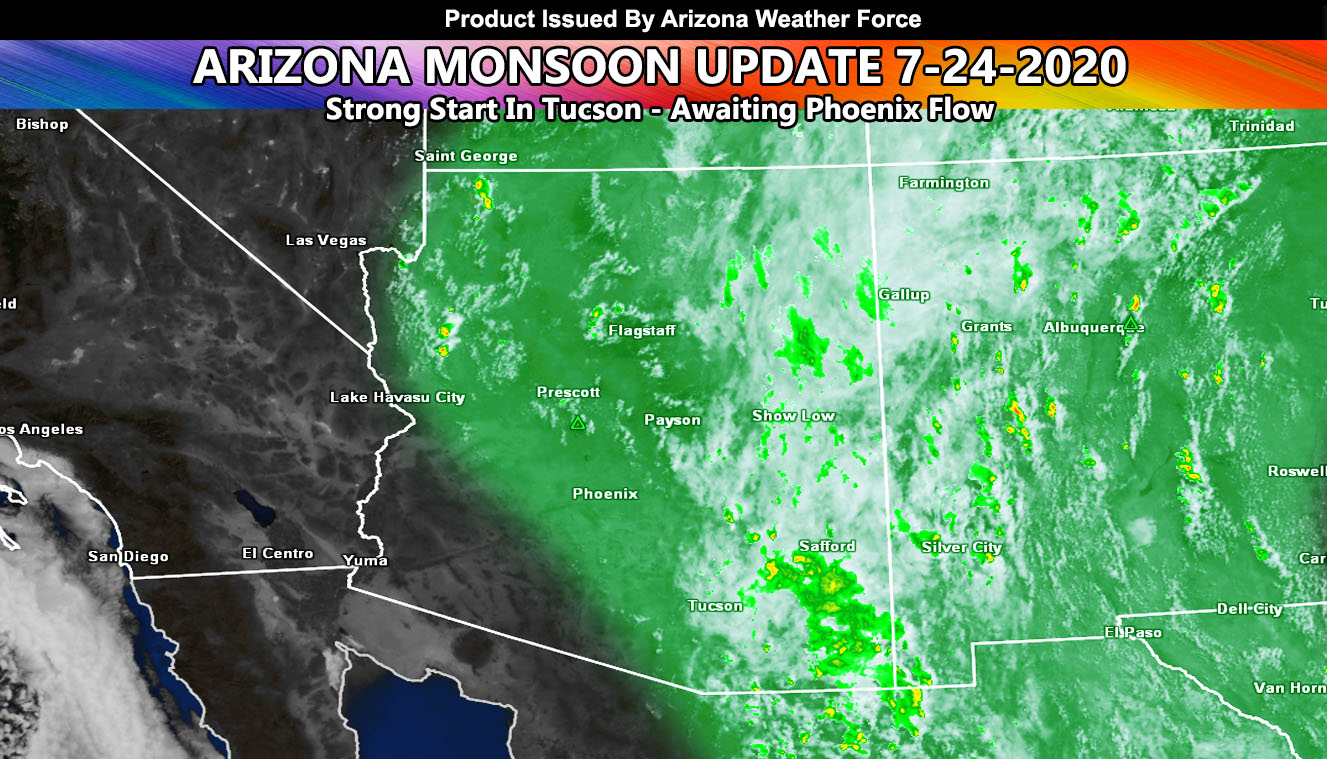 The easterly wave brought flooding to the Tucson metro areas yesterday (Thursday) with storms today as well, and a weakening trend over the weekend, before a stronger monsoon flow is expected as we hit August.  Read on for details …
On July 11th I stated that the monsoon would ramp up this month with the arrival of the easterly wave out of the Gulf of Mexico through Mexico (Click Here For That Article) – That medium/long range forecast was realized as anywhere from 1-3″ of rainfall hit the metro Tucson areas on Thursday with more storms happening today.  The storms on Thursday rode an outflow boundary to the Avondale areas, in the Western Phoenix Valley zones, which popped up thunderstorms through there as well.  Some of you probably heard the thunder yesterday, some of you directly below the cell.  The cell prompted a severe thunderstorm warning, as did the Tucson cells.  This solidifies the forecast article I did saying flooding and severe thunderstorm activity from this easterly wave. Yes, Kingman has a very very thin and weak 'tornado' and that falls into 'Severe Weather Dynamics' within the forecast easterly wave.  That article can be seen by Clicking Here.  There was no need to say the same forecast I put out a week ago on this event.
Some of you in the Phoenix Central/East Valley did not see a thing from it and this is how the monsoon season works.  At times you won't see a thing … and at times you will get hit really hard with storms.   For today (Friday) I expect more storms on the Rim, Grand Canyon, Flagstaff, Tucson areas.  Some outflow coming down into the Phoenix Valley will pop up isolated thunderstorms in that area so again, you either will see it or you will not.  Phoenix is not the center of the activity yet and nor is the Colorado River Valley
This comes as we move into August as August is traditionally the most active month for the monsoon.  We have yet to see a very close strong hurricane in the Eastern Pacific, and Hurricane Douglas heading for Hawaii is too far to affect the monsoon pattern.
What will be helpful is the remnants of Tropical Storm Hanna, due into Southern Texas over this weekend.  As the remnants travel through Mexico popping off thunderstorms, the monsoon flow will bring this activity into Arizona toward the end month into the first week of August.  For Phoenix, you want the ridge to be pushed into Utah, which will allow that moisture to push storms and outflow off the Mogollon Rim.
Given what we saw in Tucson, rainfall numbers are trending normal for the season thus far.  I put a realistic number of 5″ to 7″ of rainfall for Tucson when the season is said and done.
Stay tuned to official forecasts here at Arizona Weather Force