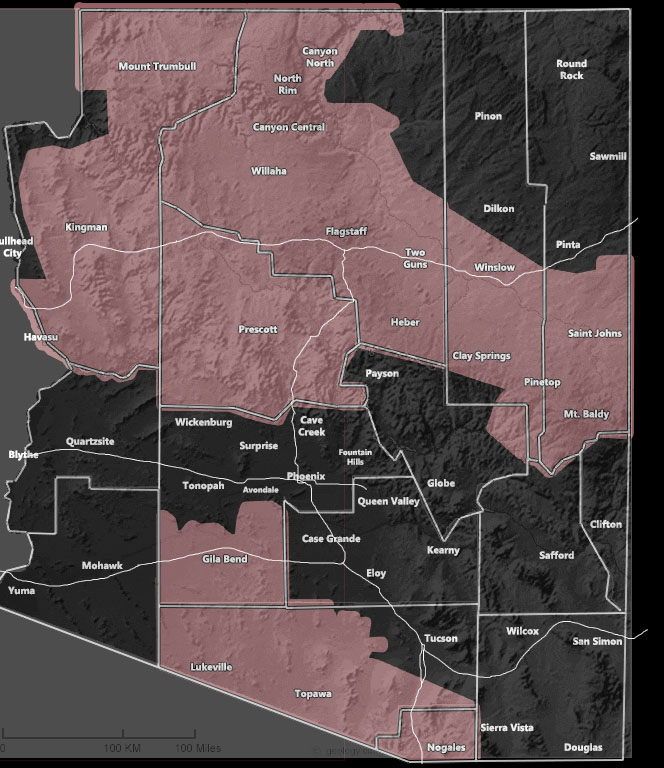 Issued Zones: Central/Northwest/Northern Arizona, including the Rim and Prescott … Western half of Pima County … Nogales …
Site: Arizona Weather Force has issued a Thunderstorm Watch effective today …
Date: 9/21/20 at 8:00am PT
Forecast: An intrusion of monsoon moisture will bring instability to the region this afternoon and evening across Arizona. You probably already see the effects of it with the mid-level clouds and isolated showers across some of the state. The Arizona Weather Force Monsoon Forecast Model for thunderstorm zones is showing a concentrated area in Northern/Northwest Arizona, which does include Central around Prescott, where there is evidence of numerous thunderstorms hitting that zone. Storms will form along the Rim as well.
Further south, the storm activity will skip both Phoenix and Tucson and center around the Western half of Pima county, southeast to Nogales. The image below is the AZWF monsoon forecast model showing the risk of thunderstorm strength activity …
This will not be put on the Arizona Weather Force main Facebook Page and shows you that if the metros are not affected and you are receiving this via the subscription email list… why the list exists as a service. Be safe out there … If you came here from the Arizona Monsoon Forecast group and you want these to your email and not rely on FB, look at the link below the model image for the 100 percent delivery time and take advantage of the discount for the entire year of service, including next monsoon season.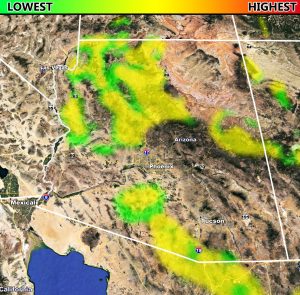 How to get these alerts with a premium subscription? (100 percent delivery time)
Click Here To Join The Special Through September 30th which takes you through monsoon season as well.
Join The Main Arizona Weather Force Facebook Page (50 percent delivery time)
Click Here To Join The Page Today!
10 mile rule: These alerts issued on this site
means that within your zone and 10 miles from you will see the event
forecast for. You may or may not see the event but it means you are in
the zone or 10 miles from where someone will.
Forecaster: KM