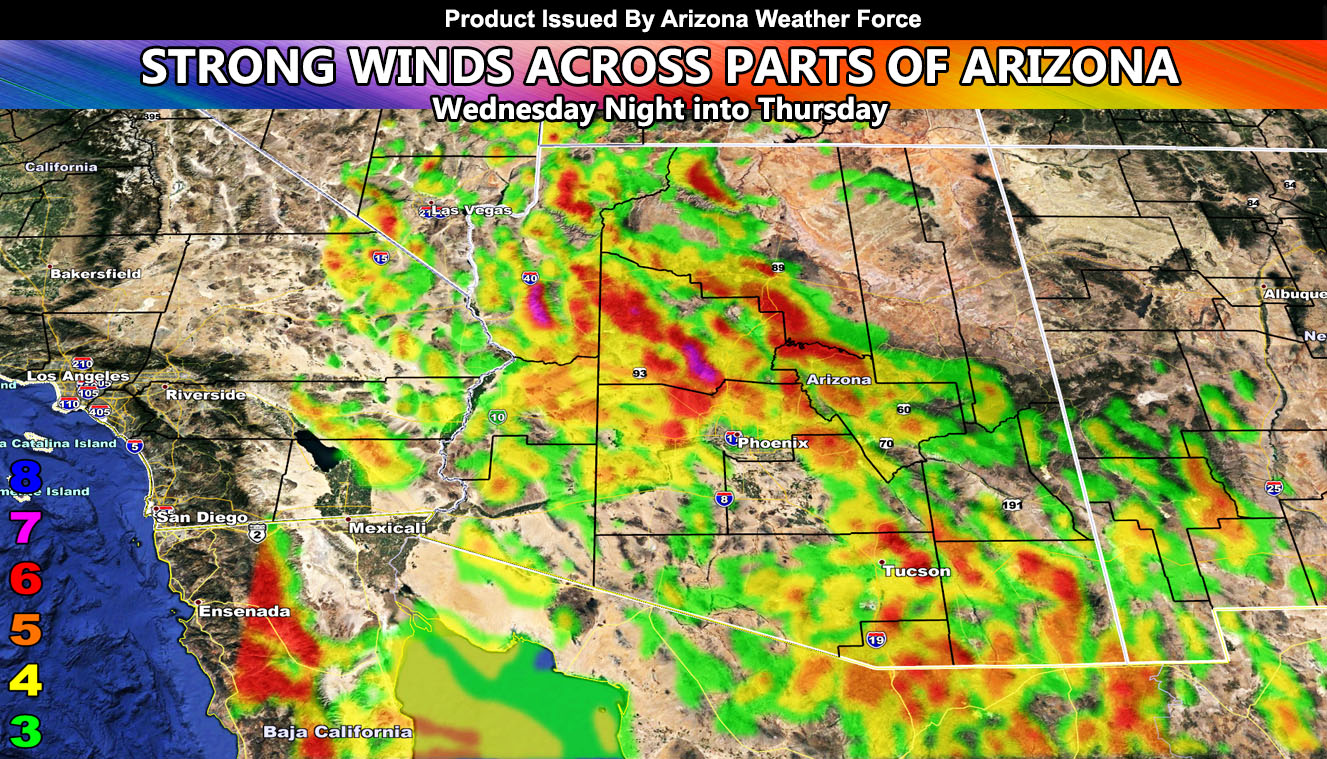 A strong; but dry storm system will move into the four corners states on Wednesday night into Thursday.  The cold sinking air associated with it cannot be ignored, thus a wind watch has been issued for various parts, including the Metro areas so read on and view the micro-climate wind intensity models … 
The same system that will affect the Southern California area with SANTA ANA WINDS will also affect the state of Arizona with winds.  Soundings indicate strong winds at 2,500 FT along with cold air advection.  This does indicate that strong winds will surface into the lower terrain as well, and not just the mountain areas.  Too much to talk about by location so look below to find out what your area would see.  Winds will start later Wednesday and go into the overnight.
There are indications of a west coast trough after the 9th.  This will be when the rainfall window tries to open back up.  Read this for the DEC forecast.
---
Martin Wind Intensity Scale and Models
8. Extensive widespread damage.
7. Trees are broken or uprooted, building damage is considerable. – High Profile Vehicle Roll-Over CERTAIN.
6. SOME Trees are broken or uprooted, building damage is possible. – High Profile Vehicle Roll-Over Likely, Do NOT recommend Traveling in this zone
5. Slight damage occurs to buildings, shingles are blown off of roofs. HIGH WIND WARNING CRITERIA – High Profile Vehicle Roll-Over Possible if weight is not corrected.
4. Twigs and small branches are broken from trees, walking is difficult. Anything 4 and above will have blowing dust if conditions are dry, which does reduce visibility and make driving difficult …
3. Large trees sway, becoming difficult to walk.