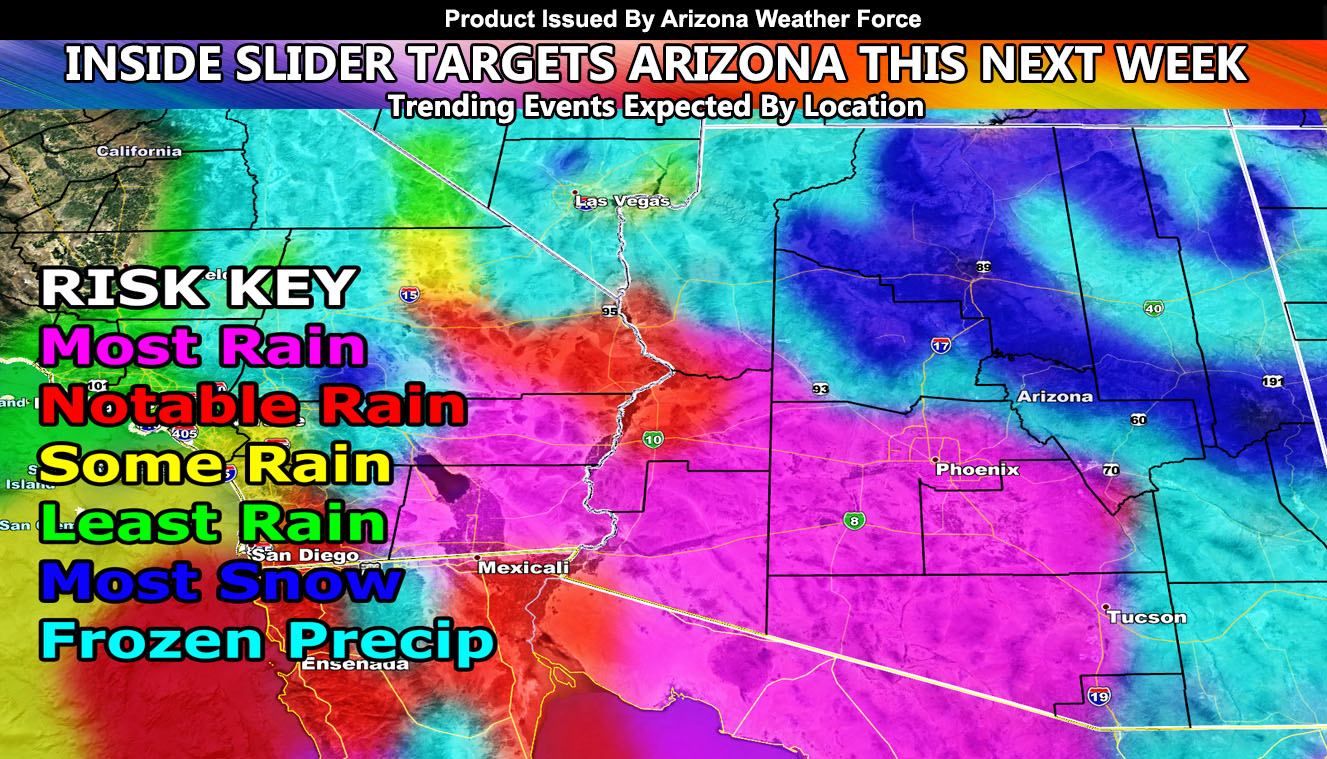 The first outlook is now out with a strong system moving out of due north over Southern California overnight on Monday, placing in Northern Baja by Tuesday morning where moisture will pull up and affect the entire state of Arizona so read on for details … Oh and Arizona Weather Force is now on MeWe, Link inside
The system will pull moisture out of Mexico overnight on Monday, but mainly on Tuesday into mid-week.  The position of the upper-level low brings strong lifting across the state.  Heavy snowfall is likely across the Rim zones, with some snowfall even into Southeastern Arizona.  The snow-level will be 4,000 FT, but there is a chance for snow to fall even lower than that as we mix in the dry air, upper lift, and convection chances.
For other areas, the metros will see the risk of heavy rain and thunderstorms, including hail.  This includes the Phoenix areas for sure as well as the 'rare' areas along the Colorado River Valley.  Those in Yuma wanting rainfall will get your wish with this system.   So… again.. like the last article I wrote (click here) – This is a short update to show the areas of expected impacts
Arizona Weather Force is now on MeWe – Link – https://mewe.com/p/arizonaweatherforce
As always, stay tuned to Arizona Weather Force for official forecasts and updates on weather across Arizona and if it says 'like page' below, hit the button and get future updates.
Remember:  Micro-climate alerts will be issued over the premium email alert system.  FB groups have been shut down from posting because FB sees my multi-posting as spamming and their 'robot' is preventing me from continuing. emailed custom weather alerts can be signed up for on the AZWF website if you need them – https://arizonaweatherforce.com/azwf-supporter-monthly-bundle-member-sign-up-form/