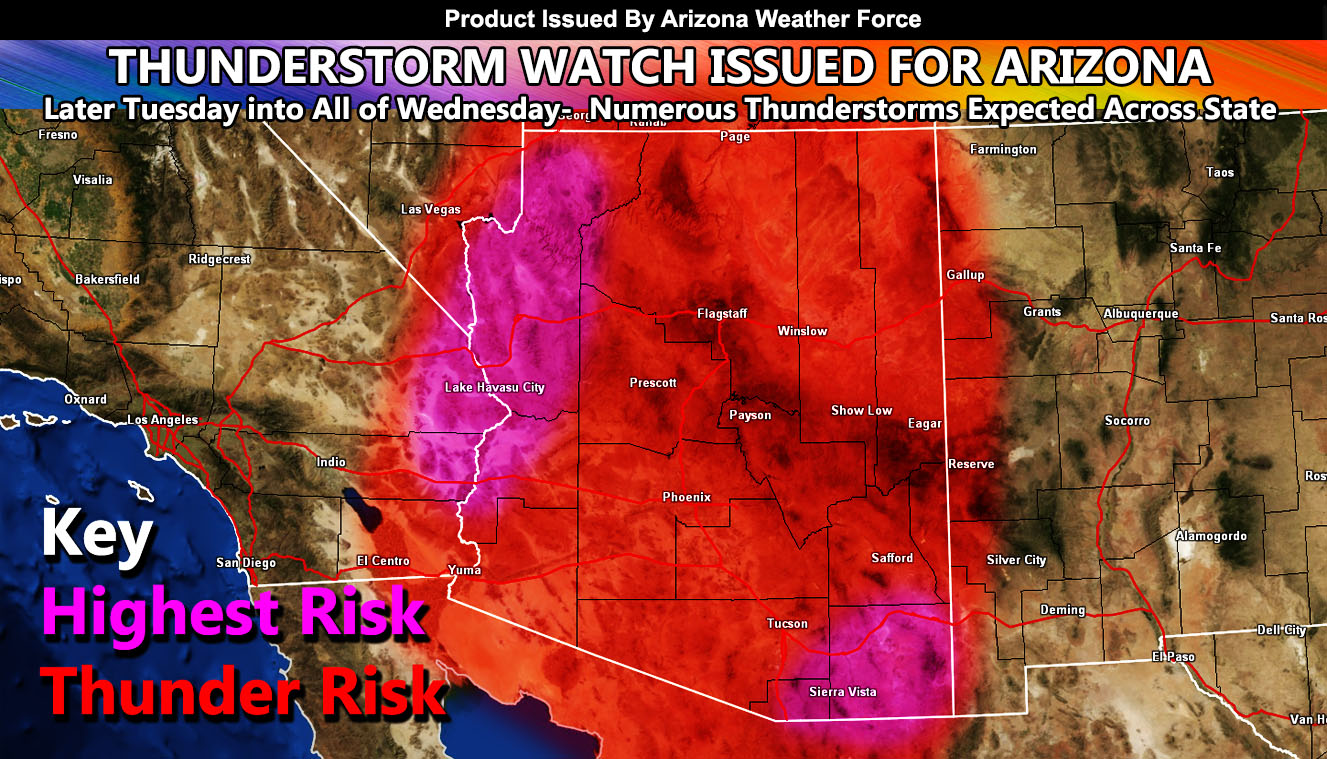 Arizona Weather Force has issued a Thunderstorm Watch that stretches across the entire state of Arizona for a moisture surge out of the south, starting later this evening/night and increasing overnight and through the day on Wednesday with numerous thunderstorms expected to strike across the area so for your area read on for details …
This will be an interesting, tough, challenging, but great forecast outline.  We have various dynamics placed across the region, including a ridge of high pressure to the east and an upper level low to the west.  These later June upper-level lows off the California coast are extremely rare.  This will provide one thing needed … lift in the atmosphere.  You will notice the wind direction will be south on Tuesday evening, some of you having noticeable gusts at times.  This is a gulf surge and signals the coming moisture out of Mexico, which would be considered monsoonal.
Moisture will start increasing in the mid-levels over the Western half of Arizona, including Phoenix later today/night, and going through then.  Mid-level instability does suggest these will be scattered high-based thunderstorms capable of starting fires as well with little precipitation from them.  We will start to see deeper moisture over the day on Wednesday.  There are two focus spots right now for this day.
The Colorado River Valley is a major focus.  You are between the upper level low and the ridge of high pressure.  You also have upper lift and convergence at the surface along with an actual frontal zone dynamic.  This is pretty rare for this time of year, an actual front is not seen often in this area.  This will provide you with strong to even severe thunderstorm risks as storms develop in Southern Nevada and Eastern Southern California, spreading east into areas like Parker, Havasu, Bullhead City, and Kingman.  This is a thunderstorm watch at the moment for you, but Arizona Weather Force criteria may allow for a Severe Thunderstorm Watch upgrade when numbers are looked at again on Wednesday morning.  This would include the risk of flooding so consider taking alternative routes instead of Highway 95 along the river.  It also includes the 'chance' of isolated tornadoes under the influence of the jet stream from the upper-level low to the west.
The secondary area to watch is Santa Cruz to Cochise Counties, in Southeast Arizona on Wednesday.  Instability would be strong there as well and storms capable of flooding will be possible in that spot as well.  A lot of Cochise County will be ground zero for strong to severe thunderstorms.
Additional forecasts will be given through this event on the AZWF social media page (click here) and do not forget to join the group on Facebook where reports not posted on the main page area, in addition to viewer photos and videos of current weather events (click here).
Stay tuned to Arizona Weather Force for updates however you receive them, whether via social media or the premium email alert service system –
---
THE OFFER EXPIRES FOR GOOD JUNE 22ND! – GET EMAIL ALERTS AND ENTER THE MEMBER SECTION ON THE SITE:  Both Southern California Weather Force and Arizona Weather Force have a cheap Summer 2021 discount to supercharge this service you already get on social media for free.  If you do not want to miss any articles this season because social media does not show you for hours or even days (common) and want to get custom email alerts such as thunderstorm, severe thunderstorm, flood, heat, or tornado alerts along with a controllable member section model for each during the events in YOUR area, sign-up for the premium member package, which is only $10 for the Summer.   Read below for details on how to join this offer.
---
REMEMBER… your continued want for this service is what keeps the server running and paid for.  A big bill is coming in the Fall and if I can get enough signed up this Summer, I can extend everyone's Summer 2021 package through September.  Thanks for your help!
---
ARIZONA WEATHER FORCE – Click here to Join Arizona Weather Force's package
---