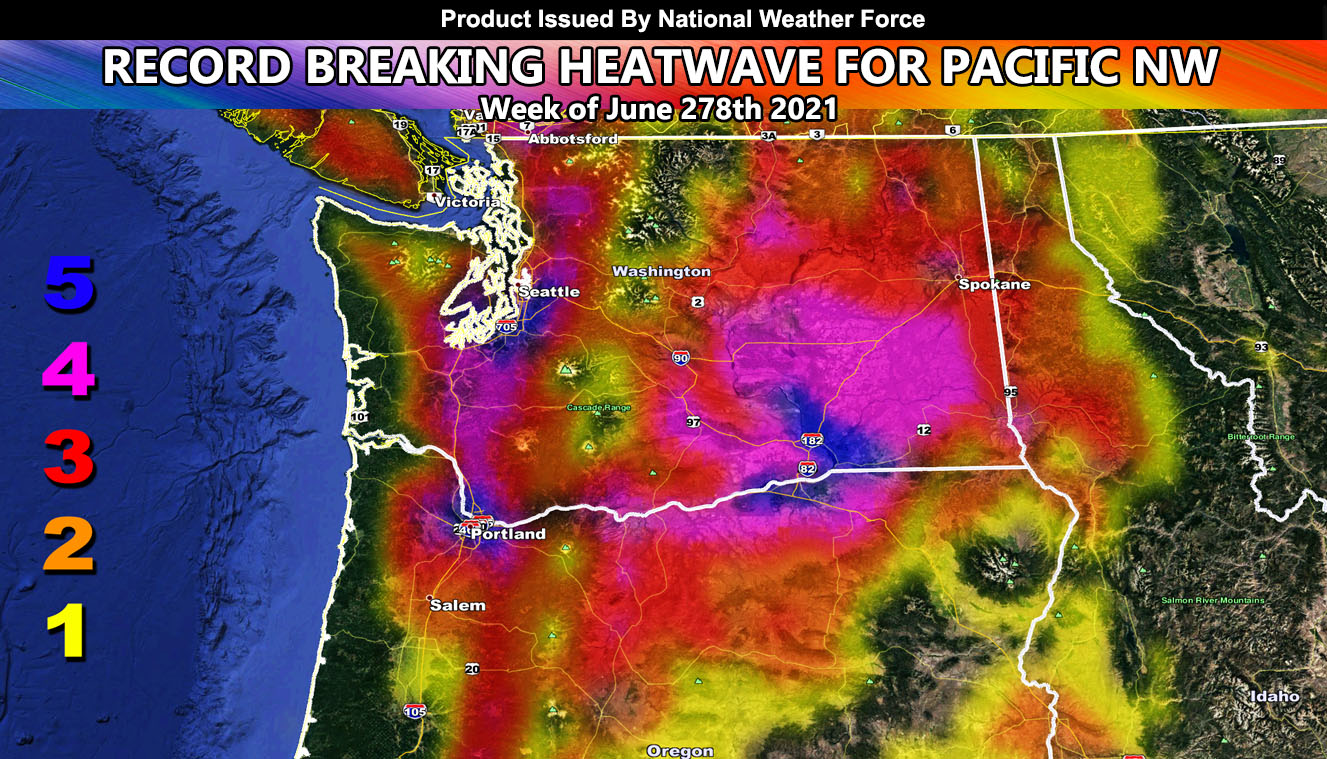 National Weather Force has issued a High Heat Warning.  Back on June 21st I warned of the coming heatwave that you had plenty of time to prepare for so here is your final warning … now an abnormally strong ridge of high pressure will form over the Pacific Northwest starting Sunday and maximizing through Monday and Tuesday.  This ridge has brought a LEVEL FIVE reading on the National Weather Force scale, something not seen anywhere but the Desert Southwest and the most dangerous value on the model for Seattle and Portland.  You are not used to this, take precautions as I challenge NOAA in saying their forecast temp is still too low so read on for details …
IF READING THIS FROM AZWF or SCWF and in the PAC NW REGION – Click here to join the National Weather Force FB Page
Back on June 21st, I released an article for viewers of the Pacific Northwest.  As National Weather Force grows with your help in sharing the information across social media then more people would see it.  You can click here to see that article forecast.  At the time of my forecast release, NOAA had a high-temperature forecast for Portland and Seattle in the upper 90s touching 100.   A few days after they upped it to 103.  Now they are at 109.  I have stated that 115F is possible with this ridge of high pressure since the 21st and I have no doubt in my mind they will eventually last-minute upgrade to my forecast.  But if they do not, you had your warning.
In the Desert Southwest, I have developed a heat model, scaling 1-5 and I'll be adding a 6 soon for cooked medium-rare.  This scale is not a temperature scale, but more of a scale to tell you what it would be like out there.  Not many of you are used to the heat that will come so you need to prepare for a taste of what happens in Phoenix and Palms Springs each Summer for days on end.
This scale works for the image above in this article –
5. Heat Stroke Certain After 10 minutes of exposure. You will die outside in this as it is near low oven temperatures that will slowly cook you. You may even have a hint of burnt human skin that only Jeffrey Dahmer would like. Water is a must and so is salt to replenish the water lost in the body. Do not add pepper.
4. Dangerous. If you want to hike in this, you must have a lot of water. Most people think that they have enough water but they do not. This is the level at which kills a lot of people due to that reason. Working outside is not recommended. You do not want to be playing hot potato with your feet on the sidewalk on this level.
High Heat Warning in the Deserts …
3. Great discomfort. Do not exert yourself on a level three. Drink plenty of water, and hiking is not recommended without proper knowledge and supplies.
High Heat Warning in the Coastal/Valley areas … Heat Advisory in the Deserts
2. Some discomfort. Be cautious outside when working and drink plenty of water.
Heat advisory in the Coastal/Valley areas.
1. Very little discomfort, however, long periods of exposure could bring heat exhaustion.
---
NEW FLAT RATE TIER PROGRAM – GET CUSTOM EMAIL WEATHER ALERTS IN YOUR AREA AND ENTER THE MEMBER SECTION ON THE SITE:  Summer 2021 rates – If you get in after June 1st it is only $10, if after July 1st only $6. If after August 1st only $3 to finish off the Summer Quarterly Tier.  Fall, Winter, and Spring will have their own tiers.
Both Southern California Weather Force and Arizona Weather Force have a cheap Summer 2021 discount to supercharge this service you already get on social media for free.  If you do not want to miss any articles this season because social media does not show you for hours or even days (common) and want to get custom email alerts such as thunderstorm, severe thunderstorm, flood, heat, or tornado alerts along with a controllable member section model for each during the events in YOUR area, sign-up for the premium member package, which is only $10 for the Summer.   Read below for details on how to join this offer.
---
REMEMBER… your continued want for this service is what keeps the server running and paid for.  Thanks for your help!
---
ARIZONA WEATHER FORCE – Click here to Join Arizona Weather Force's package