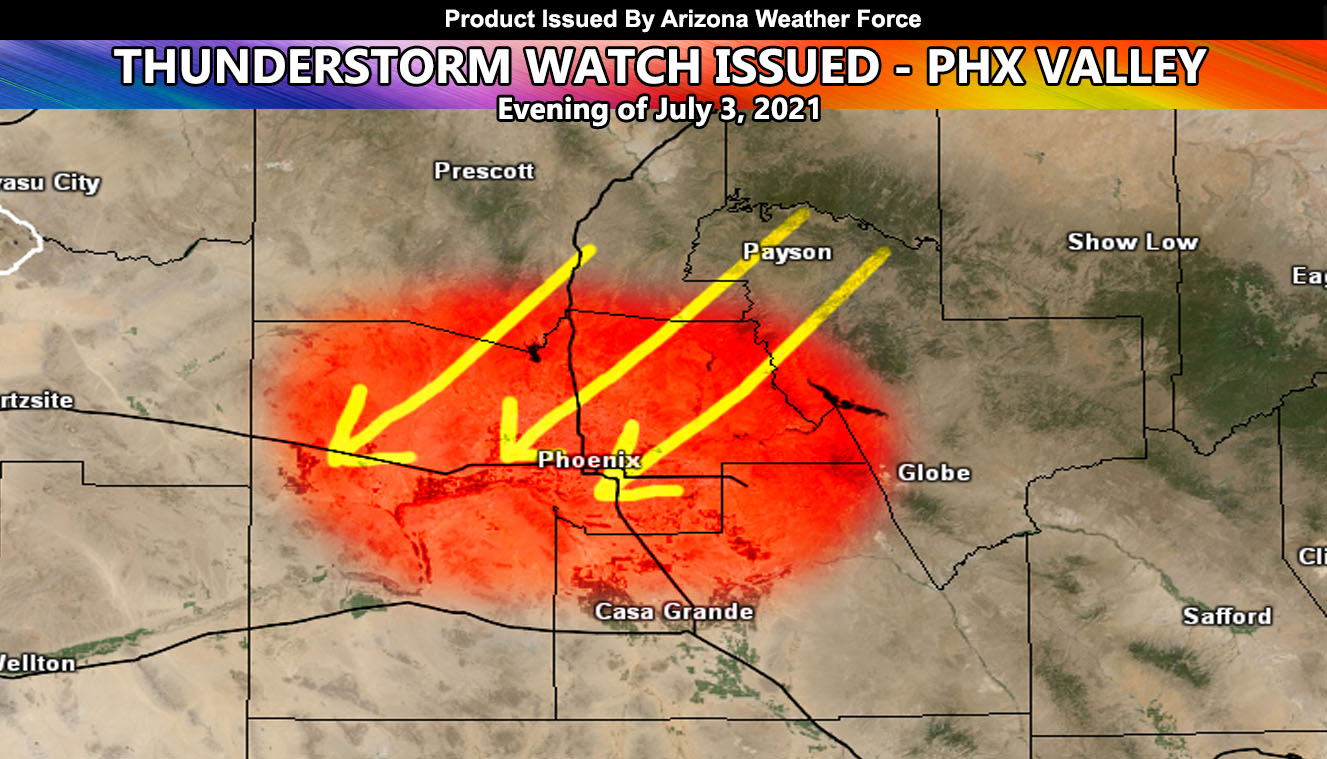 Arizona Weather Force has issued a Thunderstorm Watch effective this evening, July 3, 2021 for the Maricopa County Metro area as storms roll in off the high terrain so read on for details …
At the current time, storms northeast of Phoenix are developing.  These storms will eventually show outflow off the high terrain and down into the metro areas of Maricopa and Northern Pinal County.  Outflow could contain over 40++ mph wind gusts, which will spark thunderstorms along with a possible dust storm accompanying it.  Thunderstorms developing in this area will be capable of frequent lightning, hail, torrential downpours, and 40+ mph wind gusts.
---
NEW FLAT RATE TIER PROGRAM – GET CUSTOM EMAIL WEATHER ALERTS IN YOUR AREA AND ENTER THE MEMBER SECTION ON THE SITE:  Summer 2021 rates – If you get in after June 1st it is only $10, if after July 1st only $6. If after August 1st only $3 to finish off the Summer Quarterly Tier.  Fall, Winter, and Spring will have their own tiers.
Both Southern California Weather Force and Arizona Weather Force have a cheap Summer 2021 discount to supercharge this service you already get on social media for free.  If you do not want to miss any articles this season because social media does not show you for hours or even days (common) and want to get custom email alerts such as thunderstorm, severe thunderstorm, flood, heat, or tornado alerts along with a controllable member section model for each during the events in YOUR area, sign-up for the premium member package, which is only $10 for the Summer.   Read below for details on how to join this offer.
---
REMEMBER… your continued want for this service is what keeps the server running and paid for.  Thanks for your help!
---
ARIZONA WEATHER FORCE – Click here to Join Arizona Weather Force's package