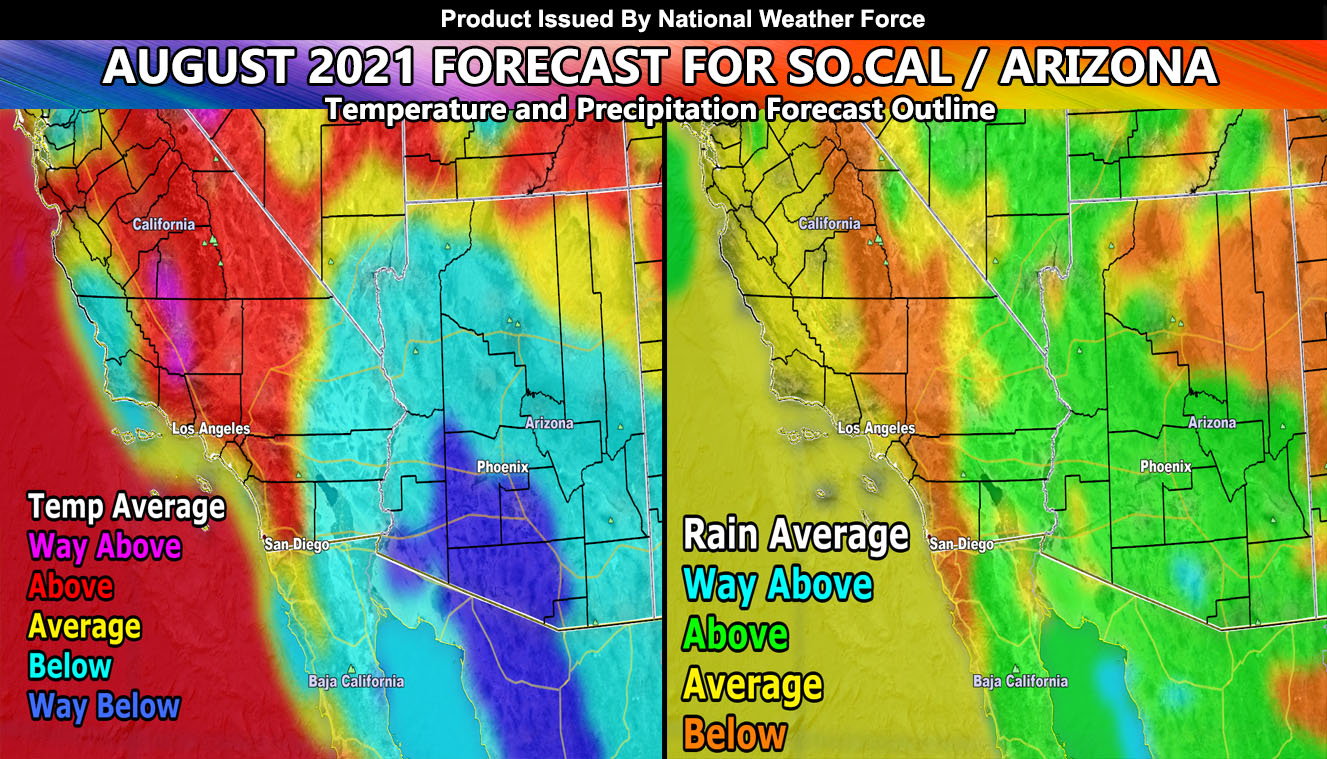 I've been away with family concerns and maybe again one time this month, but I have compiled the data I have for the August 2021 forecast, which looks similar, yet different in some ways than July was so read on for details.
Before I begin, the same wording will be used for both Southern California and Arizona Weather Force below.  You can skip to your area by reading ahead or before the subtitle.
Southern California – This will be the month where we get the ridge directly over the four corners for the first time this season.  This will allow storms and their associated moisture to stream in a southeast flow through the areas east of Los Angeles, so for the San Diego, Riverside, San Bernardino Mountain, and Desert areas, with little activity to show for it for the areas west of there.  As a result of this glancing miss for most of the metros, we are going to have an above-average temperature month, in some cases by mid-month or so having Bakersfield near or breach 115F again as they did in June.
The graphics below this writing shows the map for rain and temp average according to my model.  A hurricane developing west of Costa Rica between August 7th-9th will be responsible for shoving the moisture into our eastern half mountain/desert regions, along what is called the Baja Spine (SD/RIV/SBD Mtns).  Troughs of low pressure with a southwest flow will be the reason we remain drier in the metros but remember …
it'll be a warm month for sure in inland areas, but near the coast, it should be comfortable.  Even though the Baja Spine will go up this month, rainfall averages will be below average, with better chances in the eastern deserts
---
Arizona – A hurricane developing west of Costa Rica between August 7th-9th will be the main driver of this forecast for you.  You need this one in order to hit above average in the monsoon for the month of August.  Now, as I stated before, July would be active, then there will be a lull in the activity, and toward the end of the monsoon season, we will see a pick up of activity.  This month will feature metro storms picking up after around that 7th-9th period pending that strong hurricane does form, which on satellite it is looking very healthy.
You will have a long lull in activity after that, followed by end month activity with getting slammed. So yes, there are going to be many quiet periods, much more than July, but the periods that are active will be more active than July, owning to 2-3x more dangerous severe weather concerns.
As a result of this, cooler than average temperatures are expected for most of the state with the humidity in the area, the coldest periods towards the end of the month.
---
Both Zones – Now, both of these areas will be monitored as events near.  I will say that we are already on "J" for the Eastern Pacific Hurricane Season, which, as you saw in my summer forecast, did say the Eastern Pacific would beat the Atlantic Hurricane Season this year.  This upswing in hurricanes is telling me that it will be very active over the next couple of months as they become stronger and get closer, pushing their moisture up to us, which should power drive the monsoon season and end it with a bang for the areas that usually do see it.
---
Now here are the images (clickable maps) that show what I do expect this month for rain and temperatures on average.
---
---
Get these alerts via your own e-mail control panel for your zone at 100% where social media IS NOT, or the closest to you as a full supporting member of this service that saves lives and property – here – https://arizonaweatherforce.com/azwf-discount-member-sign-up-page/
Join the Arizona Weather Force group for photos and pictures, and sometimes updates not posted on the main FB Page – here – https://www.facebook.com/groups/arizonaweatherforecasts
See ALL Active articles and alerts for Arizona here – https://arizonaweatherforce.com/
Arizona Weather Force is a custom weather alert service that began in September 2019 off of Southern California Weather Force and is regarded as the most accurate weather service in the state, offering custom alerts, maps, and models to help save life and property.  The work done here is never 100% accurate, but it comes pretty close.  Arizona Weather Force runs on zones, so if an event happens in a zone that is 10 miles from the border of your zone, the forecast is still valid to activate your zone's alert system.  A company quote to the public is that of "The Joker" and tells other agencies in weather this all the time… "This world deserves a better class of meteorologist… and I'm gonna give it to them"… out-forecasting even the National Weather Service with lead-time and precision, which makes this service a focus of ridicule and envy in the weather community due to having such accuracy. Alerts issued here are issued custom from this office and this office alone. You may not even hear it elsewhere, but if one is issued near or in your area, listen up because "if you do not wish to die in weather, follow, it'll save your life one day."
K.MARTIN
Meteorologist In Charge –
– is a consulting meteorologist for over 50 different companies, including large oil companies like BP. He has certs from MSU and PSU as a meteorologist.  Both short and long-range is very important to know in those jobs so you can bet on accuracy here. He is versed in fields like Western USA, Tornadoes, Floods, Hurricanes, High Winds, Fire Behavior, Snow and Blizzards, Short Range, Long Range, Seasonal, and Life-Threatening decisions with over 20 years experience, out-forecasting even the National Weather Service with lead-time and precision, which makes him a focus of ridicule and envy in the weather community due to having such accuracy.