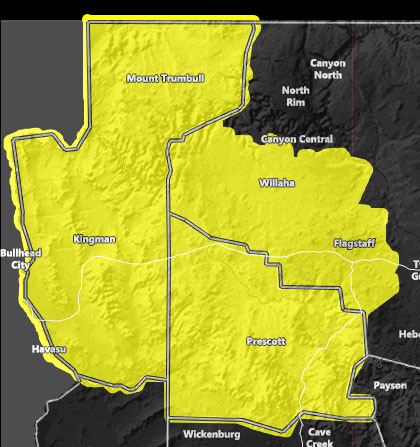 Issued Zones:  Flagstaff, Prescott, Kingman forecast area … Northern CO River Valley
Site:  Arizona Weather Force has issued a Thunderstorm Watch effective this afternoon until midnight tonight …
Date:  8/11/21 at 9:00am PT
Forecast: A cluster of storms will develop in the Flagstaff forecast area, moving southwest from there through the Prescott zones, much like yesterday.  This outflow boundary will move westward from there, activating storms across the Kingman areas.  These storms will be weaker than yesterday, so isolated clusters will be possible in the Northern Colorado River Valley around Havasu once again. 

They will not be as severe for the CO River Valley like yesterday, but strong winds and lightning will be possible with them as they cross the CO River into Southern California.  IF these storms weaken before the CO River Valley, the winds will still remain strong through those zones.   Over at Southern California Weather Force, I issued a Dust Storm Warning for Las Vegas, so if you are in the Laughlin areas, you will see the strong outflow winds this evening … 
---
---
10 mile rule:  These alerts issued on this site
means that within your zone and 10 miles from you will see the event
forecast for.  You may or may not see the event but it means you are in
the zone or 10 miles from where someone will.
Forecaster: KM