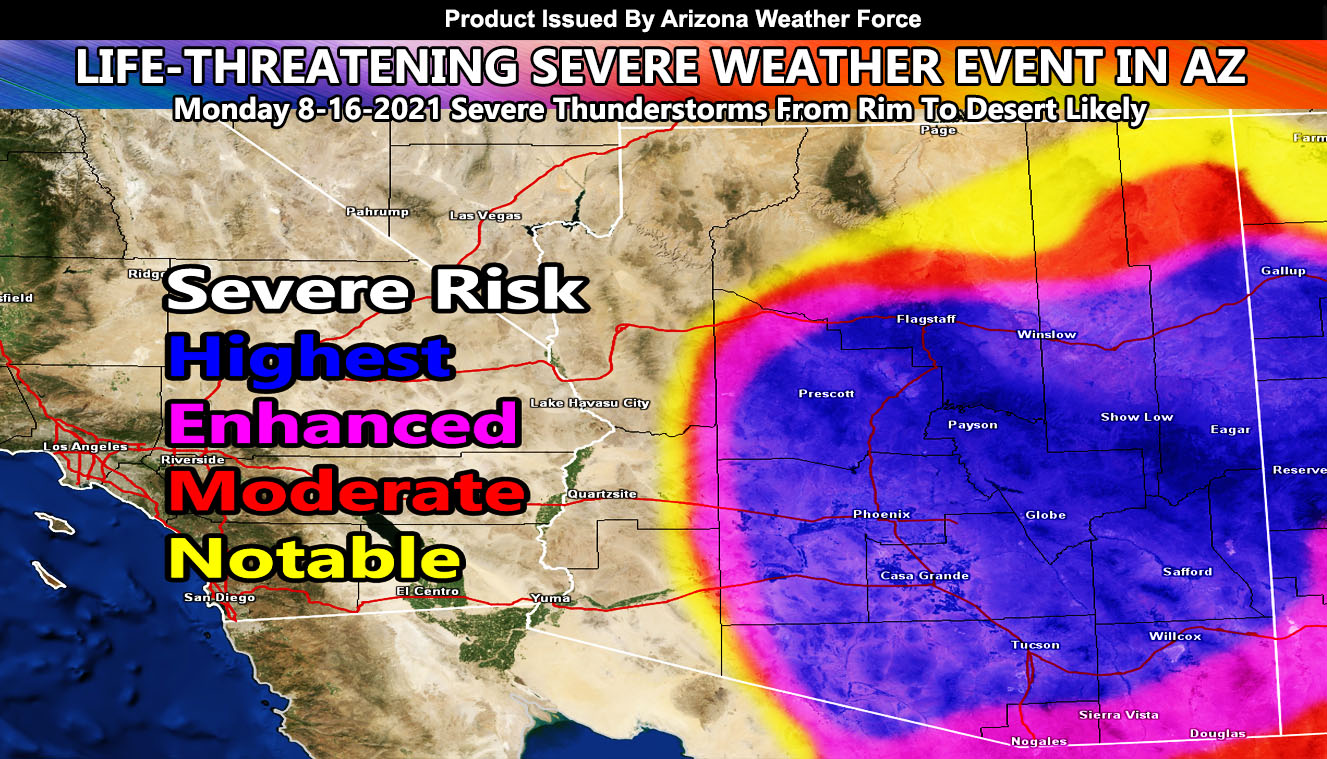 You know what to do Arizona.  Just as you trusted me with the August 13th storm event, so shall I trust you.  Get this out far and wide, and maybe life will be saved.  A ridge of high pressure and an inverted trough in New Mexico will work together to bring about a powerful and widespread severe weather event for Arizona, which includes the Rim, Phoenix, and Tucson Metros, and low desert areas between so read on for details …
Yesterday I released the severe weather statement.  I left out Gila Bend, which was hit hard with end of life for some.  Gila Bend has been added to the severe weather statement.  If you are part of a crew there, I suggest heeding the warnings given to you from this weather office.  An upper-level low off the coast of Oregon will work to spin up a high-pressure system over California in the next 12 hours.  That low-pressure trough is usually what we would see in the Fall, so it has a jet stream with it.  This jet stream will work on the western periphery of the high-pressure system and violently spin it clockwise.  This clockwise motion will bring impulses around the eastern periphery of the ridge and down into New Mexico.  These impulses will be the inverted trough dynamics.  This happens on Monday.  This north-to-south flow will violently clash with onshore flow from a gulf surge out of the south.  This convergence along the Mogollon Rim (Includes Prescott) will be violent.  25-30 mph northerly flow will bring the storms into the lower deserts of Phoenix and Tucson.  Attending outflow boundaries will work with an extremely large area of instability.  This area coverage of instability is larger than on August 13th, 2021.  This means that a larger area will be affected by severe thunderstorms later on Monday.  In addition to the instability, anti-cyclonic flow at 30,000 feet will ensure updraft exhaust, making the storms even stronger.
All the ingredients are pointing to a life-threatening scenario anywhere in the magenta or dark blue area.  You are suggested to take today and tomorrow morning to prepare however you do it, for yet another major severe weather outbreak.  I can only do so much from here as I did with many life-threatening events before.  In my local area of Southern California, I run a similar site.  A few years back I noticed that we would have major flooding in Santa Barbara.  NOAA decided to bring the numbers down.  A father messaged me and said he is not in a flood evacuation zone.  I ran my model, and he needed to leave.  My precipitation forecast was higher than NOAA's because I added in a tropical moisture component called Precipitable Water.  So what their models showed was 4-5 inches of rain, mine showed 12 to 15 inches.  It ended up in my favor of the forecast.  The father messaged me back the next day saying his neighborhood was swept away to the ocean, as was Highway 1.  He thanked me and said he owes his life to me.  Once again, I had to do NOAA's job for them to save that family. That is in AZWF Promo Video.  IF you have not watched it, take the time to and it will show you how AZWF came about by Clicking Here.
So take it what you will, even if you don't get much it does not mean someone else did not.  A lot of people complained about not getting a lot of rain, but there are several people and a whole city in Southern Maricopa County that wished they did not get that much rain and/or their loved ones were alive.  Remember that … That is why I always say, weather forecasting is not just for your backyard, someone else will get it and it may not be what they want.
A final forecast, along with AZWF models will be released on Monday.  Trends have trended into the high confidence category this event is solidified …
---
Get these alerts via your own e-mail control panel for your zone at 100% where social media IS NOT, or the closest to you as a full supporting member of this service that saves lives and property – here – https://arizonaweatherforce.com/azwf-discount-member-sign-up-page/
Join the Arizona Weather Force group for photos and pictures, and sometimes updates not posted on the main FB Page – here – https://www.facebook.com/groups/arizonaweatherforecasts
See ALL Active articles and alerts for Arizona here – https://arizonaweatherforce.com/
Arizona Weather Force is a custom weather alert service that began in September 2019 off of Southern California Weather Force and is regarded as the most accurate weather service in the state, offering custom alerts, maps, and models to help save life and property.  The work done here is never 100% accurate, but it comes pretty close.  Arizona Weather Force runs on zones, so if an event happens in a zone that is 10 miles from the border of your zone, the forecast is still valid to activate your zone's alert system.  A company quote to the public is that of "The Joker" and tells other agencies in weather this all the time… "This world deserves a better class of meteorologist… and I'm gonna give it to them"… out-forecasting even the National Weather Service with lead-time and precision, which makes this service a focus of ridicule and envy in the weather community due to having such accuracy. Alerts issued here are issued custom from this office and this office alone. You may not even hear it elsewhere, but if one is issued near or in your area, listen up because "if you do not wish to die in weather, follow, it'll save your life one day."
K.MARTIN
Meteorologist In Charge –
– is a consulting meteorologist for over 50 different companies, including large oil companies like BP. He has certs from MSU and PSU as a meteorologist.  Both short and long-range is very important to know in those jobs so you can bet on accuracy here. He is versed in fields like Western USA, Tornadoes, Floods, Hurricanes, High Winds, Fire Behavior, Snow and Blizzards, Short Range, Long Range, Seasonal, and Life-Threatening decisions with over 20 years experience, out-forecasting even the National Weather Service with lead-time and precision, which makes him a focus of ridicule and envy in the weather community due to having such accuracy.