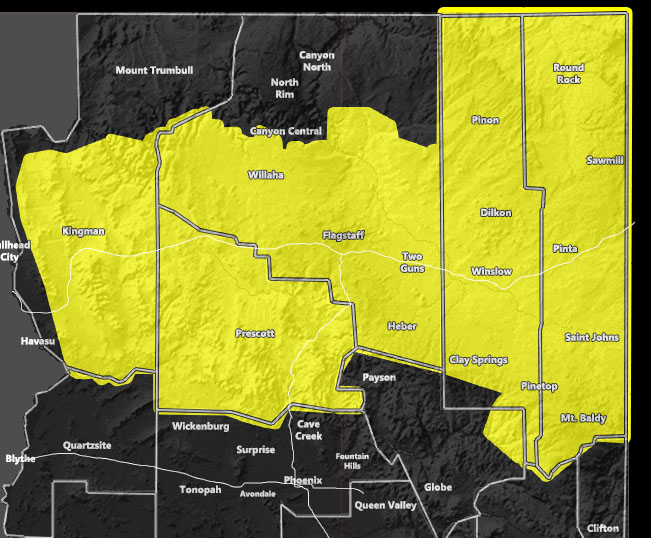 Issued Zones:  Northwest, Northern, and Northeast Arizona, including the Mogollon Rim, not including Gila County …
Site:  Arizona Weather Force has issued a Severe Thunderstorm Watch effective this afternoon through 10 pm tonight …
Date:  8/15/21 at 10:30 am PT
Forecast: Two areas to watch today for severe thunderstorms.  The first is Yavapai County.  Storms are expected to form over the county and over or west of Flagstaff.  The resulting southwest flow is favorable for the Prescott/Chino Valley areas to have severe weather, with some cells capable of flooding, large hail, and damaging winds. 

Storms will move westward with outflow toward the Kingman forecast zone. 

In addition to the above, AZWF Tornado Model does show that Central Yavapai to the tri-border region of that county, Mohave, and Coconino Counties have low-level dynamics capable of producing rotation at the low levels, therefore a weak tornado cannot be ruled out.  If you are a spotter or mobile spotter, this is where to be today for any severe cells that pass through … A stronger severe weather scenario with more widespread activity is in the cards for tomorrow (Monday) …

As for the other zone, Northeast Arizona will pop off thunderstorms today.  Although very large hail is not expected, damaging winds from outflow will be likely as they move southward through Navajo and Apache Counties through the afternoon/evening hours.  Outflow will also make a run for the Show Low forecast area later in the period so you have been included in this watch.  Traveling I-40 today on either side of Flagstaff through the state must be met with caution, especially east of flagstaff between there and New Mexico due to crosswinds out of the north from outflow-induced storms.

---
---
10 mile rule:  These alerts issued on this site
means that within your zone and 10 miles from you will see the event
forecast for.  You may or may not see the event but it means you are in
the zone or 10 miles from where someone will.
Forecaster: KM