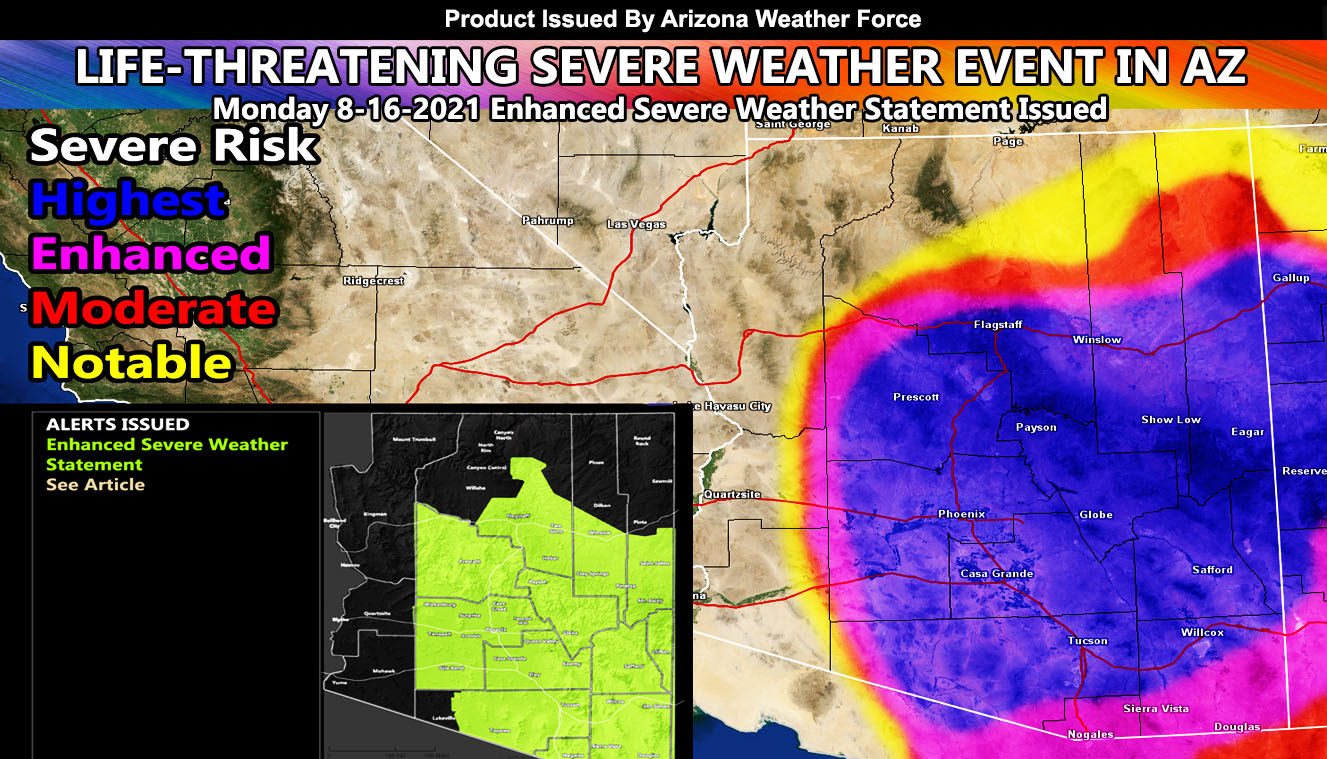 Arizona Weather Force has issued an Enhanced Severe Weather Statement, which is a higher alert in the alert system, which means that the highest alert, an Enhanced Severe Thunderstorm Watch is pending for release between 10 am and 11 am on Monday out ahead of a life-threatening severe weather outbreak from North-Central to Southern Arizona, in-which some of the numbers match or slightly rival that of the August 13, 2021 event so read for details …
On Monday, an inverted trough will be situated in New Mexico.  This inverted trough will be the main lifting source for this event, working with the upper atmosphere and the Mogollon Rim.  Violent storms are expected to erupt on the rim, and out of New Mexico, coming out of the northeast with time.  The timing of this is mainly the evening/night hours, similar to August 13th's "Friday the 13th Storm Complex' event.  These storms will move through the Rim and jet out into the low desert areas, including the Phoenix, Casa Grande, and Tucson areas, which includes Safford and Clifton as well as Kearny.  This is a very large area of instability that will be used up, built up over the course of the last two days, after the 13th, which the complex worked the lower atmosphere over previously.  It now is ready to fire again.
As I have stated in the comments.  I don't want to hear 'but my app says this'.  Your phone apps are going to get you killed.  And I challenge if you believe it over me, then take a walk in the desert Monday evening/night and wait, holding your device with the app open and seeing that 20-30% chance of storms come to 100% chance of severe storms in reality.  I have designed the severe weather alert system for what we are used to.  Sure, we don't get F5 tornadoes, but here in the Southwest, it is similar to an inch of snow shutting Atlanta down, vs an inch of snow not shutting Chicago down.  We have different criteria for danger and I have designed this system to meet that risk requirement.
This event is more widespread than the August 13th event, which is more compact from Camp Verde to Phoenix.  This event will take aim on a very large chunk of the Arizona population from North-Central Arizona to Southern Arizona, with all metro areas affected and between those in rural desert areas.  I love it when people come to me saying "you are scaring everyone, stop it!"… GOOD … because that gets them moving so they don't die.
I will be up all night and day on Monday and will only sleep an hour at night at 3 am, and an hour during the afternoon before this hits.  If you have morning plans to go out, do so… do not be out on the lake, in the desert camping, etc in this alert area by later afternoon/evening and overnight…
You have had your warning, NOAA had their shot to warn you on August 13th and many other times before that, they didn't do it, so now you will see why it is my turn to take the weather to that next level.  The drama is real because the danger is real.  My countdown clocks I will put on as well and just as I did with the last event, knowing those clocks are not just the arrival of this event, it is the arrival of the event that leads to a loss of life so knowing what you know is that difference and all that is needed so you aren't stuck on a lake, drowning in the desert wash, or anything weather-related that could have been avoided …
If you had the warning and ignored it … My personal quote is this that I made for when I want to blame or complain… "How can you complain… when you… do … nothing…" – Do something … LISTEN –
Thank you for following and trusting my work.  I am alone in this office, there is no other person who runs this but myself, from graphics, models, service, alerts, etc … Because I don't trust anyone else to do it … I'll be around all night to answer questions as best as I can while working …
If you have not watched my video of how I came to forecast for Arizona from my local,  take the time to and it will show you how AZWF came about by Clicking Here.
---
Get these alerts via your own e-mail control panel for your zone at 100% where social media IS NOT, or the closest to you as a full supporting member of this service that saves lives and property – here – https://arizonaweatherforce.com/azwf-discount-member-sign-up-page/
Join the Arizona Weather Force group for photos and pictures, and sometimes updates not posted on the main FB Page – here – https://www.facebook.com/groups/arizonaweatherforecasts
See ALL Active articles and alerts for Arizona here – https://arizonaweatherforce.com/
Arizona Weather Force is a custom weather alert service that began in September 2019 off of Southern California Weather Force and is regarded as the most accurate weather service in the state, offering custom alerts, maps, and models to help save life and property.  The work done here is never 100% accurate, but it comes pretty close.  Arizona Weather Force runs on zones, so if an event happens in a zone that is 10 miles from the border of your zone, the forecast is still valid to activate your zone's alert system.  A company quote to the public is that of "The Joker" and tells other agencies in weather this all the time… "This world deserves a better class of meteorologist… and I'm gonna give it to them"… out-forecasting even the National Weather Service with lead-time and precision, which makes this service a focus of ridicule and envy in the weather community due to having such accuracy. Alerts issued here are issued custom from this office and this office alone. You may not even hear it elsewhere, but if one is issued near or in your area, listen up because "if you do not wish to die in weather, follow, it'll save your life one day."
K.MARTIN
Meteorologist In Charge –
– is a consulting meteorologist for over 50 different companies, including large oil companies like BP. He has certs from MSU and PSU as a meteorologist.  Both short and long-range is very important to know in those jobs so you can bet on accuracy here. He is versed in fields like Western USA, Tornadoes, Floods, Hurricanes, High Winds, Fire Behavior, Snow and Blizzards, Short Range, Long Range, Seasonal, and Life-Threatening decisions with over 20 years experience, out-forecasting even the National Weather Service with lead-time and precision, which makes him a focus of ridicule and envy in the weather community due to having such accuracy.