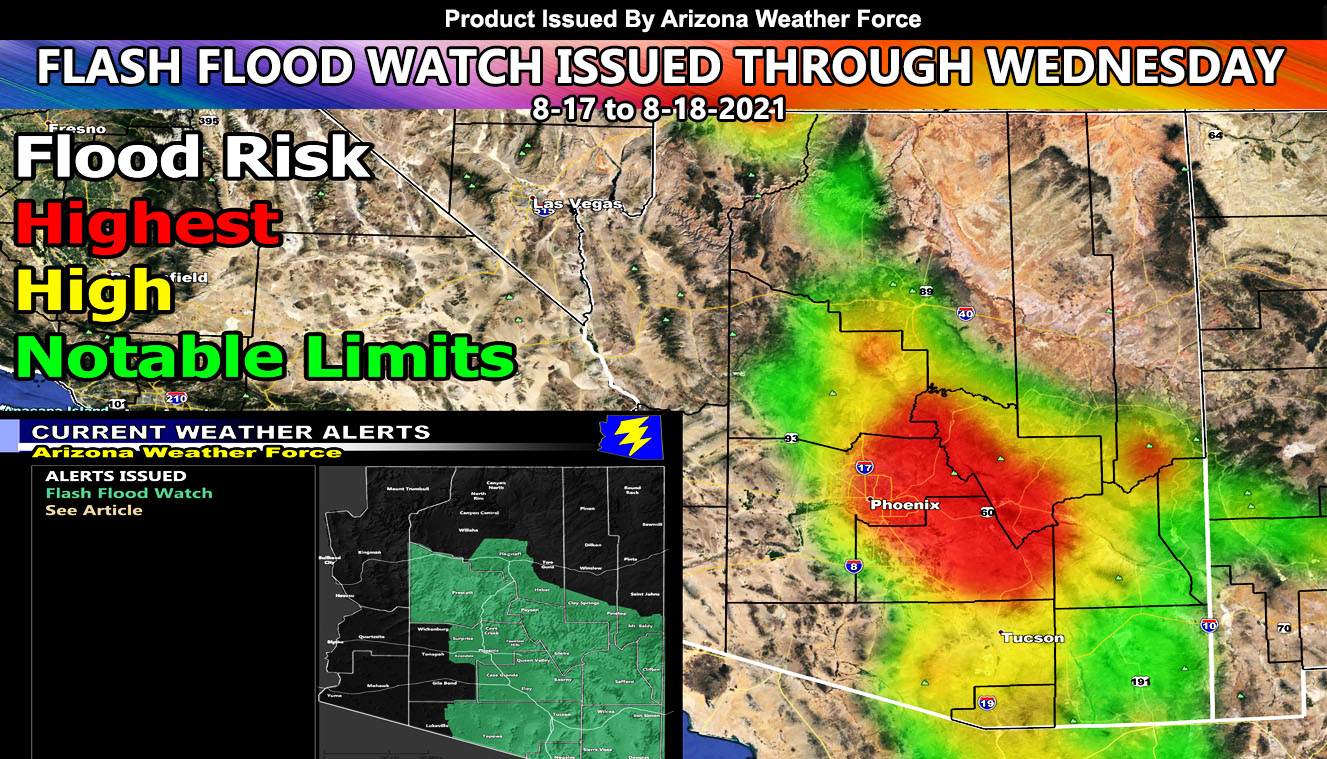 You are not done with the weather, Arizona.  We are going to play a little shift in the wind from a Summer flow to a 'Fall' pattern starting today.  Arizona Weather Force has issued a Flash Flood Watch effective this afternoon through Wednesday early night with the approaching Pacific Ocean storm that will change the monsoon flow and bring more widespread precipitation to the already drenched areas of the state.  The same jet stream (100 mph jet) that slammed into the ridge of high pressure over California on Monday evening, causing a severe thunderstorm event across the state, will completely eradicate the ridge, temporarily ending the monsoon flow starting this afternoon and going through Wednesday.
This trough, not normal for August by any means, will completely kill the ridge and bring a southwest to northeast flow over the state.  This is usually seen in End September onward.  This trough will provide the upper lift that will pop off numerous showers and thunderstorms, some of those severe, between this afternoon and Wednesday night across the watch area.  Additional alerts will be given over the alert system for rural areas in Northern Arizona for severity as the day progresses, but I do not post rural areas on the main FB page, only the group, which you see the link to in the comment section of all my posts at Arizona Weather Force.
AZWF Flood Risk Model is a model that shows the risk for flash flooding with most of the area in a high risk from Prescott to Tucson and areas in-between.
This flood watch window goes from later today through Wednesday early night – Anything in-between is a window for shower or thunderstorm activity.. If I see a more 'compact' scenario I'll upgrade the region but for now because this is a pacific storm influence, the flood watch will hold for anything during the window within the watch area.
RETURN OF MONSOON FLOW – After August 21st, Mark it down
I won't have any monsoon moisture coming back till after Saturday for anywhere in the state… then it begins in the Eastern AZ areas and so on… I'll be monitoring the last week as Tropical Storm Grace from the Atlantic cross Mexico and then into the Pacific, probably obtaining a different name when she does so.
The following images are of the AZWF Flood Risk Model in sectors.  The first image is NW AZ, the Second is NE AZ, the Third is SW AZ, and the last is SE AZ.  All sectors of the state are in the images below on zoom in to the model.
---
The following image is of the official AZWF Flash Flood Watch zone, effective Tuesday 12pm till 10pm on Wednesday night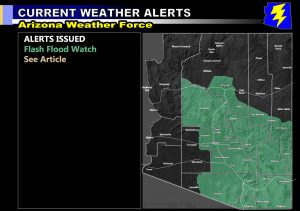 ---
Get these alerts via your own e-mail control panel for your zone at 100% where social media IS NOT, or the closest to you as a full supporting member of this service that saves lives and property – here – https://arizonaweatherforce.com/azwf-discount-member-sign-up-page/
Join the Arizona Weather Force group for photos and pictures, and sometimes updates not posted on the main FB Page – here – https://www.facebook.com/groups/arizonaweatherforecasts
See ALL Active articles and alerts for Arizona here – https://arizonaweatherforce.com/
Arizona Weather Force is a custom weather alert service that began in September 2019 off of Southern California Weather Force and is regarded as the most accurate weather service in the state, offering custom alerts, maps, and models to help save life and property.  The work done here is never 100% accurate, but it comes pretty close.  Arizona Weather Force runs on zones, so if an event happens in a zone that is 10 miles from the border of your zone, the forecast is still valid to activate your zone's alert system.  A company quote to the public is that of "The Joker" and tells other agencies in weather this all the time… "This world deserves a better class of meteorologist… and I'm gonna give it to them"… out-forecasting even the National Weather Service with lead-time and precision, which makes this service a focus of ridicule and envy in the weather community due to having such accuracy. Alerts issued here are issued custom from this office and this office alone. You may not even hear it elsewhere, but if one is issued near or in your area, listen up because "if you do not wish to die in weather, follow, it'll save your life one day."
K.MARTIN
Meteorologist In Charge –
– is a consulting meteorologist for over 50 different companies, including large oil companies like BP. He has certs from MSU and PSU as a meteorologist.  Both short and long-range is very important to know in those jobs so you can bet on accuracy here. He is versed in fields like Western USA, Tornadoes, Floods, Hurricanes, High Winds, Fire Behavior, Snow and Blizzards, Short Range, Long Range, Seasonal, and Life-Threatening decisions with over 20 years experience, out-forecasting even the National Weather Service with lead-time and precision, which makes him a focus of ridicule and envy in the weather community due to having such accuracy.