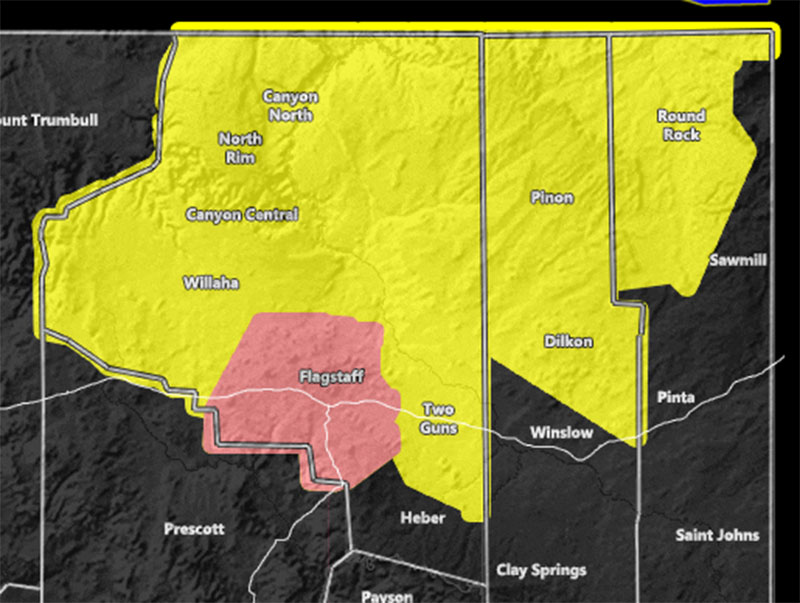 Issued Zones:  Coconino County… Northern half of Navajo and Apache Counties …
Site:  Arizona Weather Force has issued an Enhanced Severe Thunderstorm Watch embedded in a Severe Thunderstorm Watch effective noon today through 11 pm tonight …
Date:  8/18/21 at 7:00am PT
Forecast:  Arizona Weather Force has issued an Enhanced Severe Thunderstorm Watch out ahead of what could be a worse flood event than yesterday in the Flagstaff area from noon today till 11 pm tonight.  Enhanced Severe Thunderstorm Watches from this office are issued if either Flagstaff, Phoenix, or Tucson are within a deadly situation that needs stronger worded attention for severe weather.  Yesterday morning, I issued a Severe Thunderstorm Watch for Northern Arizona, including Flagstaff.  The watch mentioning the risk of flooding as well as large hail.  Videos poured in from the Flagstaff area of major flash flooding, resulting in this issuance being correct.
A Flash Flood Watch was then issued (too late) by another weather service that does last through today.  However, most people see these a lot and ignore them.  So what I am going to do is lay everything out in the fact the flash flood threat looks worse than yesterday in the Flagstaff area.  What you saw yesterday, looks to be way worse today.  A convergence zone located southwest of the city will stick around for many hours.  This will allow constant thunderstorm development with them moving off and training heavy rain in your direction, and since the upper jet stream is stronger, it blows the anvil tops away to the northeast, leaving the inflow area to the southwest clear to develop storm after storm.
With this in mind, there is that very real risk of extremely deadly flash flooding that warrants more attention than just a flash flood watch, which is why this Enhanced Severe Thunderstorm Watch will be active from noon through 11 pm tonight … If, in the Flagstaff area, you need to prepare or be prepared already for the coming flash flood.
Elsewhere, an AZWF Severe Thunderstorm Watch is in effect for the rest of Coconino County, and Northern Navajo and Apache County for damaging winds and large hail noon through 11 pm tonight.
As for the Phoenix area.  Thunderstorms did form with 0.75″ hail near Fountain Valley and Rio Verde early this morning.  The AZWF Severe Thunderstorm Watch remains active through 9 pm tonight.  There is a break this morning in the activity as the upper-level jet dynamics switch from divergence to convergence in the upper levels, in-which convergence shuts down storm development.  But, this will resume with divergence (lift) in the afternoon and evening hours where additional thunderstorms in the area will be possible, including the eastern half of the Phoenix Valley.
If you have plans this weekend anywhere across the state, enjoy them… this is when the entire state will be inactive of any monsoon influence and drying will resume…
---
---
10 mile rule:  These alerts issued on this site
means that within your zone and 10 miles from you will see the event
forecast for.  You may or may not see the event but it means you are in
the zone or 10 miles from where someone will.
Forecaster: KM