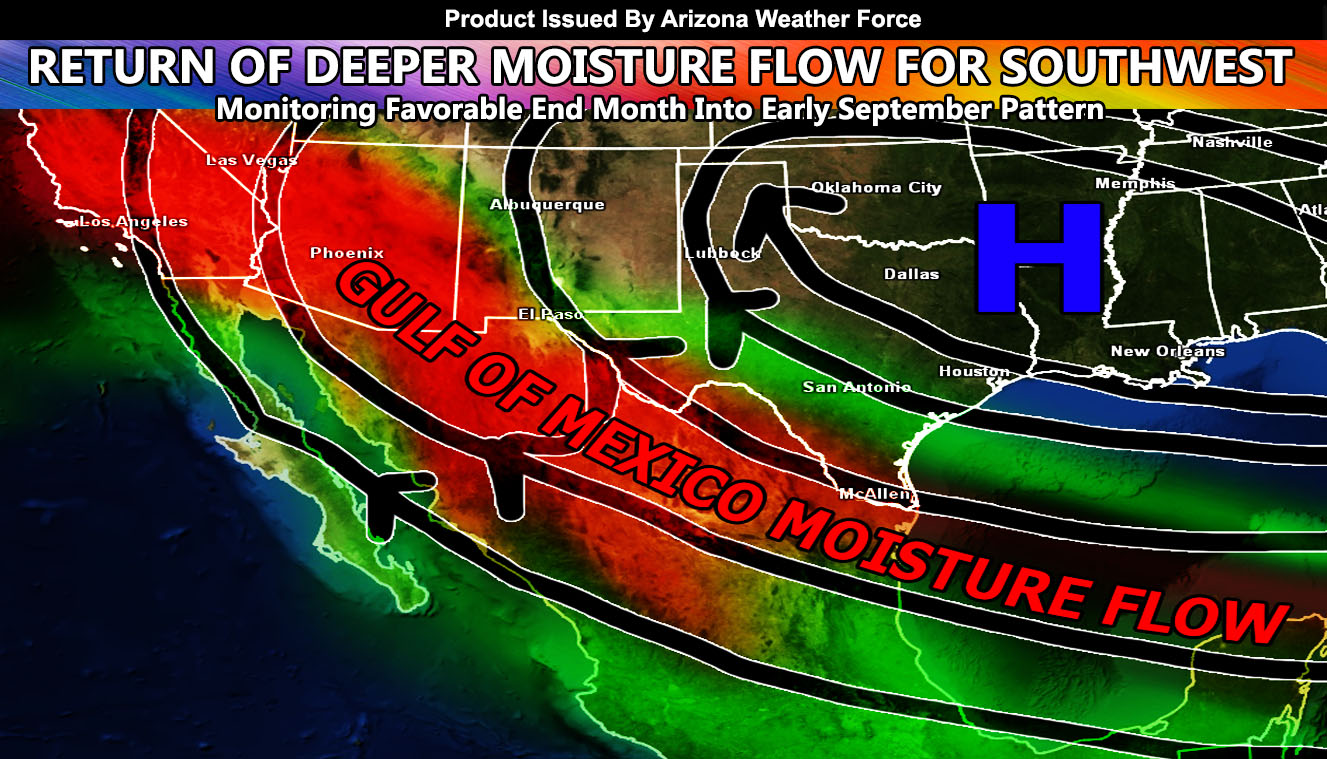 The monsoon flow has diminished to nothing across Arizona and we have a very nice weekend ahead.  As for the next 7 days, after around August 21st or 22nd, the flow will slightly return for Southeast and Eastern parts of the state.  This type of pattern will be similar to what most of Summer 2020 was like, where extreme Southeast Arizona and Eastern Arizona had some activity, not much, but some, while Phoenix and Flagstaff did not.
As the week moves along we start to see tropical disturbances enter the Caribbean Sea around Jamaica.  A ridge of high pressure over the Southeastern United States will be the main driver of this event.  A large elongated ridge forming would bring any tropical disturbance and its moisture south of it, moving west into Mexico from the Yucatan, similar to how Tropical Storm Grace is going right now.
Given these tropical waves would be open waves, their moisture content would be widespread, not too compact as if it were a hurricane.  Open waves tend to bring deeper-layer moisture to the Southwestern United States in these patterns.  So end month we will start to see more activity coming into the region, with increasing activity through the early part of September as the deep-layer moisture comes in.
Flows like this are not just for Tucson and Phoenix.  Flows like this from the east-southeast are what activates Southern California.  This means that you along the Colorado River Valley in Arizona have the good chance at having a better chance of precipitation this go around.
I'll be on vacation from August 22nd till August 27th.  My birthday week is usually a vacation week if things are slow.  But, I will be cutting it short just before my birthday (August 29th) to come back and get back to work by Friday.  I don't anticipate anything major while I am gone.  I will just let the fundraiser run its course and if you are signing up or renewing the alert system subscription Sunday through Thursday, you will be added to that tier on Friday.  I will not be putting anything over the alert system from Sunday through Thursday as long as it remains quiet.
So there you have it, the next week looks like a minimal monsoon influence followed by increased activity end month into early September so stay tuned to Arizona Weather Force.