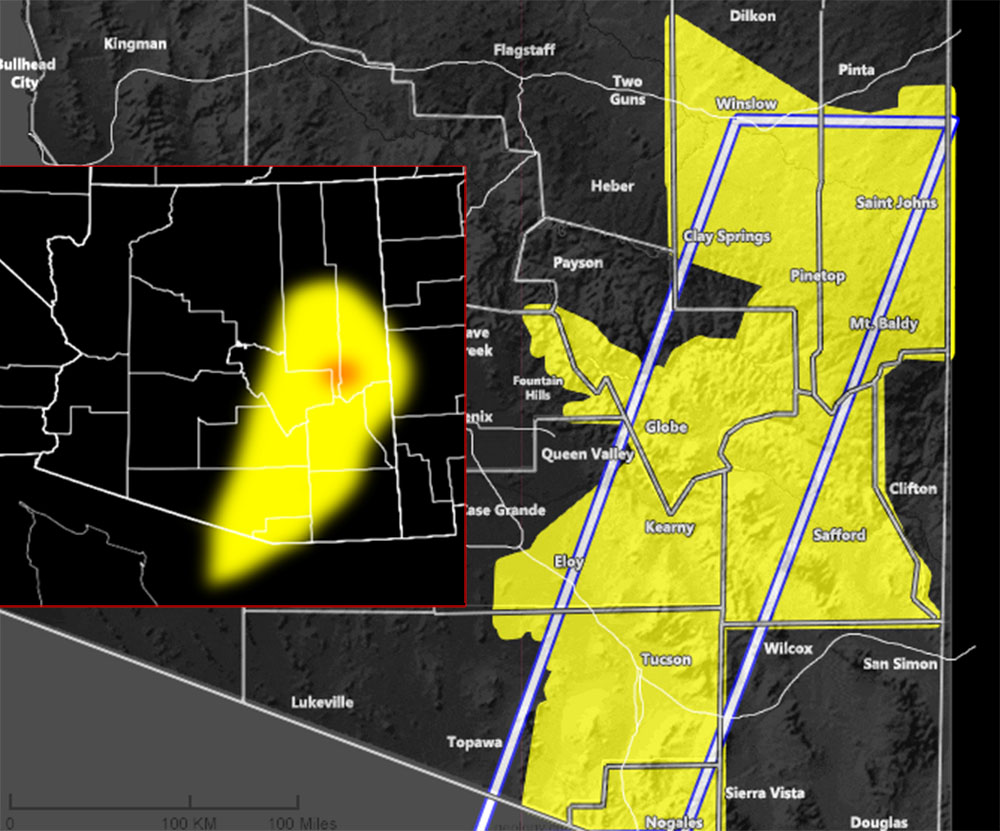 Issued Zones:  Eastern Arizona … Globe … and Tuc/Nogalas/Oro Valley forecast area …
Site:  Arizona Weather Force has issued a Severe Thunderstorm Watch effective now through 10pm tonight …
Date:  8/26/21 at 10:05am PT
Forecast: Monsoon moisture will be confined and compact across the watch box from the White Mountains/E AZ to the Tuc/Nogales forecast areas today.  The most compact area for the most severe storms will be the Eagar for regions and across the White Mountains. 

Isolated to scattered hit and miss storms will be in the Tucson area, but again.. mostly hit and miss down there.  You're more likely to see them nearest the Oro Valley as these will rely heavily on elevation to form. 

The storm bases (bottoms) are around 12-13,000 FT today, which means that any of these storms will be capable of damaging microbursts given the steep lapse rates between 0-3km respectively. 

The AZWF severe risk model does paint the area well, with only a 'moderate risk' for smaller section of the White Mountains surrounding Pinetop-Lakeside as noted with the 'orange' dot left-side of the image provided in this forecast.

Storms today will disperse after sunset with the loss of daytime heating.  There are no impulses to keep them severe throughout the night, thus this watch will expire at 10pm local

---
---
10 mile rule:  These alerts issued on this site
means that within your zone and 10 miles from you will see the event
forecast for.  You may or may not see the event but it means you are in
the zone or 10 miles from where someone will.
Forecaster: KM