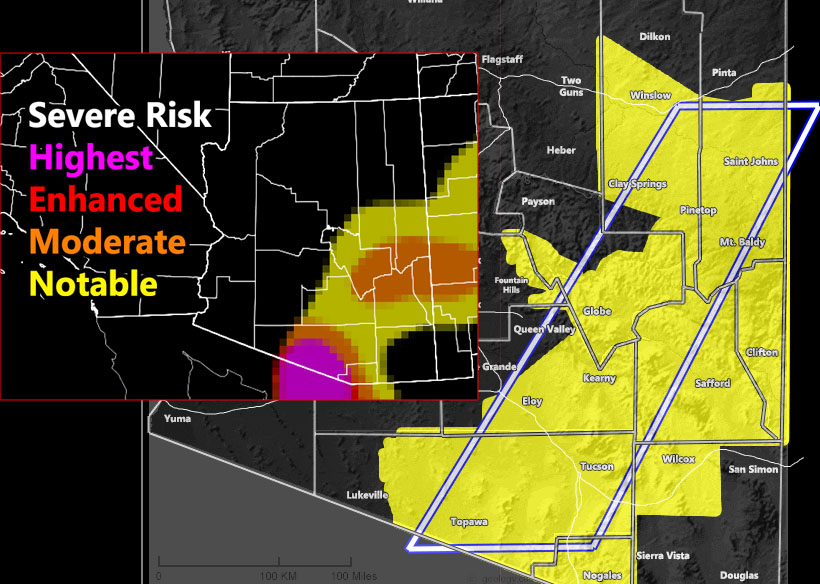 Issued Zones:  Eastern Arizona … Globe … and Tuc/Nogalas/Oro Valley/Topawa/Wilcox forecast area …
Site:  Arizona Weather Force has issued a Severe Thunderstorm Watch effective now through 10pm tonight … 
Date:  8/27/21 at 10:00am PT
Forecast: Increasing monsoon moisture from yesterday is popping off the first thunderstorm over the Mt. Baldy area, in extreme Southern Apache County.  As stated previously, each day starting yesterday would increase in overall coverage across the state.  
Focus spots today is the Eagar zone and the Topawa zones.  The AZWF severe risk model is pegging over an enhanced level of severe storms for the Topawa forecast zones.  Because the area is not too highly populated, and it is a small area on the model, a severe thunderstorm watch will only be needed, but keep in mind the hail and wind threat is high in that area today … 
Elsewhere in the watch area, hit and miss severe storms will be likely … indications are near the Oro Valley again like the other day … This watch will expire at 10pm
---
10 mile rule:  These alerts issued on this site
means that within your zone and 10 miles from you will see the event
forecast for.  You may or may not see the event but it means you are in
the zone or 10 miles from where someone will.
Forecaster: K.MARTIN