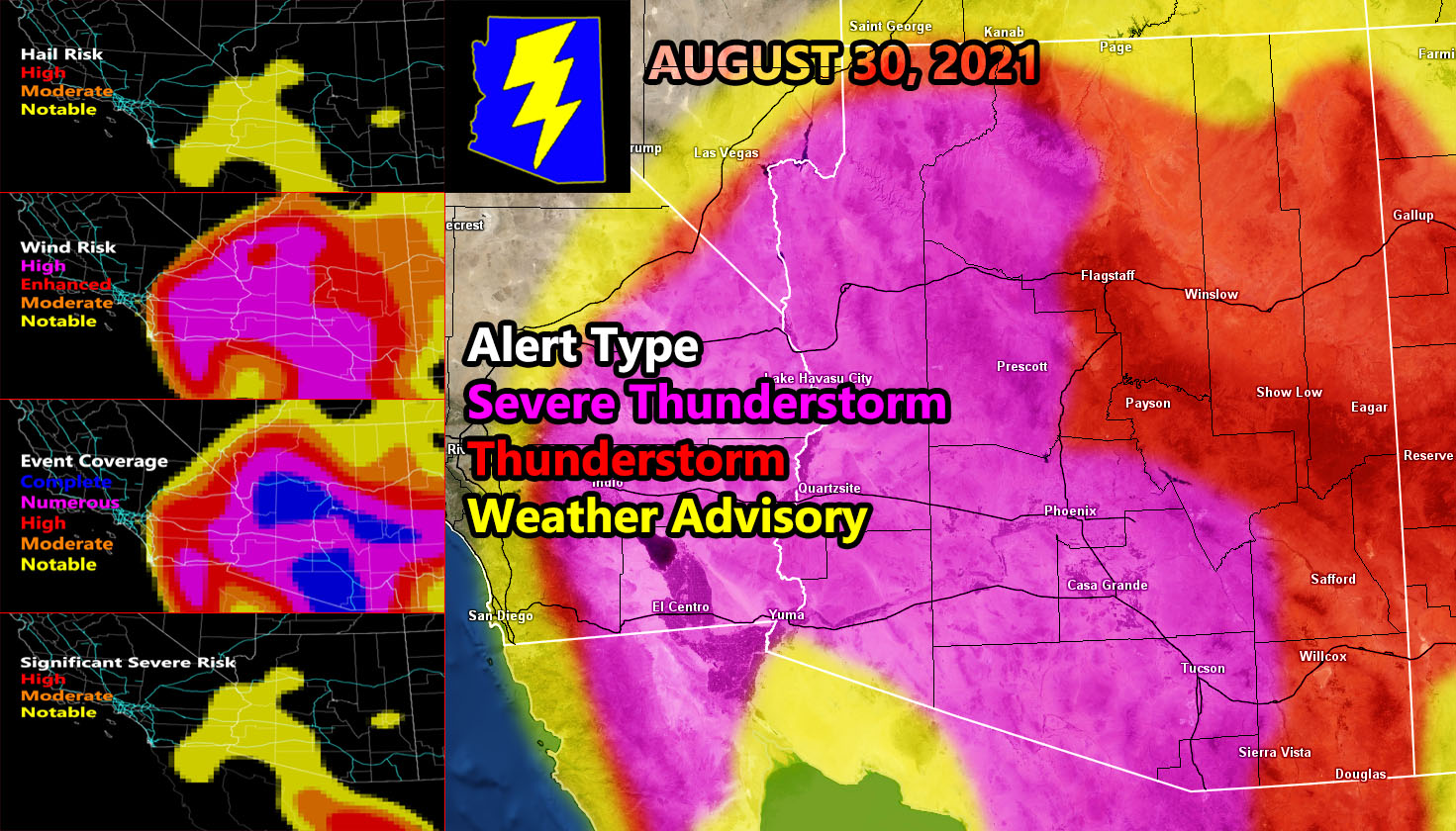 The entire state of Arizona is about ready to ignite with a large area of severe thunderstorm dynamics.  The significant risk model does not mean it is the only area to see severe storms.  Tucson had damaging winds within a thunderstorm watch, however the model had scattered coverage in the forecast as well as high risk for wind damage, thus it should have a higher alert.  This is now going to be the threshold for the severe thunderstorm advisory.  The severe thunderstorm watch will be reserved for much more intense events that combine damaging winds and very large hail.  So far today, there are several alerts issued across the state from this office and I'll go into them highest to lowest now.
Severe Thunderstorm Watch – This area is reserved for Western Arizona, near and along the Colorado River Valley.  This is your time to shine again, with yet another area of hail and damaging winds expected from Kingman to Havasu and down through the rest of the river valley.
Severe Thunderstorm Advisory – This is an important forecast as this effects most of the Arizona population.  Storms are expected to form in the high terrain and there outflow boundaries will move into the metros later on.  From Tucson, through Pinal, and especially the Phoenix Valleys, you have a a numerous to complete storm coverage through this forecast period, which includes Prescott.  That means that conditions are favorable for outflow from all directions to ignite the instability over the area today, and into tonight, overnight as well, which is why all the alerts are going from now through Tuesday morning.  Severe thunderstorm advisories are not for too dangerous of hail, but the most concern is the damaging winds that these storms would produce.
Thunderstorm Watch – Marginal severe possible with this zone and as you can see this zone goes through the Payson/Cibecue/Show Low/Pinetop, and Mt. Baldy areas down through Safford/Clifton, and Cochise County.  These higher elevations will be where thunderstorms start first.  Their outflow will race into the metro area's severe thunderstorm watches and advisories.  Since instability is stronger in the severe zones through the period, storms will get stronger as they develop further south and west of the Mogollon Rim.
Weather Advisory – Not severe, and isolated thunderstorms are possible in mainly the Northeast Coconino and Northern Navajo County areas … Basically if you live there, you don't have to worry today/tonight –
NOTES:  There are indications that extremely severe thunderstorms south of Arizona, in Mexico, will shove outflow boundaries across the international border overnight tonight … a reason I will keep these alerts up all night … might get a 'surprise' …
---
HERE ARE THE FOUR ARIZONA WEATHER FORCE MODEL IMAGES FOR TODAY/NIGHT – THEY ARE CLICKABLE.  THEY ARE THE IMAGES ON THE LEFT OF THE MAIN IMAGE ABOVE – 
---
As always, Stay tuned to Arizona Weather Force for future updates –
---
BONUS: For a bit of time I will allow non-members to see the member section of AZWF. During Fall, Winter, and Spring, the member section has zoom in models during events predicted. They are placed there in the tabs, this one is the heat model. It contains a zoom-able model so you know where you are on the map. Better yet, members can enter a city and address in the search bar and it zooms right down into that level. This is a medium resolution map, the other ones AZWF has at disposal have higher resolutions available during storm events from rain, wind, snow, and flood.
CLICK HERE TO ENTER THE MEMBER SECTION TO TRY IT OUT. Note, this does not include the e-mail alert system, just the visuals of the models provided.
If you like it… Click Here to become a full member and get those zoom in models + the e-mail alert system where you choose zones to receive custom alerts.
---
Get these alerts via your own e-mail control panel for your zone at 100% where social media IS NOT, or the closest to you as a full supporting member of this service that saves lives and property – here – https://arizonaweatherforce.com/azwf-discount-member-sign-up-page/
Join the Arizona Weather Force group for photos and pictures, and sometimes updates not posted on the main FB Page – here – https://www.facebook.com/groups/arizonaweatherforecasts
See ALL Active articles and alerts for Arizona here – https://arizonaweatherforce.com/
Arizona Weather Force is a custom weather alert service that began in September 2019 off of Southern California Weather Force and is regarded as the most accurate weather service in the state, offering custom alerts, maps, and models to help save life and property. The work done here is never 100% accurate, but it comes pretty close. Arizona Weather Force runs on zones, so if an event happens in a zone that is 10 miles from the border of your zone, the forecast is still valid to activate your zone's alert system. A company quote to the public is that of "The Joker" and tells other agencies in weather this all the time… "This world deserves a better class of meteorologist… and I'm gonna give it to them"… out-forecasting even the National Weather Service with lead-time and precision, which makes this service a focus of ridicule and envy in the weather community due to having such accuracy. Alerts issued here are issued custom from this office and this office alone. You may not even hear it elsewhere, but if one is issued near or in your area, listen up because "if you do not wish to die in weather, follow, it'll save your life one day."
K.MARTIN
Meteorologist In Charge – 
 – is a consulting meteorologist for over 50 different companies, including large oil companies like BP. He has certs from MSU and PSU as a meteorologist. Both short and long-range is very important to know in those jobs so you can bet on accuracy here. He is versed in fields like Western USA, Tornadoes, Floods, Hurricanes, High Winds, Fire Behavior, Snow and Blizzards, Short Range, Long Range, Seasonal, and Life-Threatening decisions with over 20 years experience, out-forecasting even the National Weather Service with lead-time and precision, which makes him a focus of ridicule and envy in the weather community due to having such accuracy.