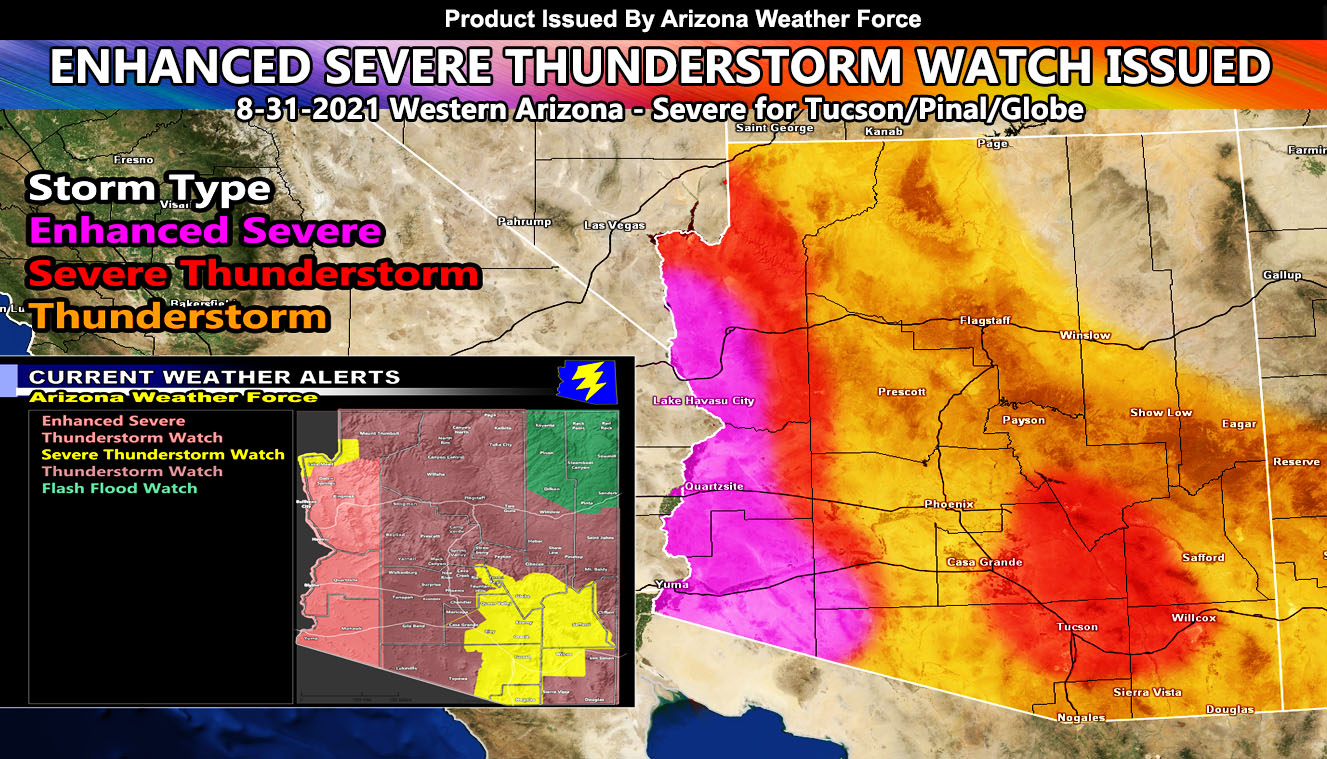 Arizona Weather Force has issued an Enhanced Severe Thunderstorm Watch for Western Arizona, mainly along and near the Colorado River Valley.  Outflow from storms in Southern California will move in out of the southwest today and through the Enhanced Severe Thunderstorm Watch zone.  Aided by an upper-level low, upper jet stream dynamics are in play across the state today.  Where the instability will be the strongest, with the wind damage combined with larger hail, the Arizona Weather Force severe risk assessment model takes those three ingredients into effect to issue this watch.  A combination of large hail and damaging winds, with a scattered storm or above category is needed and this area has that today.  If along the Colorado River Valley from Yuma through at least Dolan Springs, you are in the watch, which includes Parker, Havasu, Kingman's forecast zones.  Storms will quickly move through and the watch will expire before midnight as drier air comes in.
The severe thunderstorm watch is for the Hoover Dam forecast zone, so if there, expect the risk there as well.
All areas in this zone also are aided with low-level shear and high instability with a stronger upper-level jet which does equal a tornado chance.
The main Severe Thunderstorm Watch area is the Tucson, Northwest Cochise County, Eastern half of Pinal County, and the Globe forecast zones.  Thunderstorms are expected to form on the warm conveyor belt and moist tongue section of the upper-level system.  Storms forming in this area will move mostly due north out of Mexico, or from where they developed within the watch area itself.  Storms today will be capable of large hail and of course damaging winds.  There are some indications with the southeast flow and abnormally unseasonable upper-level jet overhead that on satellite we will see the anvil tops (tops of the storms) blow off quickly, in-which the jet stream would stretch the rotation column within the storms and produce that chance of a tornado.  Some low-level shear issues prompted me to not go full Tornado Watch, but the wording will be put into your forecast so eyes to the sky if in this zone, you just might see one.
Outflow from both watches, west to east from Western Arizona's firing zone, and south to north for Tucson's forecast area will converge over Marciopa County and this should be enough to pop off thunderstorms there.  While the risk of large hail is low, damaging outflow winds will be possible, especially out of Pinal County in the Eastern Valleys from Mesa/Fountain Hills/Cave Creek/Queen Creek/Rio Verde and so on up there.  There are indications that the county will be split where the west end would get activity and the east end as well… somewhere between that it looks like the upper-level system is creating a dry-slot,  which is quite common in Pacific Storms, not during the Summer monsoon.  A dry-slot means that activity is on the west end of the slot and east end.. but not as much in the middle so while the entire state is in a Flash Flood Watch, somewhere in the center part of it will be a narrow area where I will hear "my area did not get too much" – but I don't want to hear it … other areas in this state, a number of the populated areas + burn scars are going to get hit hard and it is something they probably do not want.
We clear this out later Wednesday for a break in the action as the dry air in the Pacific from the passage of the upper-level low moves through … a return of the monsoon moisture is being monitored toward the end week or weekend …
Tucson is not far from breaking their record for the wettest monsoon EVER on record – Should this course remain intact, it's likely they will come close or just get over that this month.
---
Here are the two scenario flood risk models here at AZWF – The images are clickable – You also can CLICK HERE to enter the member section and okay the site to know your location and go to the Flood Risk Model tabs where GPS would be enabled to see where you are in each of those models – 
---
As always, Stay tuned to Arizona Weather Force for future updates –
---
BONUS: For a bit of time I will allow non-members to see the member section of AZWF. During Fall, Winter, and Spring, the member section has zoom in models during events predicted. They are placed there in the tabs, this one is the heat model. It contains a zoom-able model so you know where you are on the map. Better yet, members can enter a city and address in the search bar and it zooms right down into that level. This is a medium resolution map, the other ones AZWF has at disposal have higher resolutions available during storm events from rain, wind, snow, and flood.
CLICK HERE TO ENTER THE MEMBER SECTION TO TRY IT OUT. Note, this does not include the e-mail alert system, just the visuals of the models provided.
If you like it… Click Here to become a full member and get those zoom in models + the e-mail alert system where you choose zones to receive custom alerts.
---
Get these alerts via your own e-mail control panel for your zone at 100% where social media IS NOT, or the closest to you as a full supporting member of this service that saves lives and property – here – https://arizonaweatherforce.com/azwf-discount-member-sign-up-page/
Join the Arizona Weather Force group for photos and pictures, and sometimes updates not posted on the main FB Page – here – https://www.facebook.com/groups/arizonaweatherforecasts
See ALL Active articles and alerts for Arizona here – https://arizonaweatherforce.com/
Arizona Weather Force is a custom weather alert service that began in September 2019 off of Southern California Weather Force and is regarded as the most accurate weather service in the state, offering custom alerts, maps, and models to help save life and property. The work done here is never 100% accurate, but it comes pretty close. Arizona Weather Force runs on zones, so if an event happens in a zone that is 10 miles from the border of your zone, the forecast is still valid to activate your zone's alert system. A company quote to the public is that of "The Joker" and tells other agencies in weather this all the time… "This world deserves a better class of meteorologist… and I'm gonna give it to them"… out-forecasting even the National Weather Service with lead-time and precision, which makes this service a focus of ridicule and envy in the weather community due to having such accuracy. Alerts issued here are issued custom from this office and this office alone. You may not even hear it elsewhere, but if one is issued near or in your area, listen up because "if you do not wish to die in weather, follow, it'll save your life one day."
K.MARTIN
Meteorologist In Charge – 
 – is a consulting meteorologist for over 50 different companies, including large oil companies like BP. He has certs from MSU and PSU as a meteorologist. Both short and long-range is very important to know in those jobs so you can bet on accuracy here. He is versed in fields like Western USA, Tornadoes, Floods, Hurricanes, High Winds, Fire Behavior, Snow and Blizzards, Short Range, Long Range, Seasonal, and Life-Threatening decisions with over 20 years experience, out-forecasting even the National Weather Service with lead-time and precision, which makes him a focus of ridicule and envy in the weather community due to having such accuracy.