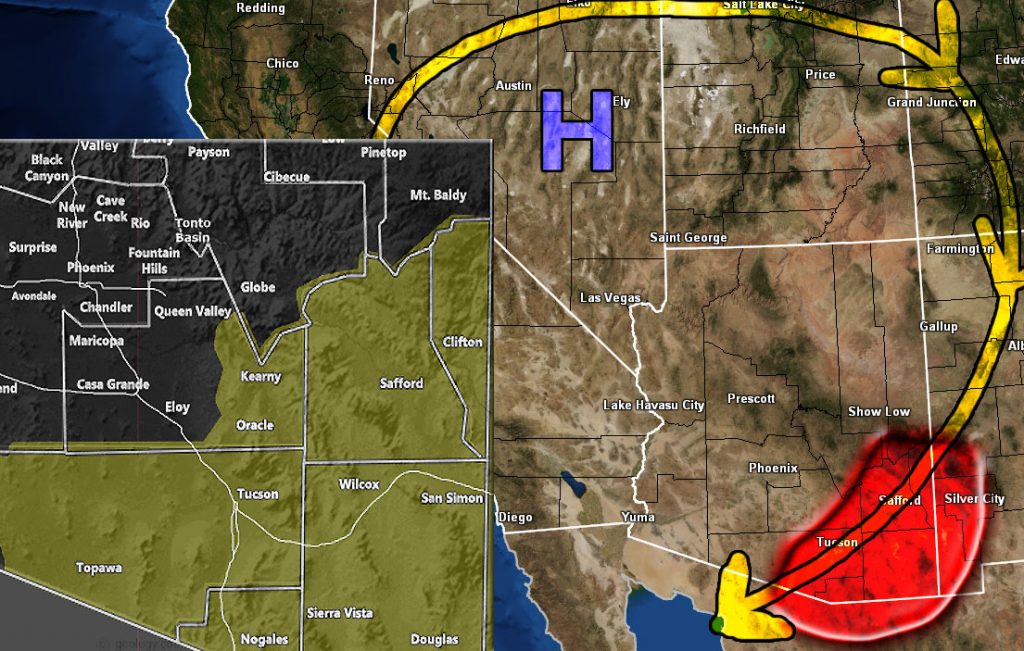 Issued Zones:  Eastern half of Pinal and Pima County, includes Tucson Metro … Santa Cruz, Cochise, Graham, and Greenlee Counties …
Site:  Arizona Weather Force has issued a Severe Weather Statement effective this Sunday …
Forecast Issued:  9/3/21 at 5:05pm PT
Forecast: The monsoon ridge will develop over California on Saturday, finally moving into Central Nevada by Sunday.  The placement of this ridge will enable it to bring a northeast to southwest flow across the Southeast half of Arizona for SUNDAY. 

On Sunday, acceptable mid/upper level wind conditions will be able to bring storms off the higher terrain and into the lower desert areas.  Zones like Oracle/Tucson are also included in this.  Storms should start south of Show Low and Mt. Baldy first in the afternoon and gain steam as they head into the populated areas. 

Strong instability and shear will promote larger hail in the strongest cells and inverted-V profiles in the skew-t soundings shows downdraft cape values in the severe category so we will look to have a damaging wind scenario in the statement area. 

A severe weather statement is issued at this office when conditions are becoming favorable to upgrade to a higher class thunderstorm product the morning of the event, in-which this is for SUNDAY, September 5th, 2021.  Check back then on the FB group or the premium e-mail alert system notifications.  You can join that below in the first link so you don't miss the update should social media be late in showing you.

---