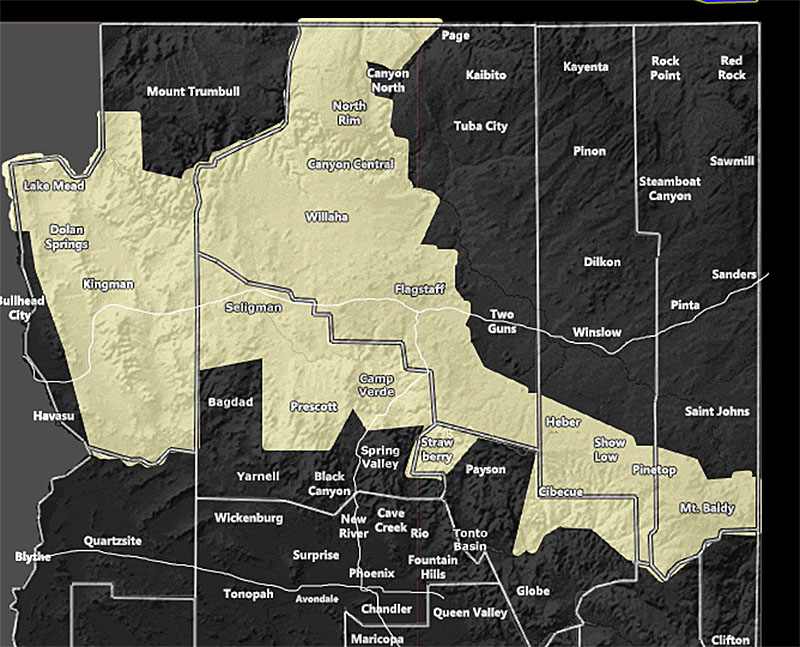 Issued Zones: Mogollon Rim Communities … Flagstaff/Prescott/Chino Valley/Seligman/Kingman forecast zones …
Site: Arizona Weather Force has issued a Hazardous Weather Outlook effective Wednesday through Friday …
Date: 9/7/21 at 10:30 am PT
Forecast: The ridge of high pressure will migrate northeast of Arizona on Wednesday, which will start bringing in mid-level moisture out of New Mexico. Isolated thunderstorms will be likely on the Mogollon Rim starting Wednesday, however the coverage will increase on Thursday, activating most of the rim, including the Flagstaff/Prescott/Chino Valley/Kingman forecast zones …
The flow will be northwest along the rim, so chance of storms moving off them towards Payson will be pretty low … but Strawberry will be either close or impacted by a cell on Thursday – but remains in the lower risk category. This is a brief intrusion of moisture, the Grand Canyon will be impacted most on Thursday, with residual on Friday as the other areas calm down.
Additional upgraded alerts will be issued accordingly, but if you have travel or camping plans on the rim, especially on Thursday, pay attention to the skies …
---
---
10 mile rule:  These alerts issued on this site
means that within your zone and 10 miles from you will see the event
forecast for.  You may or may not see the event but it means you are in
the zone or 10 miles from where someone will.
Forecaster: KM