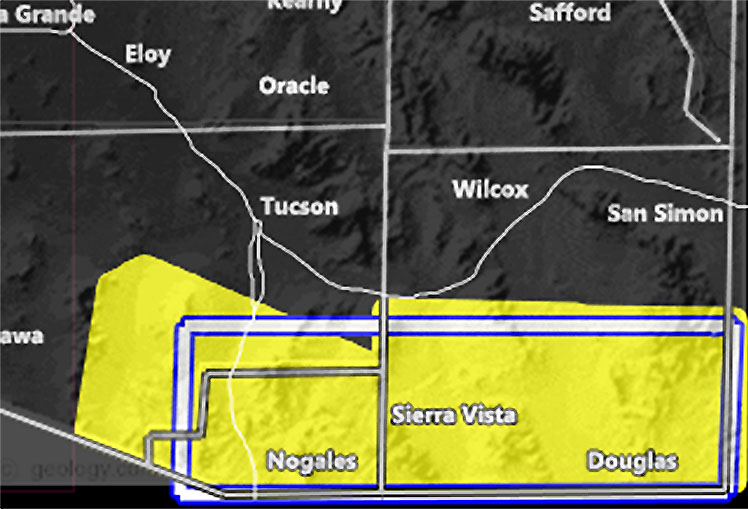 Issued Zones: Extreme Southeast Pima County … Southern half of Cochise County … Santa Cruz County …
Site: Arizona Weather Force has issued a Severe Thunderstorm Watch effective today until 10pm tonight …
Date: 9/7/21 at 9:30 am PT
Forecast: An easterly flow will bring in mid-level moisture across the watch area today through later this evening. Developing instability is being noted in the area and widely scattered to scattered thunderstorms are in the cards for Santa Cruz and Southern Cochise County.
Storms today will be high-based, over 10,000 FT and what that means is due to the inverted-V profile on skew-t soundings, a DCAPE of over 1000 j k/g we are looking at damaging winds with the strongest cells along with 1-2″ hail.
Most of the storms will be concentrated within the boxed area in the watch image in this post. I would consider this somewhat of a hit and miss event since it is widely scattered to scattered, isolated the closer you get to Tucson.
Speaking of Tucson, the AZWF model is just for isolated chances of a thunderstorm in that zone, but it just does not get the coverage to trigger an alert. Sure, I could go weather advisory, but the isolated nature of the cells will not trigger it… but … you do have your high chance of a hit and miss scenario up there – Storms in Santa Cruz County especially, and surrounding by around 10 miles do have some rotation in the atmosphere, and if you are a weather spotter or photographer, this area would be a perfect spot to see funnels, maybe a landspout tornado later this afternoon/evening –
10 mile rule:  These alerts issued on this site
means that within your zone and 10 miles from you will see the event
forecast for.  You may or may not see the event but it means you are in
the zone or 10 miles from where someone will.
Forecaster: KM