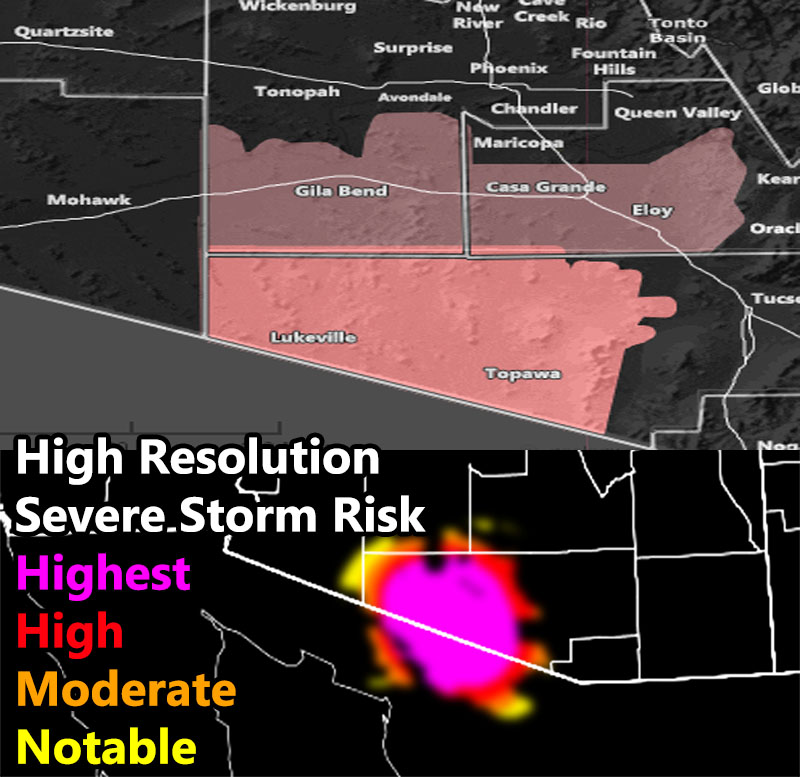 Issued Zones:  Western half of Pima County … Southeast half of Pinal County from Eloy to Casa Grande, Southwest Maricopa County near and south of Gila Bend …
Site:  Arizona Weather Force has issued an Enhanced Thunderstorm Watch effective this afternoon until 10pm tonight …
Date:  9/8/21 at 10:25 am PT
Forecast: A very small area of Arizona will be the target of this forecast today.  An east to west flow through the Western half of Pima County will ignite severe thunderstorms down there around Topawa and spread west through the smaller towns, including Lukeville along the AZ/MX Border.  Storms in the Pime County area will be capable of very large hail 1-2″ and damaging winds (over 70+mph).  There will be damage should this hit a populated town so if in this area, prepare now.
Further north, into Southern/Southwest Pinal County, storm coverage will be isolated to widely scattered.  Still ,you could have marginal severe storms pop up in that area, heading west to just near or south of Gila Bend as well.  These are not expected to harbor the energy and destruction the storms in Pima County will have. 

Storm bases today will be 11,000 FT in the Enhanced Severe Thunderstorm Watch area.  This poses a very powerful damaging wind risk along with landspout tornadoes due to some shear in the area.

---
---
10 mile rule:  These alerts issued on this site
means that within your zone and 10 miles from you will see the event
forecast for.  You may or may not see the event but it means you are in
the zone or 10 miles from where someone will.
Forecaster: KM