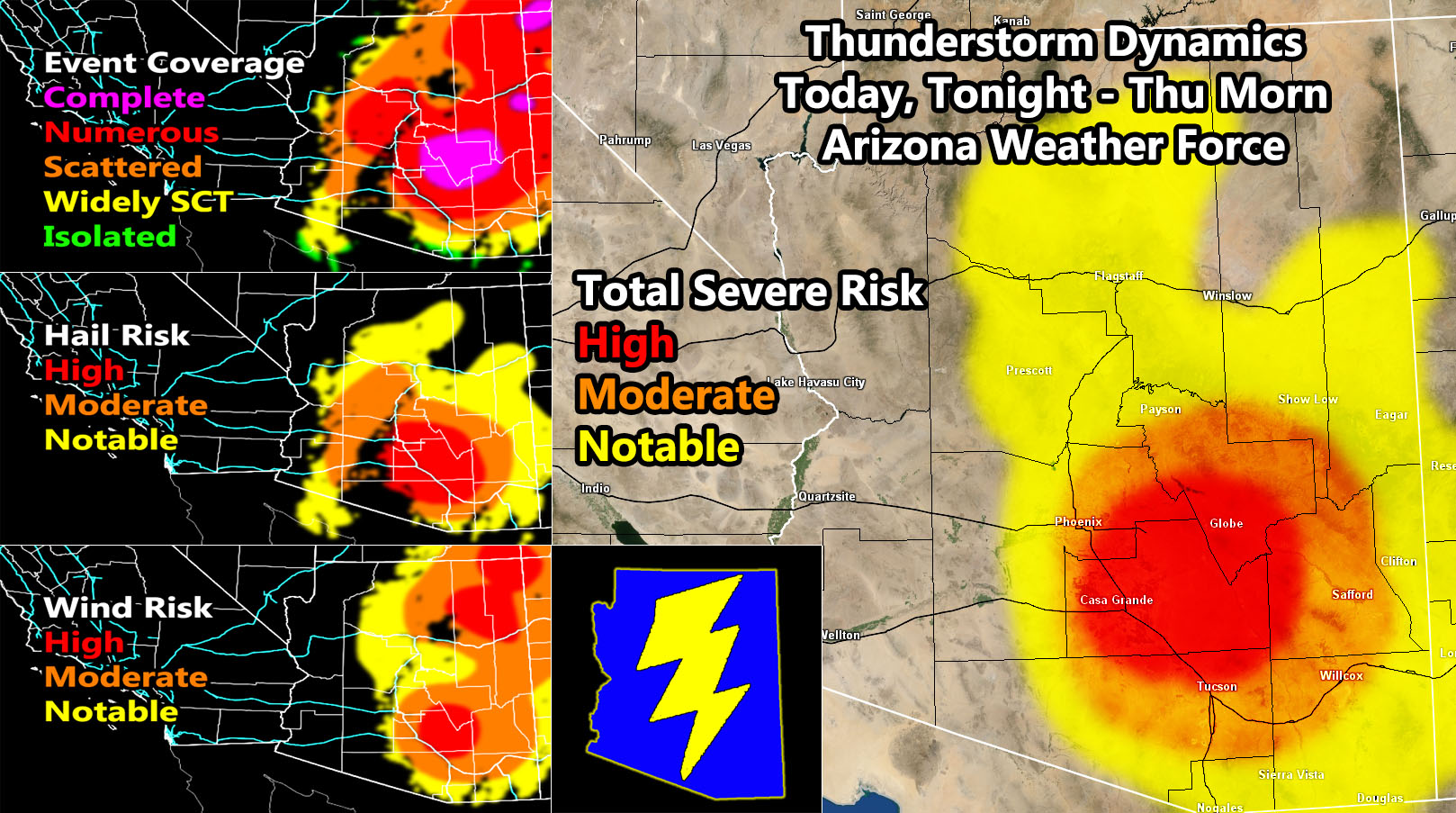 (Arizona Weather Force) – Arizona Weather Force has issued an Enhanced Severe Thunderstorm Watch, Severe Thunderstorm Watch, and a Thunderstorm Watch effective today through Thursday morning as a Pacific low pressure system moves directly overhead, cutting off and sending there atmosphere into a frenzy.   Pay close attention on the wording of each so here we go.
Enhanced Severe Thunderstorm Watch with Embedded Tornado Dynamics –
AZWF e-mail alert locations activated for the following areas; Globe, Queen Valley, Casa Grande, Eloy, Kearny, and Oracle.
The watch is from this evening through Thursday morning.
This is going to be a flood event in the Enhanced zone so if you are in or around the locations called for, get ready now and fix those leaks.  As someone mentioned on the main AZWF page, painter's tape works well for a temporary solution to leaks so get that done today. The upper system should not affect the region till later this evening, increasing for a full on light-show with hail and damaging winds.  There are indications that somewhere between Casa Grande to just northwest of Tucson the tornado dynamics exist overnight so some damage just might be one passing through quickly.
Severe Thunderstorm Watch – This larger watch surrounds the main damaging dynamics, but still has the risk of damaging thunderstorms and of course your light show.
AZWF e-mail alert locations activated for the following areas; Payson, Cave Creek, Rio, Tonto Basin, Cibecue, Fountain Hills, Phoenix, Chandler, Maricopa, Tucson, Wilcox, and Safford.
The watch is from this evening through Thursday morning.
Thunderstorm Watch – This is the larger area of dynamics that surrounds both of the higher class watches, where thunderstorms are in the forecast, isolated severe is possible.
AZWF e-mail alert locations activated for the following areas; The Grand Canyon, Flagstaff, Seligman, Camp Verde, Prescott, Spring Valley, Strawberry, Black Canyon, New River, Surprise, Avondale, Two Guns, Winslow, Pinta, Sanders (Colonel), Saint John, Heber, Show Low, Mt. Baldy, Cllifton, San Simon, Sierra Vista, Douglas, and Nogales …
The watch is for NOW through Thursday morning.
That is basically it… This is going to be yet again one of those events the others will certainly miss and you only hear about it from here, especially if you are along the I-10 corridor from Phoenix through Tucson tonight …
LONG RANGE:  Long range suggests we are not done.  The ridge of high pressure that will move overhead Southern California Friday into the Weekend will push east into Arizona.  This will temporarily suspend weather operations in the sky and dry the area out again – HOWEVER, sometime around October 5th we get the west end of the ridge to open up and allow the chance of a low pressure system out of the south to come up.  This is the type to affect most of the state, even areas like the Colorado River Valley, including especially Yuma as moisture comes in from the southwest with it, which is opposite of what will happen today through Thursday where Yuma/CO River Valley sees absolutely nothing.
There you have it … Stay safe and stay tuned to Arizona Weather Force for any future events.  And don't forget to check that comment section for the main important links, including the main website I cannot even post here right now.  The main website has the locations of all alerts that area current, some you may not even know about this season.