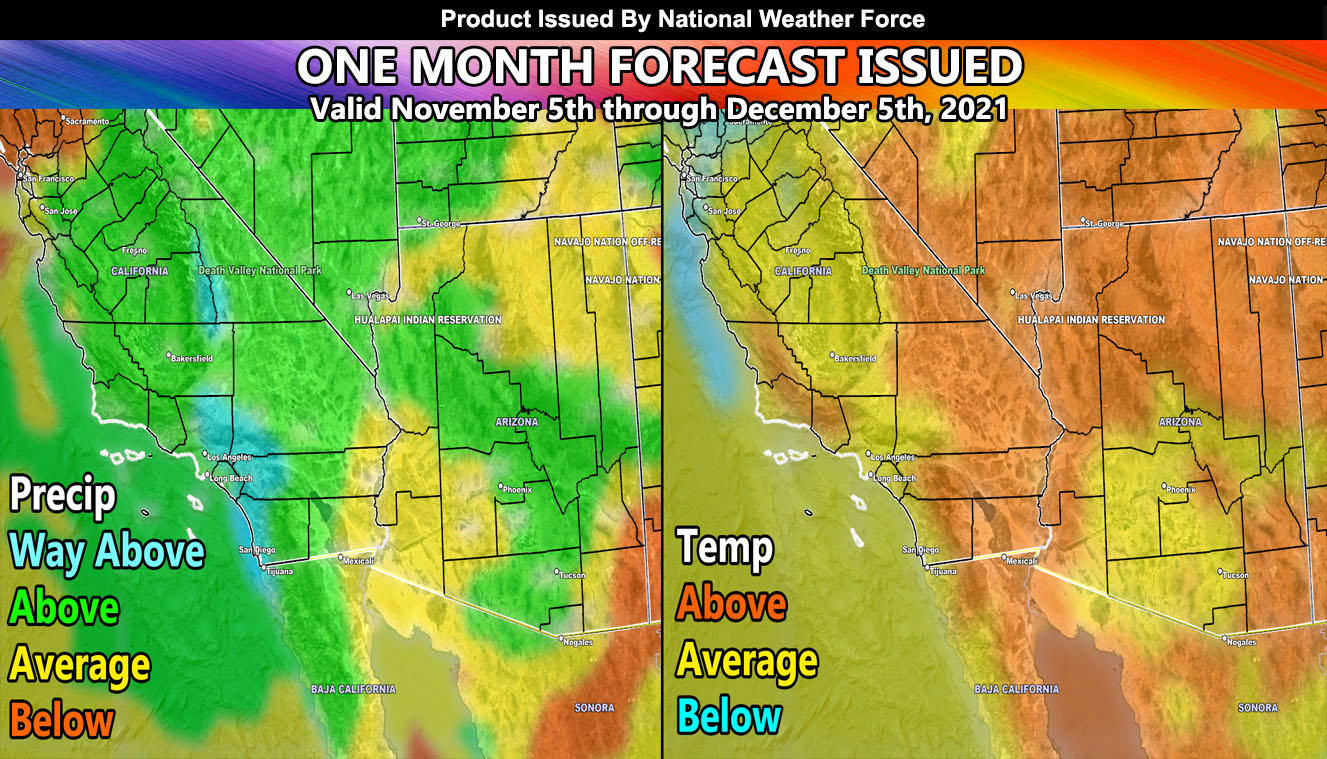 After what I will call a roller coaster of a month in terms of temperatures, along with boring weather, what one has to get through to get to the finish line where storm patterns capable of low elevation snow await, here is your one month forecast valid now through the first week of December so read on for details …
This was posted on both Arizona and Southern California Weather Force so I will split it down into parts so read very carefully …
Atmosphere Synopsis for November 2021 – The atmosphere is behaving in a way that the month will be above average in temperatures for the most part, in all areas.  Storms passing to the north will spin up ridges of high pressure, pretty uncommon for the month, keeping those temperatures up.  There will be a couple offshore Santa Ana Wind Events for Southern California and some offshore events in Arizona for the metros, but the jet stream overall is very strong and to the north, which usually does limit the damaging wind events in the Southwest United States.
The oceans north of Hawaii still do have warmer than normal temperatures, but the sector is further west than usual.  This is telling me that as the jet stream stabilizes after Thanksgiving, the pattern will take a shift and bring cooler than stormier conditions to the region, which probably more so is for end month and first week of December.  This is why I said we will need to brave a boring and warm November up till Thanksgiving, where the pattern will shift.
---
IMAGE IN POST:  The image shows what will happen as an average and as you can see, the precipitation average actually is not for most of this month… it is telling me that the last part of the forecast will have the storm pattern so do not get excited on it till end month, we still have a long and boring November to go before that verifies.
---
Such a pattern brings arctic air down into the region toward the end of the period.  The pattern in October had a storm hit west of the area, which means the next system in the three to four week storm pattern period would take the same route and therefore drag arctic air down.  I am confident that the end of the period, before this forecast period is over, that a low-elevation snowfall event will hit, which means heavy snow in the Prescott/Payson areas of Arizona, Las Vegas, and into the Metro High Desert of Southern Califo5rnia, possibly even further down in both regions.  Would not be surprised to see some photographs of snowfall near the foothills of the metros in both Southern California and Arizona with this go around.  As stated before, this season does have the pattern for low-elevation snowfall events.  This is one of them.
---
SUPER LONG RANGE:  There are indications this season, as I stated before, in both sectors, will have average to slightly below average rainfall numbers.  For example, Los Angeles usually averages near 15″ of rain a year.  Having being right now 0.25″ above normal, Fall 2021 is remaining above normal regardless of these long periods without rainfall.  The atmosphere is still telling me that that region will have slightly below average rainfall for January, February, March, April, and May, which is the entire rest of the season.  Given some of those months average near 4″ of rainfall, we could say the forecast for the season would be 7-14″ of rainfall, probably more-so closer to the 10-14″ mark by the time the 2021-2022 season is over.  This, along with average to slightly below average temperatures would be the same thing I said SIX months ago so confidence is high.  I still do not see a major rainfall season nor will the winter before all warm.  Many arctic shots will hit …
The final forecast for that super long range will be given November 5, 2021 – in-which it likely will remain the same as I stated above.  I'll have more maps however for you to view …
---
NOTE:  You also get e-mailed alerts/articles because if you do not want to miss my social media posts, and/or I issue a product not on my social media accounts, being a supporting website member is the way to go.  You get your own control panel with hundreds of zones to choose from to receive my custom alerts from.  Click here if you are interested in reading more.  
---
MAIN WEBSITE:  Don't forget.  If you hear rain or anything is coming to the area.  BOOKMARK THE MAIN WEBSITE BY CLICKING HERE.  The stream has the latest alert links, a map of alerts and where, and articles.  That is 100% free to view.  There should be no reason you shouldn't be informed.
As always, stay tuned to Arizona Weather Force for official forecasts and updates on weather across Arizona and if it says 'like page' below, hit the button and get future updates.  If it says liked, don't hit it because that's unfollowing and you won't get updates at AZWF page on your feed
---