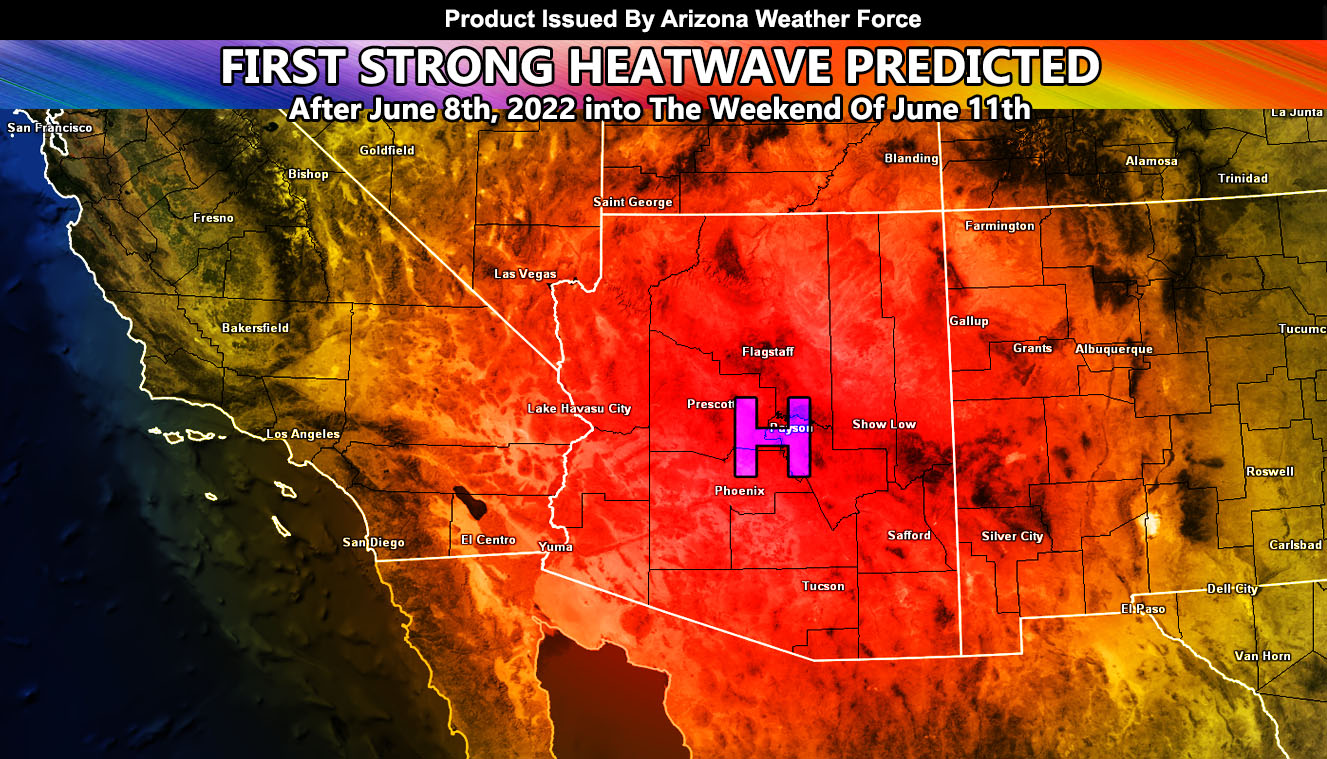 Arizona Weather Force has issued a Special Weather Statement effective now.  Meteorological Summer has officially begun as of June 1st and it is wasting no time as the first major heatwave to strike the Arizona metro zones, including the Colorado River Valley is scheduled for after June 8th with temperatures over 110+F and some even above the 115F+ mark along with a fire danger so read on for details …
The weather is average at the moment and anyone familiar with Arizona weather knows that it can get extremely hot.  Those that are new will see this firsthand within the next week as a ridge of high pressure develops to the east of a passing upper-level low moving out of Mexico.  We will see temperatures on the rising through the next week and finally toward the end of this next week (June 8th) the temperatures in the metros will respond to the ridge and shoot over 110F+.
Given the magnitude of the ridge, ridges such as this have produced the likelihood of temperatures being over 115F+ as well.
Furthermore, there will be some mid-level moisture associated with the system and although it is not deep and no flood dynamics will be expected, I will be watching the area for chance that high-based thunderstorms would form in the higher terrain, which would mean a dry lightning danger is possible with the coming setup.  If you are with fire agencies, monitoring additional forecasts and/or alerts issued here at Arizona Weather Force's e-mail alert system would be the way to go.
Want these delivered to your e-mail and also the many other alerts for your area that area custom forecast for that you won't see elsewhere?  Sign-up for your free community paid for memberships for this season by going to this link – follow the terms of service directions as well –  – https://arizonaweatherforce.com/?/register/BKNmp3
Join the Facebook Page for Further Updates If You Have Not Yet!
ARIZONA WEATHER FORCE MAIN: