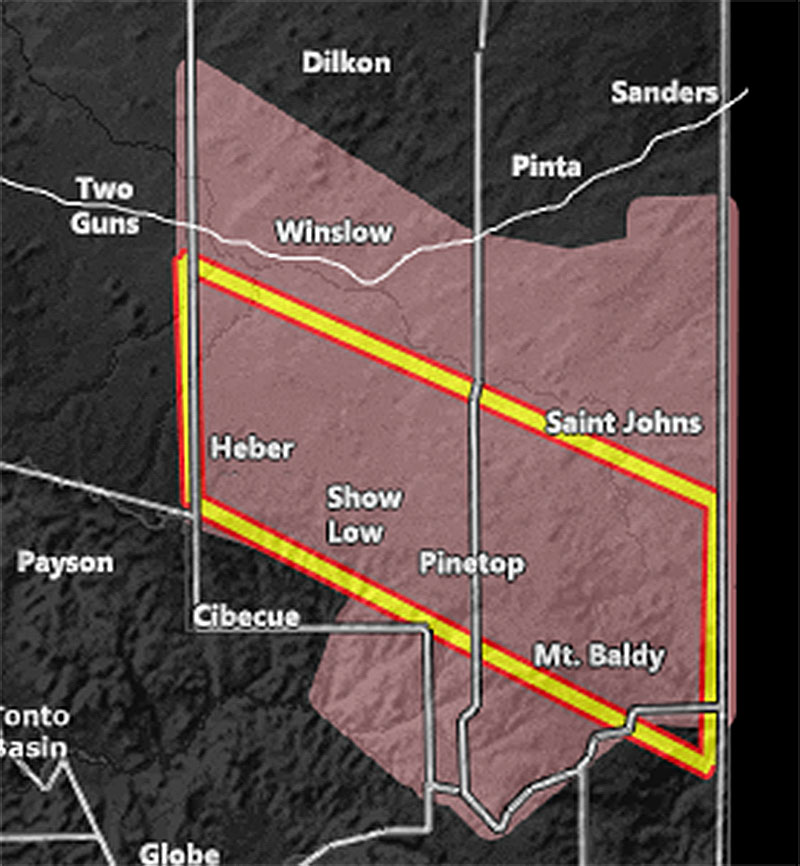 ---
Issued Zones:  White Mountains (Pinetop Show Low) … Mt. Baldy to Alpine/Eagar …
Site:  Arizona Weather Force has issued a Thunderstorm Watch effective Saturday, 6-11-2022 until 8pm … 
Date:  6/10/22 at 4:40pm local
Forecast: Monsoon moisture is bringing thunderstorms to the Mogollon Rim today (6-10-2022) and Arizona Weather Force models are predicting a different location for your Saturday. 
While they still will be on the Rim, the locations today like Show Low, Pinetop, and Alpine will see the storms on that side of the Rim, within the watch zone.  As such after around 10am tomorrow (Saturday) and lasting through about 8pm Saturday evening, scattered diurnal thunderstorms will hit those city zones…
Hail is not going to be a concern, but strong downburst winds and microbursts will be likely.  Brief heavy downpours are possible as well. 
Any weaker thunderstorms would produce fire risks, but some will have heavy rain, due to the fact the elevation of these cities is rather high, and closer to the base of the clouds.
Below is the AZWF Monsoon Forecast Model showing the locations of storm coverage for Saturday, June 11, 2022, which sparked this Thunderstorm Watch …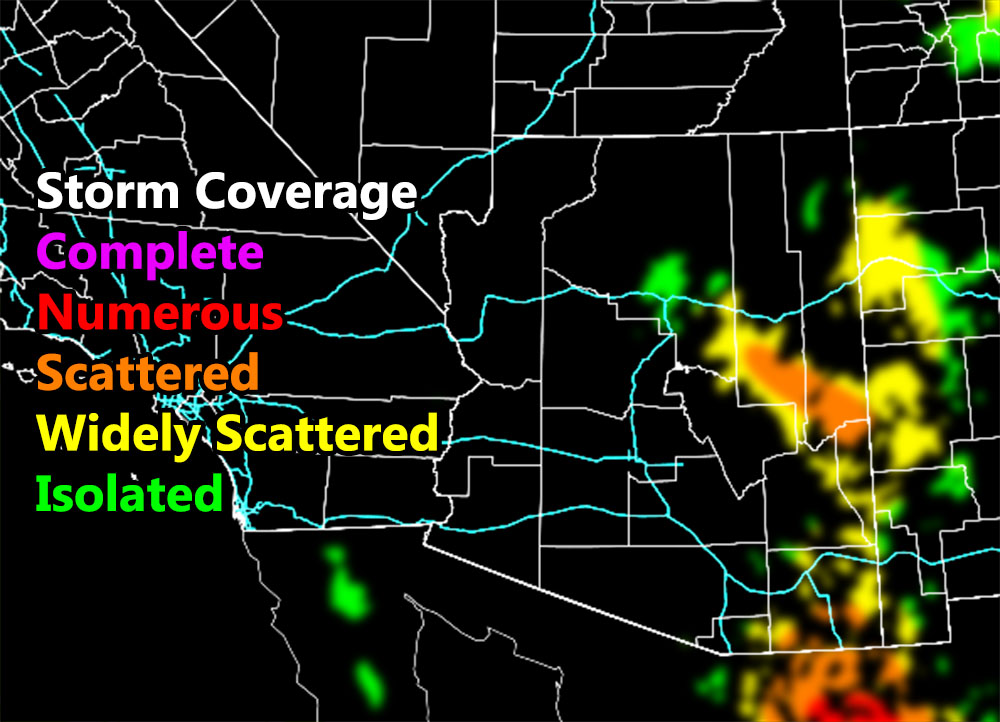 ---
Want these delivered to your e-mail and also the many other alerts for your area that area custom forecast for that you won't see elsewhere?  Sign-up for your free community paid for memberships for this season by going to this link – follow the terms of service directions as well –  – https://arizonaweatherforce.com/?/register/BKNmp3
Join the Facebook Page for Further Updates If You Have Not Yet!
ARIZONA WEATHER FORCE MAIN:
Join The Main Arizona Weather Force Facebook Group (50 percent delivery time) – You can join the main AZWF page as well through that group.
Click Here To Join The Page Today
---
---
10 mile rule:  These alerts issued on this site
means that within your zone and 10 miles from you will see the event
forecast for.  You may or may not see the event but it means you are in
the zone or 10 miles from where someone will.
Forecaster: Raiden Storm
MODE