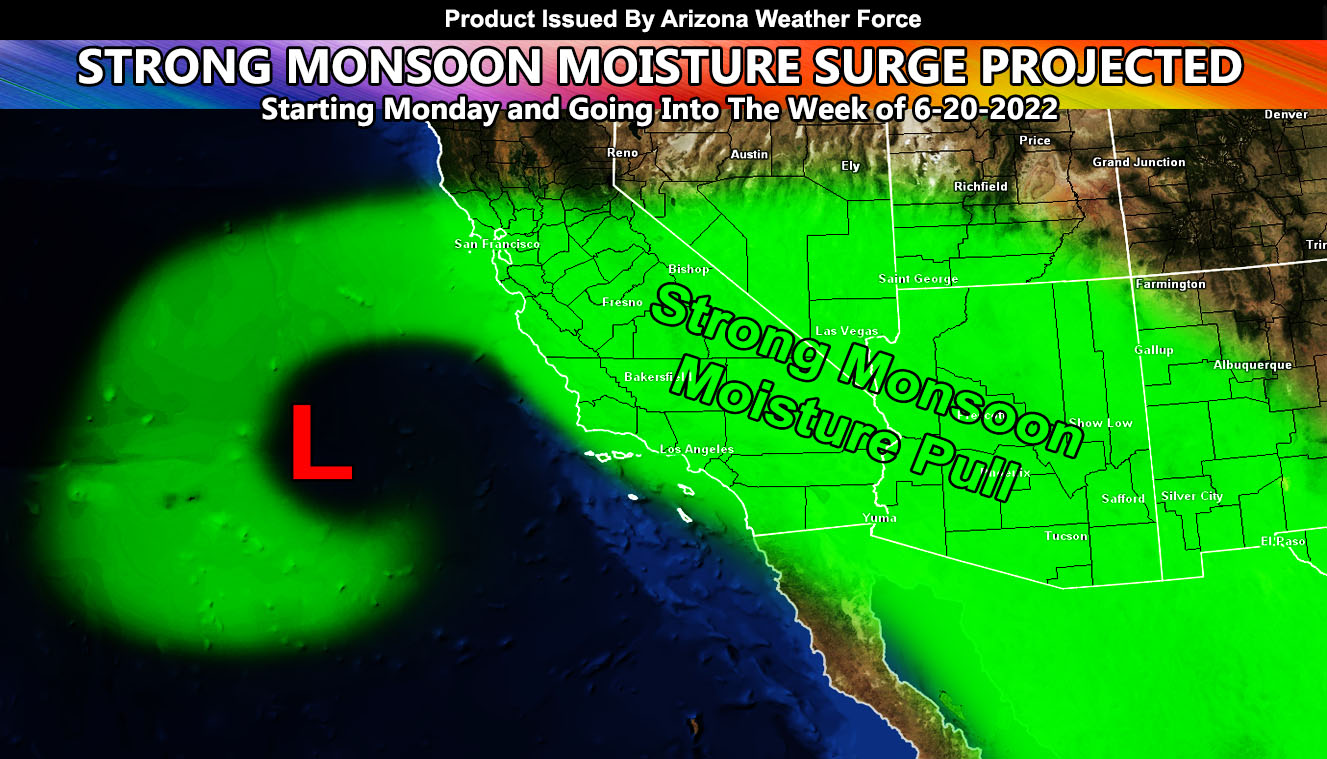 Arizona Weather Force has issued a Special Weather Statement In what I call 'The Big Pull', an unusual area of low pressure will center west of Southern California and be responsible for pulling monsoon moisture into it from Mexico which will affect the entire state this coming week so read on for details in your area …
Join the Facebook Page for Further Updates If You Have Not Yet!
ARIZONA WEATHER FORCE MAIN:
It is not often we see a strong area of low-pressure west of Southern California during the summer but this time we have it.  This along with Hurricane Blas' upper moisture streaming into Western Mexico will bring a strong surge starting Monday (6-20) into the state.
A Thunderstorm Watch has been issued here at Arizona Weather Force (Click Here) for the far east and southeast sections of the state for today, June 19th … but that is just going to be the start of the coming surge.
We start off with the low-pressure area starting to set up shop west of California on Monday.  This will bring the moisture today further west into the Tucson forecast zones.  Tucson's forecast area should get hammered, especially east valley.
Then, the upper-level dynamics finally start the 'Big Pull' into the rest of the state, including all zones from Yuma, Phoenix, Flagstaff, Kingman, you name it, you have it on Tuesday the 21st.
Additional activity with continued moisture into all metros from Tucson, Phoenix, and Flagstaff will be likely again on Wednesday and more so through the end of the week …
LONG RANGE:  We will lose the upper-level low west of California after this week, but we still have the 'Great Push' from the upper ridge north of the state that will take-over and push continued rounds of monsoon moisture through end month and into July.
All zones will need to continue to monitor the official forecasts here at Arizona Weather Force and get on the e-mail services below.
Want these delivered to your e-mail and also the many other alerts for your area that area custom forecast for that you won't see elsewhere?  Sign-up for your free community paid for memberships for this season by going to this link – follow the terms of service directions as well –  – https://arizonaweatherforce.com/?/register/BKNmp3
TWITTER:  Join the AZWF Twitter For Articles By Clicking Here