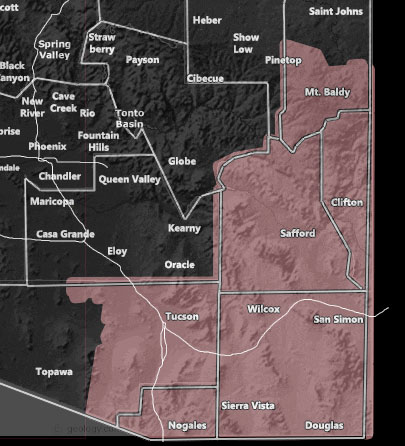 Issued Zones:  Cochise, Graham, and Greenlee County … Santa Cruz County … Eastern Pima County … Southern Apache County Alpine …
Site:  Arizona Weather Force has issued a Thunderstorm Watch effective now through the rest of the day … 
Date:  7/4/22 at 12:05pm PT
Forecast: Monsoon moisture continues to stream into the watch area.  All activities this evening may be disrupted by thunderstorm development in the issued zones above.
Some of the storms will contain some hail and gusty winds up to 40 mph.  This falls below severe limits for a watch; however, wind gusts will still be out there.  
---
Want these delivered to your e-mail and also the many other alerts for your area that area custom forecast for that you won't see elsewhere?  Sign-up for your free community paid for memberships for this season by going to this link – follow the terms of service directions as well –  – https://arizonaweatherforce.com/?/register/BKNmp3
Join the Facebook Page for Further Updates If You Have Not Yet!
ARIZONA WEATHER FORCE MAIN:
Join The Main Arizona Weather Force Facebook Group (50 percent delivery time) – You can join the main AZWF page as well through that group.
Click Here To Join The Page Today
10 mile rule:  These alerts issued on this site
means that within your zone and 10 miles from you will see the event
forecast for.  You may or may not see the event but it means you are in
the zone or 10 miles from where someone will.
Master Meteorologist:  Raiden Storm