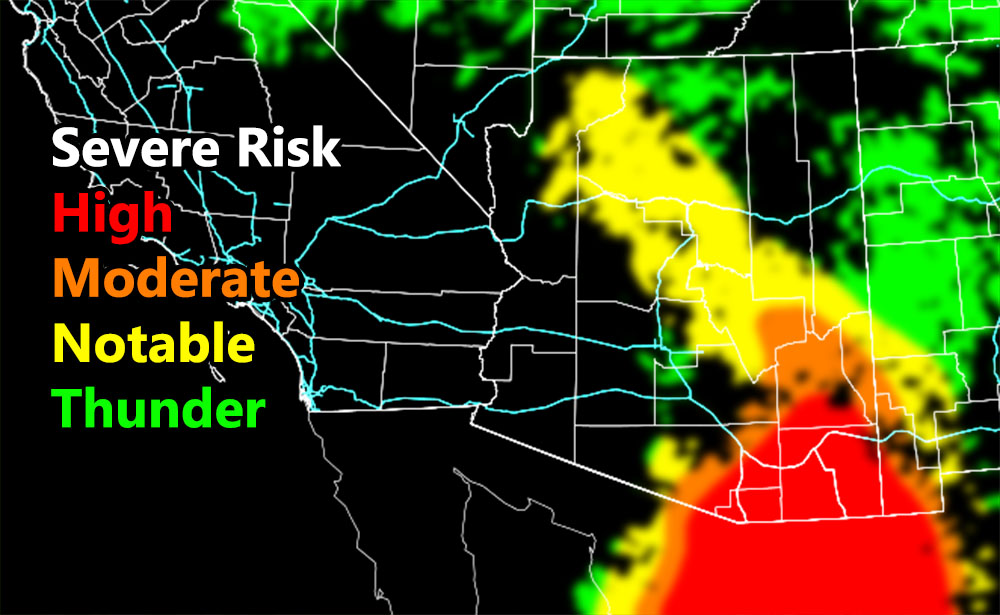 All metro areas should see thunderstorm activity with Tucson/Flagstaff being today and Phoenix Metro way overnight, talking after midnight and before sunrise with several impulses being detected so read on for details …
Join the Facebook Page for Further Updates If You Have Not Yet!
ARIZONA WEATHER FORCE MAIN:
Thunderstorms will erupt once again in the Mogollon Rim communities later this morning, peaking this afternoon and evening.  This is a given as this is normally where they would form.
An impulse moving out of Southwestern New Mexico will ignite activity in Graham (Safford zone) and Greenlee (Clifton zone) today.  As per the map above, which is the Arizona Weather Force severe risk model, those areas are in and orange (moderate risk) zone, with Southern Graham being in the red (high risk) zone.
This activity will shove outflow and upper dynamics into the Cochise County zones, which shows as almost all red, meaning most of the county will see a storm pass through.  This will keep moving east into the Santa Cruz (Nogales) zone, extending into the Tucson forecast areas as well.  I recently split the forecast zones in Tucson (click here), but today this write-up will take care of everyone equally.   Storms will hit the Vail forecast area but weaken as they move west into the Tucson area.  My coverage model (not shown) has isolated/widely scattered for the Tucson Metro so that means while storms will weak, you still come out with the chance of it.
Strong outflow winds will be expected in all zones today, especially the Southeast Half of Arizona.  There will be a tornado risk in Southwest Cochise County and Santa Cruz County with some shear in the area.
Also expect major flooding in the Hereford to Nogales forecast zones.
PHOENIX/PINAL – This is going to be a tough but interesting call.  My model does show some activity in Pinal and the Phoenix Metro eastward areas.  The coverage model is isolated to widely scattered and this is not for the daytime, but more for overnight, which means midnight to sunrise as the timeframe for development.  As outflow from the severe storms to the east and south moves in along with a gravity wave scenario from powerful storms in Mexico, pop-up thunderstorms will be possible as the moisture is going to increase a lot in the mid-levels.  So, between midnight and sunrise on Wednesday do not be surprised to see thunderstorms again from Phoenix eastward as the main areas, including the West half of Pinal County.  Some leakage is possible into the Goodyear forecast zone, but the main focus of these dynamics coming together would be Phoenix eastward and the Western half of Pinal County.
MAP COLORS FOR WATCH TYPE
Red – Severe Thunderstorm Watch
Orange – Severe Thunderstorm Advisory
Yellow – Thunderstorm Watch
Green – Weather Advisory
Want these delivered to your e-mail and also the many other alerts for your area that area custom forecast for that you won't see elsewhere?  Sign-up for your free community paid for memberships for this season by going to this link – follow the terms of service directions as well –  – https://arizonaweatherforce.com/?/register/BKNmp3
TWITTER:  Join the AZWF Twitter For Articles By Clicking Here