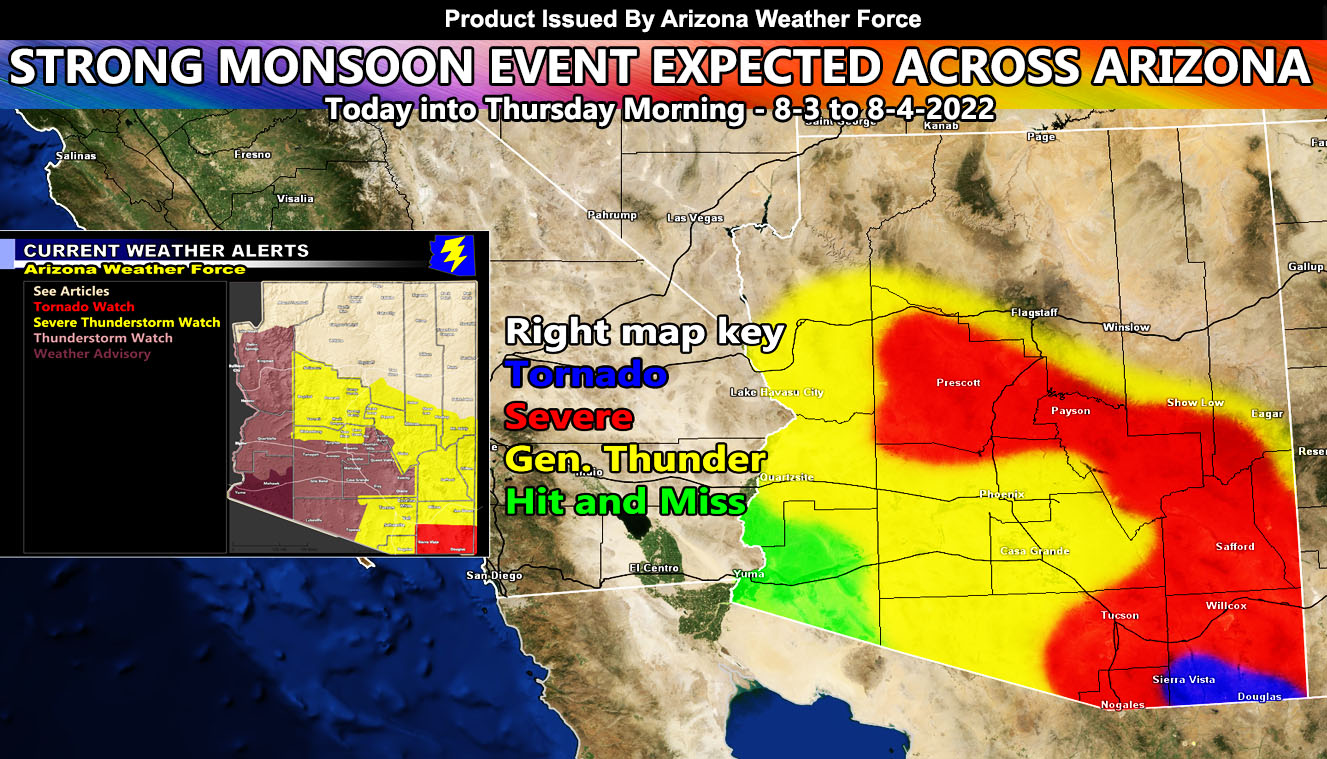 Arizona Weather Force has issued four alerts for the state of Arizona in various zones provided for from later today through Thursday morning.  Those alerts contain the Tornado Watch, Severe Thunderstorm Watch, Thunderstorm Watch, and Weather Advisory so read on for details and see if your area is affected.
Join the Facebook Page for Further Updates If You Have Not Yet!
ARIZONA WEATHER FORCE MAIN:
TORNADO WATCH – Arizona Weather Force has issued a Tornado Watch for the Southern half of Cochise County effective later today into some of tonight.
Another easterly wave will hit the Southern Cochise County areas later today and into some of tonight.  Strong surface instability and no capping inversion will work with low-level shear within the Bisbee / Sierra Vista areas.  Severe Thunderstorms will form as a boundary moves out of Mexico.  This boundary will be the focus spot for tornadic activity in the watch area.  In addition to the tornado risk, large hail, damaging winds, and flash flooding will be likely …
SEVERE THUNDERSTORM WATCH – Arizona Weather Force has issued a Severe Thunderstorm Watch for Eastern Pima County (Tucson zones) … Graham/Greenlee/Gila County … The Mogollon Rim Communities (Payson through Prescott) and Extreme Northern Maricopa County from Cave Creek, New River, and Wickenburg.
Storms today will form a bit later than usual, mostly during the afternoon hours and last through the evening.  Storm motion is generally out of due east, so this puts Payson at ground zero along with Prescott.  These areas along the southern end of the rim will be the focus for this watch today.  Areas like Show Low are shaded yes, but I do see the focus being more south of you in this type of flow.  Payson is going to see the worst out of the populated rim locations for flash flooding, large hail, and damaging wind potential through the watch period.
Outflow from the rim will move southwestward and bring the risk of storms to the Extreme Maricopa County areas, so New River you are targeted for these.  Because you are lower than the rim with higher instability, the damaging wind potential will be high.  Tucson' you'll see multiple waves of storms later today through the overnight, some severe out of Cochise County.
THUNDERSTORM WATCH – Arizona Weather Force has issued a Thunderstorm Watch for Maricopa County's populated regions, including the Phoenix Metro west through La Paz and Mohave County, including the Colorado River from Parker/Havasu, effective overnight tonight, mainly early Thursday morning for lightning, brief heavy downpours for some flooding under the strongest cells, strong winds, and hail.
WEATHER ADVISORY – Arizona Weather Force has issued a Weather Advisory effective now through Thursday morning for the Yuma forecast zone.  Left overs from Thanksgiving (just kidding) will move out of the east through the period.  All those thunderstorm outflow boundaries and left-over dynamics will bring the chance of showers or thunderstorms to you in isolated fashion.
Flagstaff – While you will see some activity, most of it will be south of you along and south of the rim.
The map below is the official Arizona Weather Force Weather Alert Map that is valid for this event on the zones listed above, and it is clickable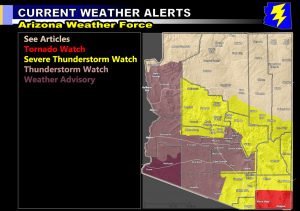 Want these delivered to your e-mail and also the many other alerts for your area that area custom forecast for that you won't see elsewhere?  Sign-up for your free community paid for memberships for this season by going to this link – follow the terms of service directions as well –  – https://arizonaweatherforce.com/?/register/BKNmp3
TWITTER:  Join the AZWF Twitter For Articles By Clicking Here