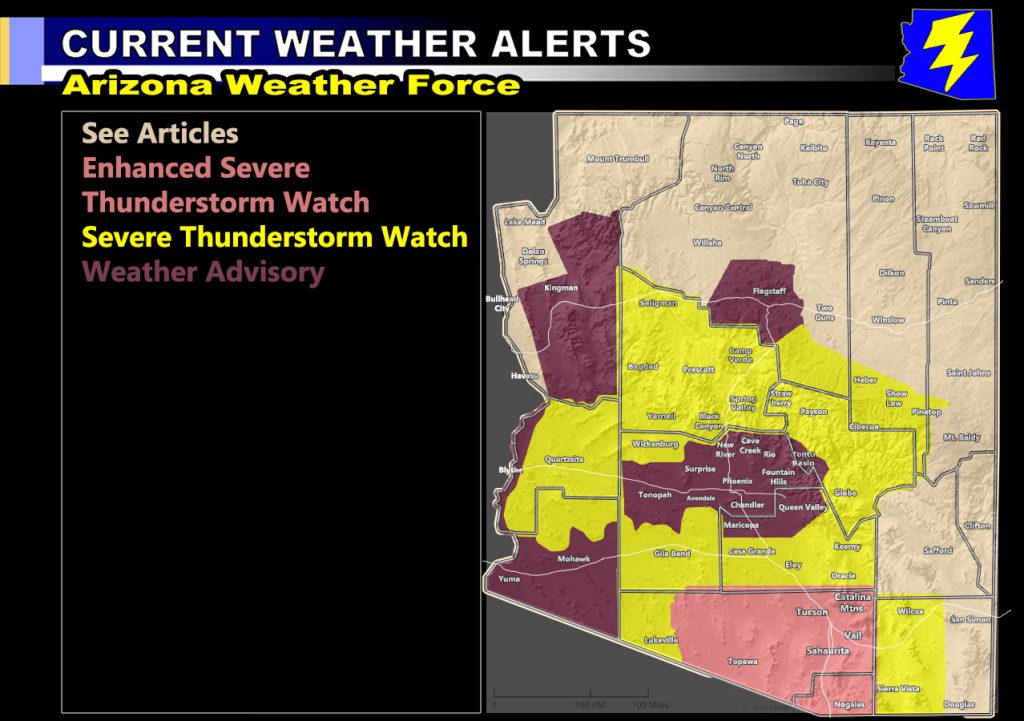 Arizona Weather Force has issued three alerts across Arizona for today through some of the overnight.  Those alerts will be the Enhanced Severe Thunderstorm Watch, Severe Thunderstorm Watch, and the Weather Advisory so to get an idea on the details in your area, read on.
Join the Facebook Page for Further Updates If You Have Not Yet!
ARIZONA WEATHER FORCE MAIN:
Isolated thunderstorms exist across Arizona this morning.  An impulse similar to Monday morning will happen for Yuma again, but for now the main focus spots will be spoken about.  As always, thunderstorms will form over the high terrain (mountain areas of the state) by afternoon and migrate to the lower terrain metro areas as the afternoon/evening moves along.  That is the basic timing of touch.
Tucson's forecast area, of the eastern half of Pima County is favored for the most severe storms today.  Given what I see, storms will move from the east-northeast off the Catalina's and into the lower terrain.  Strong instability and shear suggest large hail and damaging winds along with flash flooding.  There is the chance of isolated tornado activity and as such since it is a small area from Tucson to Sells/Topawa, will issue the Enhanced Severe Thunderstorm Watch alert with tornado wording embedded in the forecast.
Storms will form in Gila County, behind the mess moving through the Payson forecast area this morning.  These storms will ride an impulse through across I-17 (Camp Verde) and into Yavapai County, the Prescott forecast zones.  Instability is strong enough to warrant large hail, damaging winds, and flash flooding, which does mean you are in the Severe Thunderstorm Watch alerts.
Outflow from Yavapai County is also moving off the higher terrain into the La Paz County forecast zones, Quartzsite later in the period.  As such, you are under the western extent of the Severe Thunderstorm Watch.
PHOENIX – Short range indications are that two impulses will pass north and south of you, the above paragraph wording.  This means that drier air in the mid-levels could very well put you in a weak section for today.  Should this happen, a giant hole of only isolated to nil activity will exist smack on Downtown and most of the valley.  West valley as better chance for storms, Central/East not so much.  So, for this, I only went weather advisory for isolated shower/thunderstorm risks in the metro valley areas.  This will show how touchy the monsoon zones are and this might be a first for the AZWF Weather Alert Map (above image) to have a giant hole over the Phoenix Metro areas.
Stay tuned to Arizona Weather Force for the forecast for the next 7-10 Days as we continue to have monsoonal moisture affecting the state, in-which the next significant rainfall model is expected to be released to you tomorrow or Tuesday
Want these delivered to your e-mail and also the many other alerts for your area that area custom forecast for that you won't see elsewhere?  Sign-up for your free community paid for memberships for this season by going to this link – follow the terms of service directions as well –  – https://arizonaweatherforce.com/?/register/BKNmp3
TWITTER:  Join the AZWF Twitter For Articles By Clicking Here