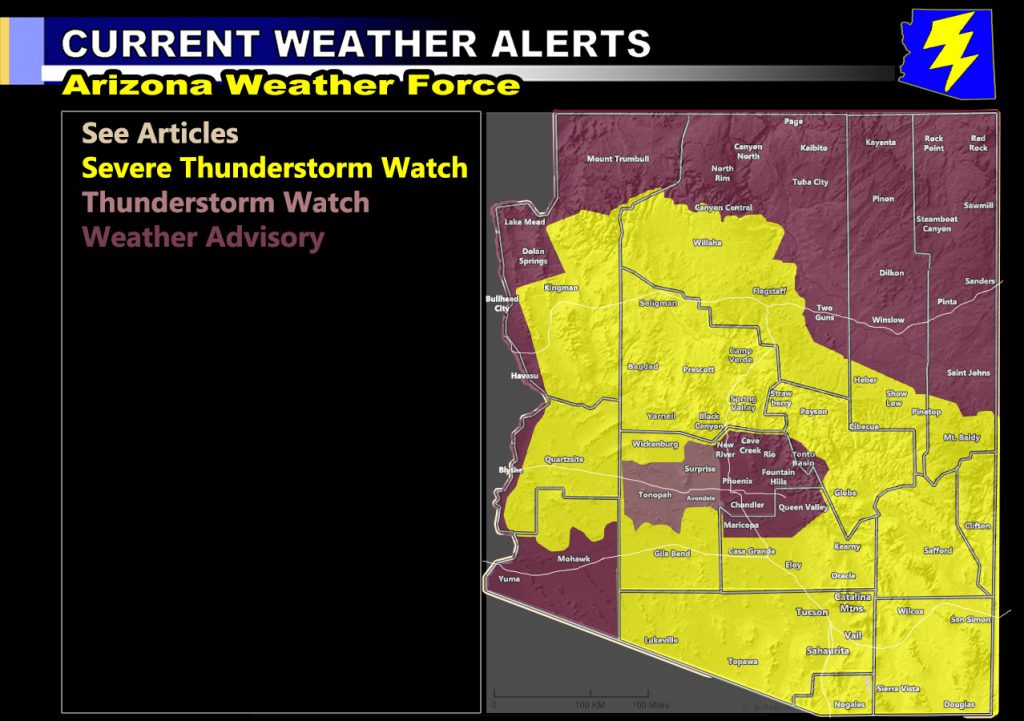 Arizona Weather Force has issued three alerts across Arizona for today through the overnight.  Those alerts will be the Severe Thunderstorm Watch, Thunderstorm Watch, and the Weather Advisory so to get an idea on the details in your area, read on …
Join the Facebook Page for Further Updates If You Have Not Yet!
ARIZONA WEATHER FORCE MAIN:
Yuma forecast area has the same thing with risks during the next morning as you will be hit near or within city limits today, during the daytime.
This is a very similar setup as yesterday.  In fact, it is nearly identical with only a couple things being slightly different.  First of all, we will have storms form over the High Terrain (Mogollon Rim through Safford/Clifton) through the afternoon and then shove south and west into the lower terrain locations by the evening and night.
Once again, there will be a hole in the Phoenix Metro areas.  As stated yesterday, Western Valley has the best shot of seeing storms today more than the Central or East Valley.  As such, I've split the county in half with a Thunderstorm Watch for the Western Maricopa County zones and kept a Weather Advisory for the Central and Eastern Valley.  A weather advisory means that hit and miss showers/thunderstorms will be in the cards along with gusty outflow winds that would limit visibility due to dust but does not contain a concentrated thunderstorm zone, UNLESS the outflow is strong enough to erode the capping layer.  In this case, the zone for this would be San Tan Valley north to Chandler/Mesa/Gilbert later in the period … otherwise you get nothing, as Willy Wonka so put it.
Storms today over Kingman's forecast area will move westward and affect the Northern Colorado River Zones as they cross into Clark County, Nevada.
It is very similar to yesterday so there is not much else I can say.
The Phoenix areas being weaker today will have the better chance starting tomorrow as a strong easterly wave sets up and moves in out of the same direction as last Thursday morning.
Want these delivered to your e-mail and also the many other alerts for your area that area custom forecast for that you won't see elsewhere?  Sign-up for your free community paid for memberships for this season by going to this link – follow the terms of service directions as well –  – https://arizonaweatherforce.com/?/register/BKNmp3
TWITTER:  Join the AZWF Twitter For Articles By Clicking Here