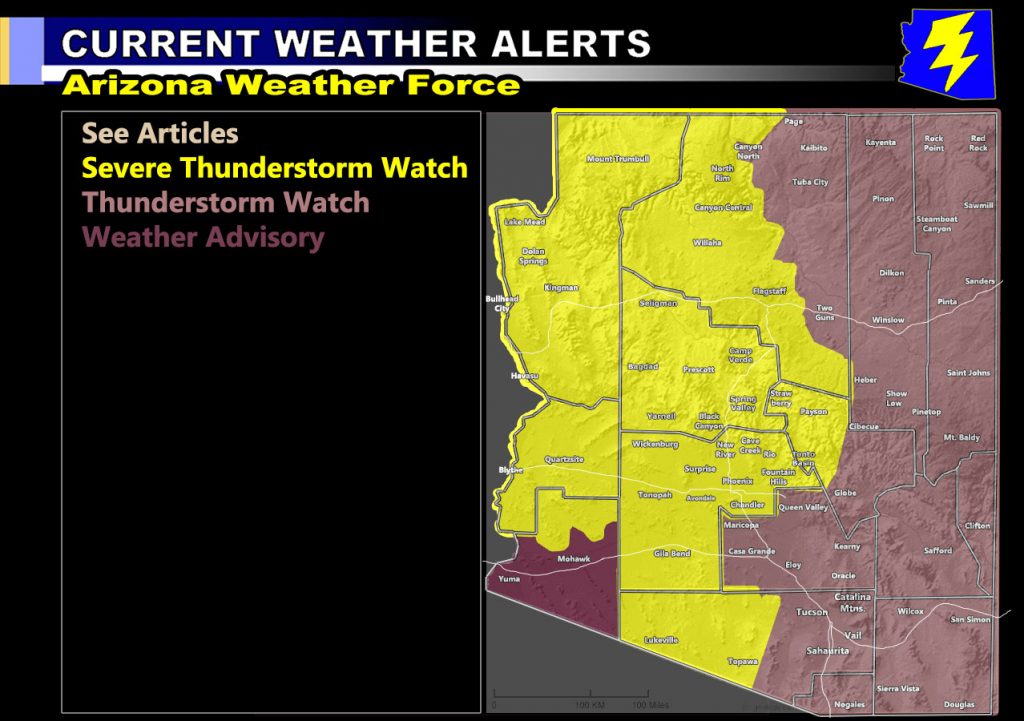 Arizona Weather Force has issued three alerts across Arizona for today through the overnight.  Those alerts will be the Severe Thunderstorm Watch, Thunderstorm Watch, and the Weather Advisory so to get an idea on the details in your area, read on … and for the record I am alright, having a bit of mind issues lately and I'm in talks with a group of likewise people about them but I will be here all week long for updates.
Join the Facebook Page for Further Updates If You Have Not Yet!
ARIZONA WEATHER FORCE MAIN:
Thunderstorms are forming across the Mogollon Rim zones as we speak.  Today's flow is for outflow to move off the high terrain again and into the lower terrain zones, which will cover most if not all of Maricopa County and as such from there to even the Kingman/Havasu forecast areas has been given the AZWF Severe Thunderstorm Watch.
Same will be said to the Tucson forecast area.  Arizona has a lot of instability today so just about anywhere will see thunderstorm development through the period.
Just want everyone to know that I am in talk with my sponsor for alcoholism and we will be starting my treatment and recovery tomorrow. It has been since Friday and I did till my wife that I hope she likes the 'weird' me because sober me is very attentive to work, cleaning the house, cooking, and some of my quirky sides of my disorder does come out.
I definitely need to do something about it before it is too late,but it will be done here at home and take some time. Have to clean up everything and throw everything away. I did not go into a major withdrawal so I will be fine in that health department. The goal is to clear my mind of past and future sadness and to fix my liver numbers.
But I will be back and be a better person for everyone around me – This wasn't a life to live and it only was getting worse since the last time I tried to fix it myself – but this time I'll have other options and a reason to live –
Thanks
Want these delivered to your e-mail and also the many other alerts for your area that area custom forecast for that you won't see elsewhere?  Sign-up for your free community paid for memberships for this season by going to this link – follow the terms of service directions as well –  – https://arizonaweatherforce.com/?/register/BKNmp3
TWITTER:  Join the AZWF Twitter For Articles By Clicking Here