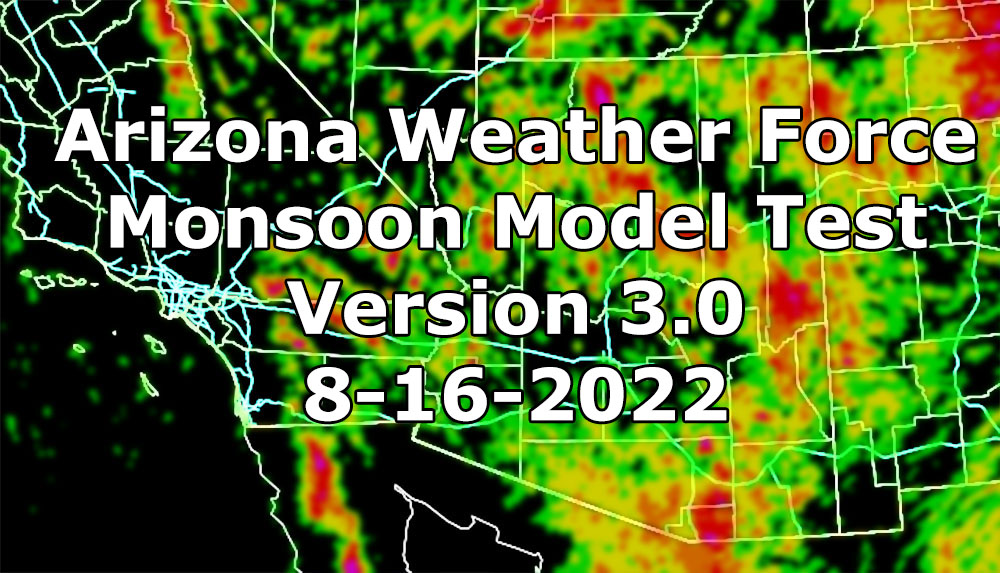 I will not be formally issuing watches, but this will go over the e-mail alert system as this is a test of the Arizona Weather Force Monsoon Forecast Models for version 3.0.  Within this will be a number of them, ranging from coverage type, hail risk, wind risk, flood risk, and alert type issued based on this model so read on and see the images for details …
Join the Facebook Page for Further Updates If You Have Not Yet!
ARIZONA WEATHER FORCE MAIN:
I will note that this is a high-resolution model, and it could be off by several miles, up to 10 in some cases, but gives a general idea which area would see what.
Phoenix/Pinal County:  I will talk about you first.  This model is predicting a hit and miss coverage with embedded widely scattered values in that area.  You can note that from the greens and some yellow on the coverage model.  It also has isolated areas for notable hail but also does have moderate wind risk potential.  It would be a weather advisory or thunderstorm watch, but weather advisory nonetheless today would go out in those shaded zones.  So today there is that chance as outflow from the southeast and east moves into the area later on …
Tucson:  You can see that there is some type of bubble of nothing along I-10 with you surrounded by severe storms.  That would be something if that happened, but as I stated, this model has an error range from 0-10 miles.  It would be close enough to issue a Severe Thunderstorm Watch today given that.  The values below show scattered coverage, moderate risk hail, high to extreme risk for wind damage, and some flooding.
Quartzsite:  This model depicts your convergence zone would go up today with scattered thunderstorms.  The risk factors it shows in that area would be notable hail, high risk for damaging winds, and the value would be a thunderstorm watch.  Given the hail would be minimal a thunderstorm watch would be fine.  But you would see the high-risk damaging winds, which would give a severe thunderstorm warning for those cells for such.
Flagstaff:  You are last to talk about.  This model shows most of the activity north of you and through the Grand Canyon zones.  It however does show notable hail, moderate risk damaging winds, and flooding.  This would give you a thunderstorm watch since it is close to you, or right on you.  Again, the model has a 0–10-mile error limit.
In the future I do plan to introduce these to the GPS system in the AZWF member section so they will overlay over city areas for easier viewing.
The rest of the area can be viewed below in their respective slots along with the key colors.
---
Coverage Of Activity – Image is clickable
Complete
Numerous
Scattered
Widely Scattered
Hit and Miss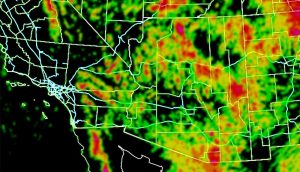 ---
Hail Risk – Image is clickable
Extreme
High
Moderate
Notable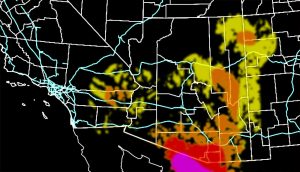 ---
Wind Damage Risk – Image is clickable
Extreme
High
Moderate
Notable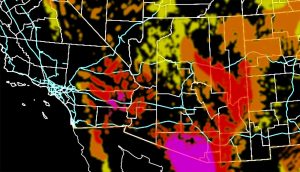 ---
Flood Potential Zones (new and will be adjusted if needed down the line) – Image is clickable
All red areas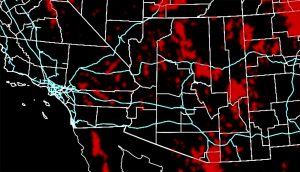 ---
Alert Type Proposed – Image is clickable
Tornado Watch
Enhanced Severe Thunderstorm Watch
Severe Thunderstorm Watch 
Severe Thunderstorm Advisory (This may be merged with the watch due to confusion, they both will yield severe storms)
Thunderstorm Watch
---
Want these delivered to your e-mail and also the many other alerts for your area that area custom forecast for that you won't see elsewhere?  Sign-up for your free community paid for memberships for this season by going to this link – follow the terms of service directions as well –  – https://arizonaweatherforce.com/?/register/BKNmp3
TWITTER:  Join the AZWF Twitter For Articles By Clicking Here