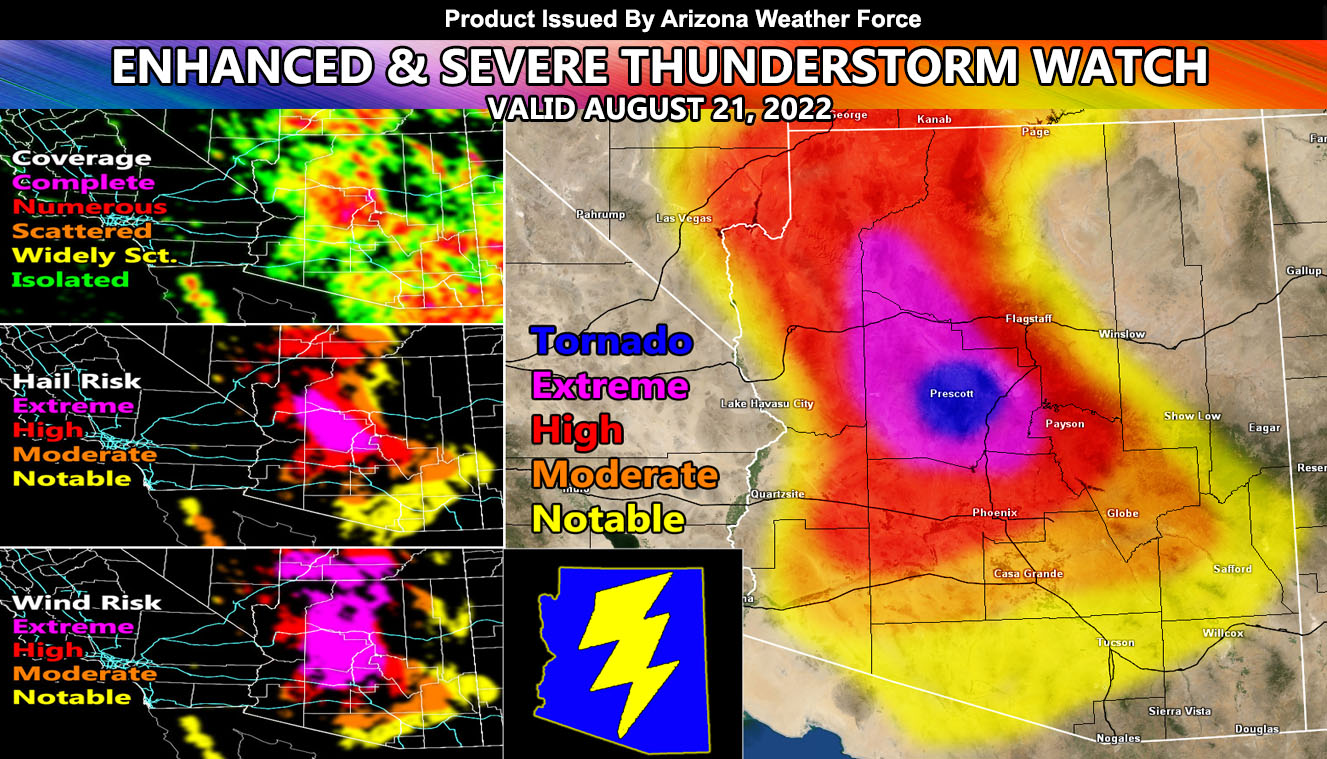 Arizona Weather Force has issued three alerts for today, August 21, 2022 on the final day of this multi-day severe weather outbreak, which includes Yavapai County as well in the Enhanced Severe Thunderstorm Watch, and it does include Tornado Potential wording so for the zones and AZWF Monsoon Forecast Model, read on for details …
Join the Facebook Page for Further Updates If You Have Not Yet!
ARIZONA WEATHER FORCE MAIN:
Discussion: Storms will again form off the Mogollon Rim and head southwest and west into the lower levels producing damaging winds, large hail, and flash flooding in the last day of this multi-day peak monsoon event. Storms will form across the watch areas (zone images below).  Storms today have an interesting intensity dynamic, especially a small zone from Prescott to Camp Verde and then south along I-17 to Spring Valley.  This is an area today watch, probably the strongest zone for the chance of tornadoes as dynamics deem favorable given the convergence boundary there and saturated low-level atmosphere.  Storms today in the watch areas will have supercell characteristics that of east of the Rockies in Tornado Alley.
Tucson you are in the Thunderstorm Watch, below severe limits and not a major focus area.
NOTE:  This is the AZWF High Resolution Model with an error allowance of 0 to 10 miles, meaning if you are close to the shade, you are in the risk on the map above and in the watches on the map below.   Another thing to note is Pinal County on this has a lot of areas that have blank and/or isolated so you are not a major target like Maricopa County is, as noted by the coverage model below.
Remember find the coverage model first and see your event coverage. The higher the better chances you'll be hit. Then compare the hail/wind and see what risk you are in.
Coverage Of Activity – Image is clickable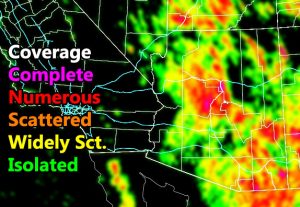 ---
Hail Risk – Image is clickable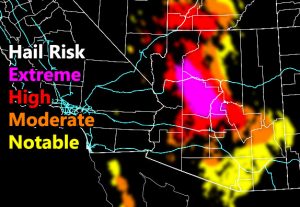 ---
Wind Damage Risk – Image is clickable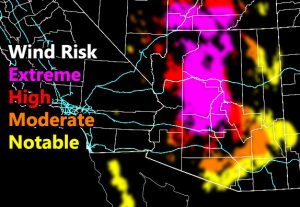 ---
Alert Type Proposed – Image is clickable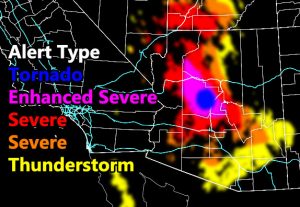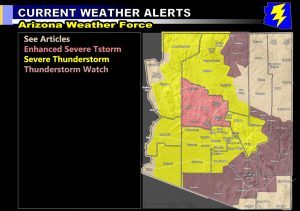 ---
Want these delivered to your e-mail and also the many other alerts for your area that area custom forecast for that you won't see elsewhere?  Sign-up for your free community paid for memberships for this season by going to this link – follow the terms of service directions as well –  – https://arizonaweatherforce.com/?/register/BKNmp3
TWITTER:  Join the AZWF Twitter For Articles By Clicking Here