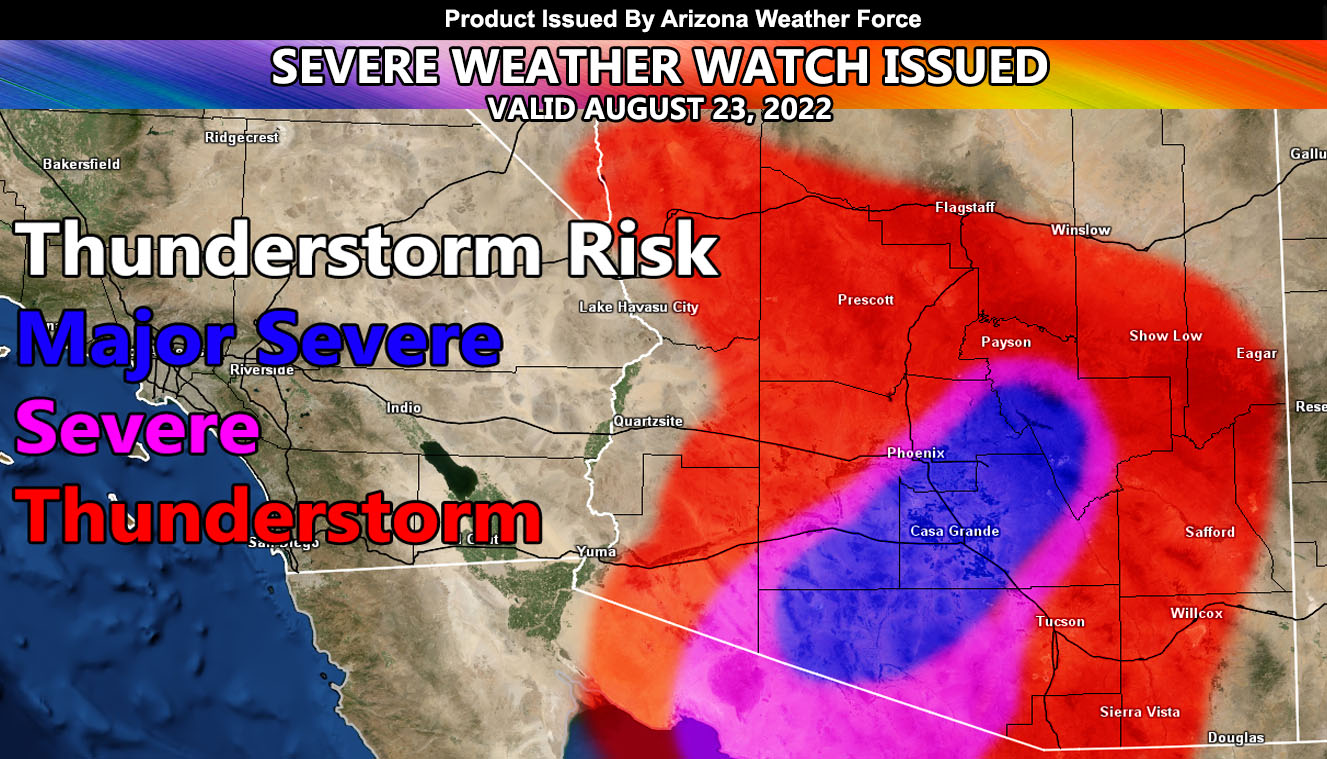 Arizona Weather Force has issued a Severe Weather Watch effective now for Tuesday for Maricopa County Valleys and San Tan Valley and the populated areas of Pinal County for a major and deadly Severe Weather Event so secure your chickens … – that is all I can give in my state … This is a classic impulse that will be strong than Wednesday for some so take this warning …so read on for details if you are there and – get this out to who ever you know and at least save a life …
Join the Facebook Page for Further Updates If You Have Not Yet!
ARIZONA WEATHER FORCE MAIN:
Storms will be stronger off the Southern Mogollon Rim and they will move southeast very quickly toward the Eastern Maricopa Valley Mesa, Gilbert, and ESPECIALLY Chandler's forecast area … then into the Pinal County area.  This is similar to July 2021 in direction so chances these zones get hit (not always your house) will be 100% … as the trough on the west coast buckles this ridge …
The image above shows who will get what so I suggest you continue to prepare, most likely in the blue major severe area … but Gila Bend's forecast zone is in this again …
This activity will move West-Southwest toward Mexico and COULD hit Yuma's forecast area on Wednesday early morning …
There is a good chance that even though the shade shows Western Phoenix Valley that you will be isolated to nil … this is the Eastern Valley's turn you've had your shot on the last flow … but it is not over yet for you I have another update coming soon …
That is all I can do at this range, getting tired … good luck  …
WEDNESDAY:  It looks stronger across the Phoenix Valley so stay vigilant ….
Want these delivered to your e-mail and also the many other alerts for your area that area custom forecast for that you won't see elsewhere?  Sign-up for your free community paid for memberships for this season by going to this link – follow the terms of service directions as well –  – https://arizonaweatherforce.com/?/register/BKNmp3
TWITTER:  Join the AZWF Twitter For Articles By Clicking Here