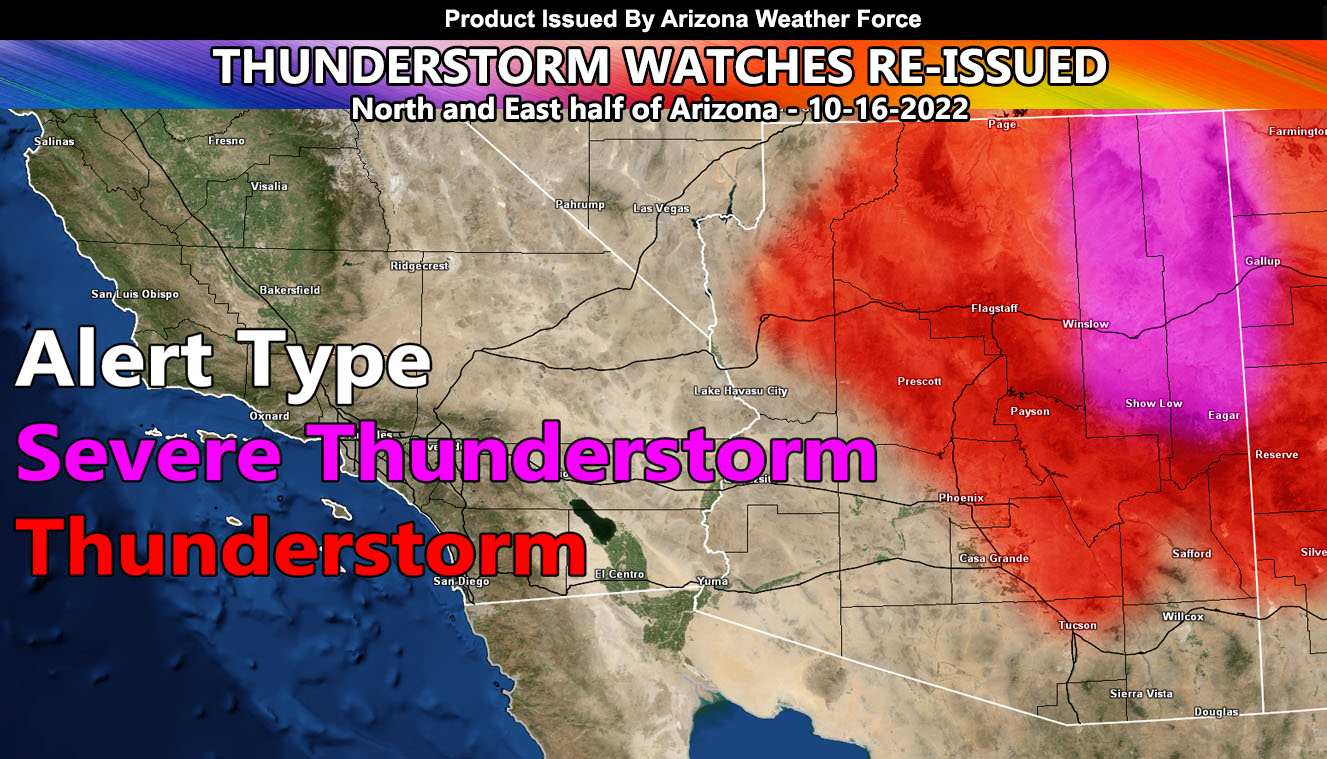 Arizona Weather Force has reissued two thunderstorm alerts.  Those alerts are the Severe Thunderstorm Watch for Navajo and Apache County and the Thunderstorm Watch for the Northern half of Arizona down through parts of Maricopa and Pinal County effective now through this evening so read on for the details and see the AZWF coverage and weather alert maps …
Join the Facebook Page for Further Updates If You Have Not Yet!
ARIZONA WEATHER FORCE MAIN:
As stated in the previous article (click here), today would be the eastern and northern half of the state.  Given what the coverage model is showing, total/numerous coverage will be expected in the North/Northeast half of the forecast area across Navajo and Apache Counties.  Given we do have the upper-level low still crossing Pinal County, the northeast sector will have strong upper-level lift, enough for for severe thunderstorms and even a supercell structures to reform up there in those counties with damaging winds and isolated tornado dynamics being the primary factors along with flooding.  Storms will move generally from southeast to northwest across the watch area.
On the other side of the upper-level low from Flagstaff/Kingman/Prescott you will get the activity out of the northeast.  Still, enough dynamics exist for thunderstorms in these zones through today.
For Pinal/Maricopa County, the coverage map shows the north/east half of Pinal County being of a higher coverage and this stretches into the eastern half of Maricopa County as well.  This does include Queen Valley, some of San Tan, and up there Fountain Hills/Rio Verde/Cave Creek's forecast area, with the stronger coverage across Gila County, which also will include the activities in the Tonta Basin so if you are out planning on being on the river/lake there then think twice.
Coverage will be far less in Southeast Arizona, but the coverage map says there will be isolated activity in the Tucson forecast area, the highest near the Vail zones and nothing much in Cochise County.
Thunderstorms today can produce isolated tornadoes under the cold air aloft … brief –
Use the AZWF coverage model below …and also the main weather alert map … both are clickable –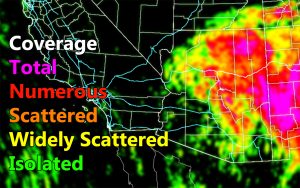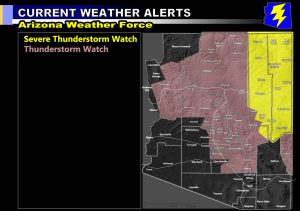 WANT THESE DELIVERED VIA THE APP? JOIN THE PATREON COMMUNITY TODAY FOR ALL THOSE PERKS INCLUDING BEING ON THE MICRO-CLIMATE ALERT SYSTEM BECAUSE NOT EVERY ALERT IS POSTED ON SOCIAL MEDIA FROM THIS WEATHER OFFICE – https://www.patreon.com/weatherforce
TWITTER: Join the AZWF Twitter For Articles By Clicking Here