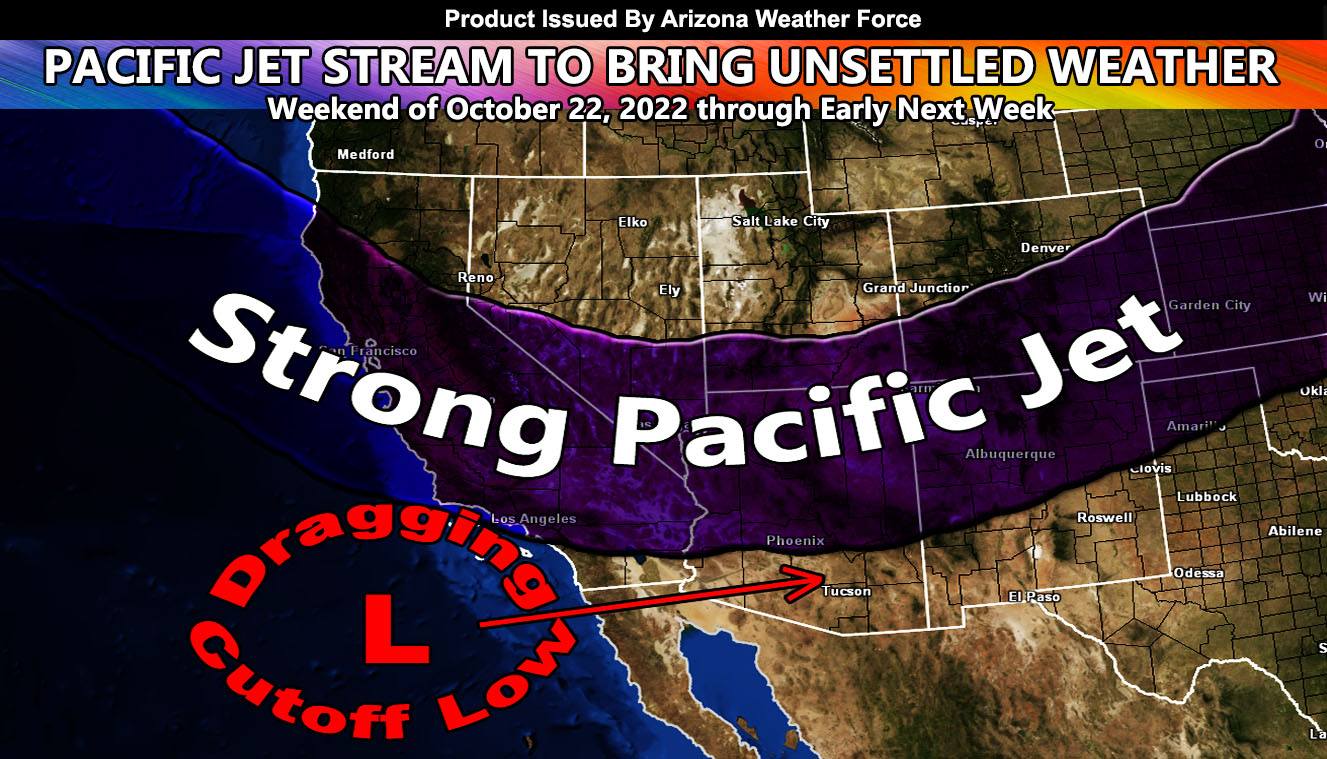 A strong Pacific Jet Stream will dip into the Southwestern United States this weekend bringing strong winds to the mountain and high terrain region, followed by a dragging cutoff low shortly after so read on for details and see the zoom in wind model images.
Join the Facebook Page for Further Updates If You Have Not Yet!
ARIZONA WEATHER FORCE MAIN:
A complicated atmospheric setup is about to hit the region starting this weekend.  The easiest thing by far to forecast ahead of time is the wind and thus the mountain and desert regions, including along some of the Northern Colorado River mountain areas and into the High Terrain of the Grand Canyon and Navajo Nation has been given a wind watch out ahead of the system.  The AZWF Wind models are below this write-up.
Precipitation will accompany the system at one point, but as I stated this is a complicated forecast.  It could glance blow to the north and bring minimal precipitation to the north and east sections of the state, or it can dip further south and attached to the cutoff low now well off the Southern California coast and bring a lot of rain.  Such patterns will be complicated this far out so for now I will go with just the wind forecast and slowly introduce the precipitation forecast as we near the weekend.
Below is the AZWF Wind Model.
SUPPORTING MEMBERS:  Click Here To See The GPS Version Of This Model In Your Member Section Tab.
VALID WEEKEND OF OCTOBER 22, 2022

Raiden Storm Wind Gust Intensity Scale –
8. Extensive widespread damage.
7. Trees are broken or uprooted, building damage is considerable. – High Profile Vehicle Roll-Over CERTAIN.
6. SOME Trees are broken or uprooted, building damage is possible. – High Profile Vehicle Roll-Over Likely, Do NOT recommend Traveling in this zone.  This zone also is the starting zone where trees and powerlines will fall and damage cars and even kill people near or in them!
5. Slight damage occurs to buildings, shingles are blown off of roofs. HIGH WIND WARNING CRITERIA – High Profile Vehicle Roll-Over Possible if weight is not corrected.
4. Twigs and small branches are broken from trees, walking is difficult.
3. Large trees sway, becoming difficult to walk. POWER SHUTDOWN THRESHOLD DURING FIRE WEATHER / WIND ADVISORY CRITERIA
---
WANT THESE DELIVERED VIA THE APP? JOIN THE PATREON COMMUNITY TODAY FOR ALL THOSE PERKS INCLUDING BEING ON THE MICRO-CLIMATE ALERT SYSTEM BECAUSE NOT EVERY ALERT IS POSTED ON SOCIAL MEDIA FROM THIS WEATHER OFFICE – https://www.patreon.com/weatherforce
TWITTER: Join the AZWF Twitter For Articles By Clicking Here