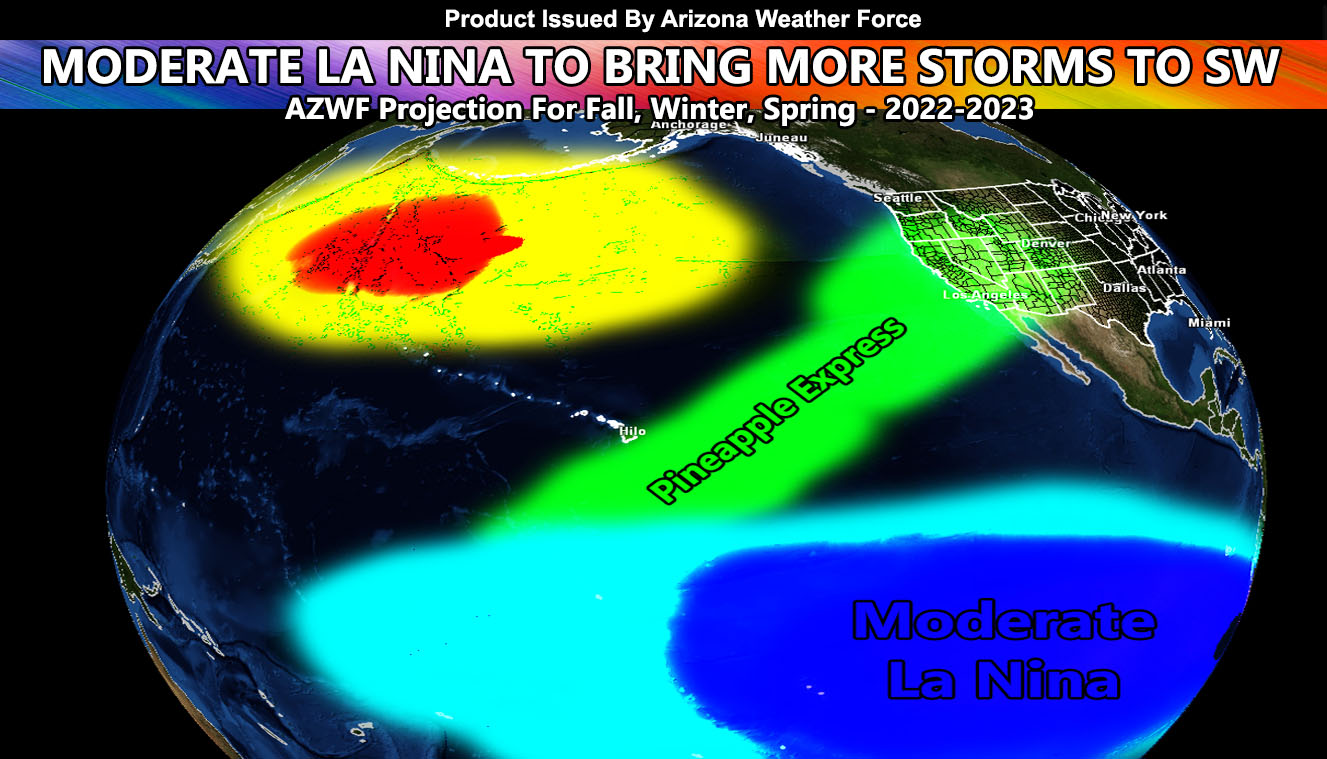 It is that time of the year again where rainy season forecasts are put out there and Arizona is going to see a La Nina season that is not near normal at all so read on for details …
Join the Facebook Page for Further Updates If You Have Not Yet!
ARIZONA WEATHER FORCE MAIN:
Before I continue, first and foremost, Arizona's Fall, Winter, and Spring season is calculated off of Los Angeles due to how the jet stream interacts with the Desert Southwest.  So, what Los Angeles is predict is what I predict Arizona with.
In doing these forecasts, last year I went 7-14″ of rainfall for Los Angeles with a realistic median of 10-14″.  They ended up in the 12″ range, smack in the middle.  That also was a La Nina, but it did fall just a bit short of a normal season.  This season however will be different in many aspects of the previous years during this now three-year La Nina event, a record.
La Nina will continue through Fall and half the winter before heading back to the neutral (La Nada) phase where it is neither La Nina or El Nino.
So what about this season?  I want to say 7-14″ again in Los Angeles, but I am seeing the convective cells forming in the Central Pacific Ocean.  This means that strong pineapple express systems will be highly likely this Fall, Winter, and Spring.  It likely will own up to average to above average precipitation for Southern California.  Last year I went below normal to average, but I will go ahead and be the one to go average to above average.  I'll go a scale of 10-20″ of rainfall with a median realism of 13-18″ giving 16″ a good chance at happening in Los Angeles.
Arizona: Because of the average to above average prediction for Los Angeles, Arizona will see average to above average with the same storm systems moving through.
Given most of the United States will be colder than normal, convective cells forming in the Central Pacific would dive the polar jet down again like back in 2019-2020's season and give colder than normal temperatures for the region.
This forecast is going against any other out there simply because of predicting where the thunderstorms will form along the equator, which is a contributing factor in this forecast.  Furthermore, the warm area south of Alaska has not returned and as I stated months ago, and this will also cause a much different season than previous years.
---
WANT THESE DELIVERED VIA THE APP? JOIN THE PATREON COMMUNITY TODAY FOR ALL THOSE PERKS INCLUDING BEING ON THE MICRO-CLIMATE ALERT SYSTEM BECAUSE NOT EVERY ALERT IS POSTED ON SOCIAL MEDIA FROM THIS WEATHER OFFICE – https://www.patreon.com/weatherforce
TWITTER: Join the AZWF Twitter For Articles By Clicking Here